KDE Neon
From LinuxReviews
Jump to navigation
Jump to search

KDE Neon is a GNU/Linux operating system made by the free software project KDE which showcases the latest KDE Plasma desktop technology. It is fundamentally the latest Ubuntu Long-Term Support release with rapidly updated Qt and KDE repositories on top. The OS is available in 4 different variant: The "User" edition, the "Testing" edition and the "Unstable" edition and the "Developer Edition" which is the "Unstable" edition with development libraries pre-installed. It can be used directly from a live-USB or installed using a friendly installer.
We used a KDE Neon 5.16 the purposes of this review.
Installation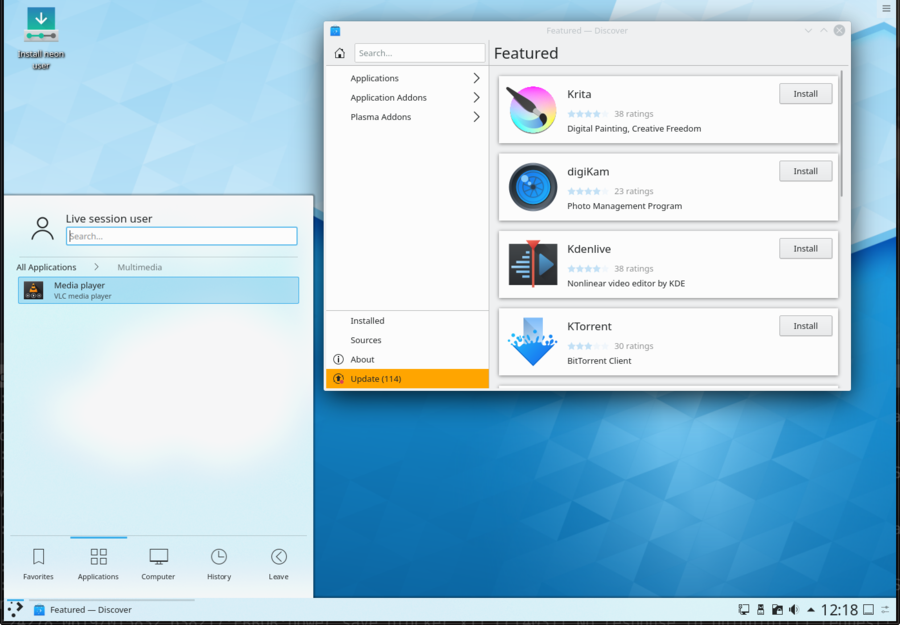 KDE Neon's live image boots into a fully functional KDE Plasma desktop with a "Install neon" icon in the upper left corner. Starting the installation process is a mere matter of clicking that icon.
The installer is really straight-forward. It asks you to choose Language, Keyboard, Wireless if you have it and then it asks about Software. There is an option called "Install third-party software for graphics and Wi-Fi hardware and additional media formats". Enabling this option installs both proprietary drivers and free software packages for multi-media which are covered by patents in some parts of the world. It would be nice if this was separated into two different options.
Moving on, the next step is to choose a disk to use for the installation. There's 3 automatic "guided" options, one plain install, one with LVM and one with LVM and encryption. Encryption is not the default option but it's there. Choosing manual reveals a decent tool for manually partitioning the target disk. It did not take much playing around with the manual partition interface to make it crash - repeatedly. Several attempts all produced this fine message:
Traceback (most recent call last):<br data-attributes="class=%22mw_emptyline%22">  File "/usr/lib/ubiquity/ubiquity/frontend/kde_components/PartMan.py", line 453, in on_edit_clicked<br data-attributes="class=%22mw_emptyline%22">    self.partman_edit_dialog(devpart, partition)<br data-attributes="class=%22mw_emptyline%22">  File "/usr/lib/ubiquity/ubiquity/frontend/kde_components/PartMan.py", line 367, in partman_edit_dialog<br data-attributes="class=%22mw_emptyline%22">    self.ctrlr.dbfilter.edit_partition(devpart, **edits)<br data-attributes="class=%22mw_emptyline%22">  File "/usr/lib/ubiquity/plugins/ubi-partman.py", line 3295, in edit_partition<br data-attributes="class=%22mw_emptyline%22">    assert self.current_question == 'partman/choose_partition'<br data-attributes="class=%22mw_emptyline%22">AssertionError<br data-attributes="class=%22mw_emptyline%22">
What did they mean by this? We do not know, we are not python scientists so we asked a few who are. KDE Neon team sources speaking under anonymity told us that "it's a bug in upstream ubiquity and we are not investing time in ubiquity anymore". This is because they are planning to switch to another installer and they "are working on getting Calamares up to the part".
Choosing the automatic "Guided" instead of manual made the installer proceed to copying files.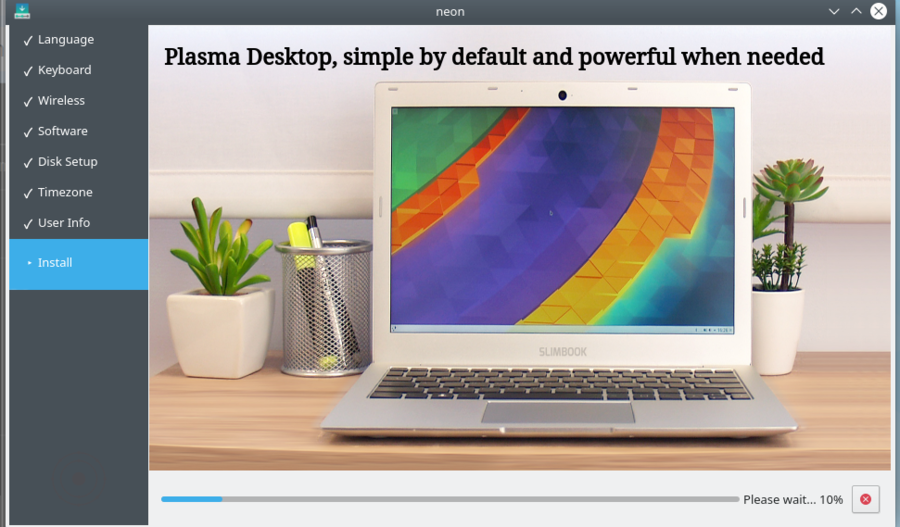 It did not take very long before the installer was done and a "Installation has finished" message appeared with an encouragement to "Restart Now".
The installation process was overall very smooth and polished as long as you stay away from the "manual" partitioning option.
Hardware support
KDE Neon has a modern 4.18.0 Linux kernel with all the freely distributed firmware. It will support NVidia GPUs and some rarer Wi-Fi cards if the proprietary drivers was selected during installation. The kernel is not the newest one available but it is new enough to support most
The Desktop Experience
KDE Neon's shipping a very blue default KDE Plasma desktop as of right now. KDE developer story is that this is because:
"With Diversity in mind this edition features an Ice Cold themed wallpaper to make those in the southern hemisphere feel included."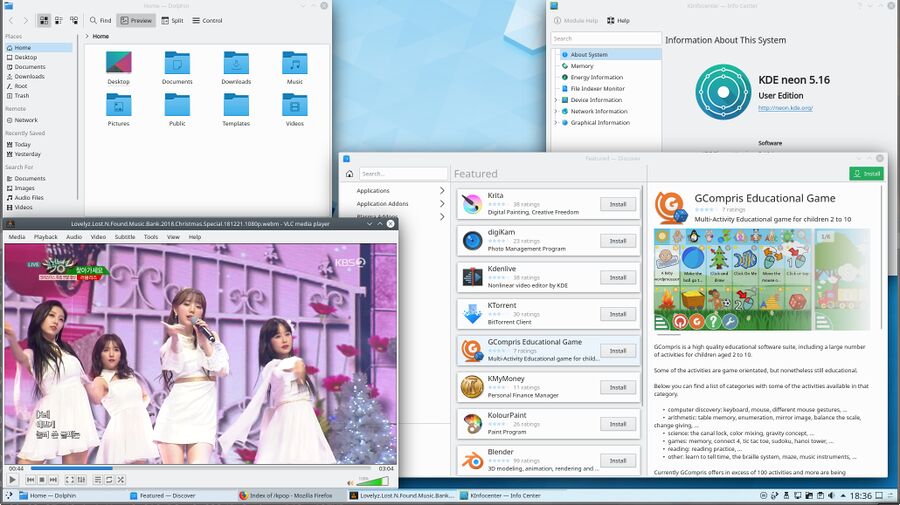 The icon default icon theme is something called "Breeze" and it's mostly simple black and white icons. The wallpaper is very blue so the KDE people are clearly aware that there is this concept called colors which can be used to give life to soulless icons like the ones KDE Neon defaults to. Luckily, there's an application store called "Software Center" included and it's got it's own "Plasma Addons" section with lots and lots of icon themes, Plasma themes, Plasma Widgets, splash screens, wallpapers and a comics section. There's even a pink icon theme for those who miss Hannah Montana Linux.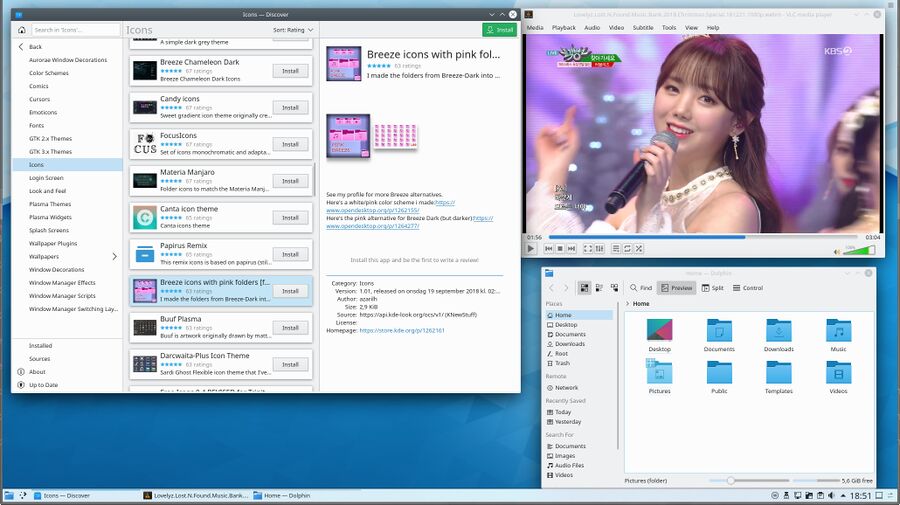 Regardless of what you think of it's defaults: There's plenty of options listed if you want to switch to something else. Trying to use many of those options brings a bit of a disappointment: Installing them doesn't work.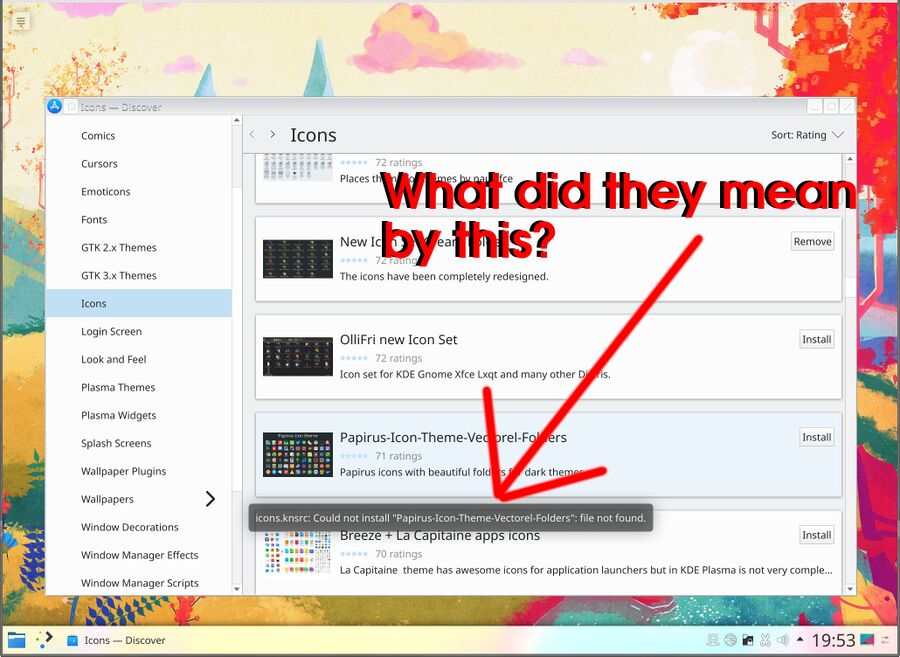 What did they mean by icons.knsrc: Could not install "Papirus-Icon-Theme-Vectorel-Foldres": File Not found and why do so many icon themes and other items in the Software Store show similar errors? Not even no KDE Neon sources would go near that one with a 10 foot pool even when speaking off the record under anonymity.
The software installed by default is somewhat lacking. VLC is the only media player included. Firefox is the default and only web browser. That does kind of makes sense, Falkon is far from ready. There is no graphics software. Okular and Gwenview do populate the "Graphics" menu but they don't count. None of those are Krita or GIMP or kolourPaint. There's no Office software either. Okular is in that menu too for some reason and it's the only thing there. There isn't even a Games menu. It is, of course, easy to install LibreOffice and Naval Battle and KPatience and everything else from the "Software Center". Still, it does mean KDE Neon's not ready to use out of the box, a lot of post-installation work is required to get just the most basic applications in place.
KDE's window-manager kwin is very powerful and feature-rich and advanced and the defaults KDE Neon has set for it are fine. It's set to a Fade Windows in and out, Slide when switching virtual desktops and mostly other innocent effects. The more controversial effects kwin offers like Exploding Windows, Wobbly Windows and Desktop Cube are disabled by default. They can easily be enabled in the System Settings.
KDE Neon does have broken spell checking enabled by default. The broken language "auto detection" which makes the spellchecker randomly switch between dictionaries can be fixed by disabling that for-years broken feature. It really is something which shouldn't be a problem. (bug #394347, among others). Concretely, if you have 10 words in English and you write 5 in German and you'd like to spellcheck those and set language to German KDE will show the spell checkers language as German but use English. It's a bigger problem when using Nordic languages since they are similar - resulting in randomness in what language's used for spell-checking.
There are other odd bugs too. Changing the font DPI in systemsettings will apply the new setting to the value set. Re-opening systemsettings5, even after logging out and back in, will show the default dpi setting of 96 - not the one in use.
Setting the panel to auto-hide permanently hides the panel and it simply won't come back when the mouse is at the edge of the screen where it should activate and re-appear.
The KDE Plasma desktop in KDE Neon is the most advanced desktop of all desktops available on both GNU/Linux and other operating systems. It is also the most bug-riddled. There appears to be small bugs all over. Xfce does not have that problem. It also does not have anywhere near the amount of features so there's a lot fewer components that can have bugs.
Differences between KDE Neon and Ubuntu
There are some small differences beyond the updated and polished KDE Plasma desktop presented by default.
Running sudo bash then the usual apt-get update presents a nagging message indicating that pkcon update is the right way to do things on KDE Neon.
Under the hood
KDE Neon is essentially Ubuntu LTS so everything under the hood works the same way. It uses systemd as service-manager. It uses apt as package-manager which KDE Neon prefer that you manage with the Packagekit Console Client (pkcon) rather than apt.
Like Ubuntu, there's no SELinux or any security framework like that in place.
Verdict and Conclusion
KDE Plasma has come far in terms of features and it is years ahead of perceived competition which, to be fair, has been going backwards and removing features for quite some time making Xfce, not stinky foot desktop, KDE's main challenger. Sadly, there's just too many bugs all over to give it a solid recommendation. It's barely beta-quality software at the 16th iteration of the 5th generation KDE desktop.
It really is quite disappointing, we were really hoping to give KDE Neon the overly positive review it should have but does not yet deserve. Perhaps it will be a bit more ironed out if we re-test it sometime in the distant future.
Links