Blue Nebula
From LinuxReviews
Jump to navigation
Jump to search
Blue Nebula

Blue Nebula v1.6.0

Initial release
May 31, 2020
Stable release

Continuous daily builds

Repository
github.com /blue-nebula/base
Written in
C and C++
Engine
Cube 2
Operating system
Linux, Windows, macOS
Available in
English
Type
First person shooter game
License
Unlicense
Website
blue-nebula.org

Blue Nebula is a free very fast-paced online teamed first person shooter with decent graphics. There are many game-modes like death-match and capture the flat to choose between. It has very few hardware requirements making it a really cool and nice game to play either at high resolutions at high frame-rates on modern hardware or standard 1080p resolution on old and/or modest hardware.
Blue Nebula is a fork/re-brand of Red Eclipse 1 created as a response to some of the game-play and graphics decisions in Red Eclipse 2.
Graphics And Gameplay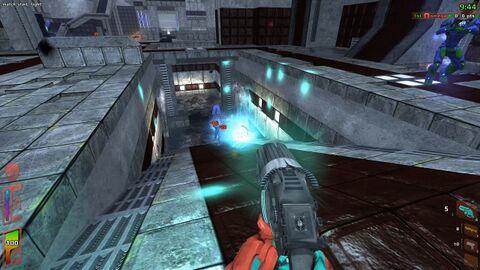 Blue Nebula v1.6.0.
Blue Nebula has nice decent graphics, but the graphics can't be called superb or up-to-date against modern standards. That is exactly why the developers of Red Eclipse 1, the game Blue Nebula is forked off from, decided to release Red Eclipse 2 based on a more modern game engine called Tesseract. The graphical experience Blue Nebula offers is in no way bad, it's just not as good as what you get in the latest commercial first person shooters. This does have one advantage: It makes the hardware requirements for running this game very low.
The game-play is pretty simple: You're on a team and your objective is to eradicate everyone on the enemy theme. There are many game-modes to choose between such as capture the flag, death-match, capture the flag and bomber-ball.

Blue Nebula v1.6.0.
The developers who maintain the Blue Nebula Red Eclipse 1 fork stated that part of the reason they made the fork is that Red Eclipse 2 "changes a lot of the gameplay mechanics we all like so much". We have no clue what they are talking about since we never played Red Eclipse one or two. What we can say is that Blue Nebula offers a really good and fun game-play experience.
Verdict And Conclusion
Blue Nebula is a really fun game with alright graphics, a very fast paste and fun game-play. Blue Nebula worth a try, specially if you have older or limited hardware that tend to struggle with modern games. It's also something worth checking out if you want a game that runs fine at 4k 120 fps on relatively modest hardware.
Installation
Blue Nebula offers continuous daily builds of an AppImage for Linux. It works on all the distributions. Simply download the about 850 MiB file, make the AppImage executable with chmod +x and that's it.
You don't need to compile anything or move files around, you can just download and play.
Links