AlmaLinux
From LinuxReviews
Jump to navigation
Jump to search

AlmaLinux is a fork of the commercial American GNU/Linux distribution Red Hat Enterprise Linux developed by CloudLinux incorporated. It is a 1:1 clone of the latest stable RHEL releases with different branding. It has a stable software base very suitable for production servers.
Features And Usability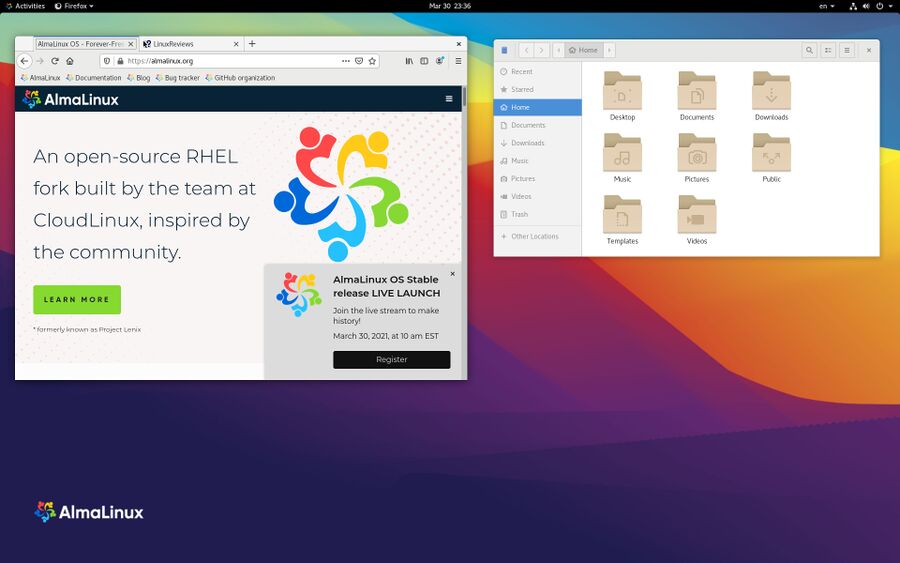 AlmaLinux 8.3, Workstation Installation. GNOME is the default desktop environment (Just like RHEL and CentOS). You can tell that it is AlmaLinux and not RHEL or CentOS by the "AlmaLinux" branding on the wallpaper.
AlmaLinux has the same properties the commercial Red Hat Enterprise Linux (RHEL) distribution has. The "workstation" distribution comes with an older version of the GNOME desktop environment. There are packages for all the common free software packages you would expect to find on a GNU/Linux distribution available.
Packages are handled by the dnf package manager and security is handled by SELinux. SELinux can be a bit difficult to manage if you are unfamiliar with it. You can learn, or disable it.
AlmaLinux not all that suited for hobbyist who are looking for a desktop distribution; packages are somewhat outdated compared to what distributions like Manjaro Linux offer and desktop use doesn't seem to be the highest priority for Red Hat when they develop the distribution AlmaLinux is based on.
AlmaLinux is, on the other hand, a really good choice for all kinds of production servers serving Internet-facing services. If you want to run a web server with nginx or apache or something similar then AlmaLinux is probably a good choice. The stability it offers is excellent and you will never have a problem with random packages breaking when you update it.
Releases
AlmaLinux 8.3 was released on March 26th, 2021. They made a BitTorrent for it available a few days later.
AlmaLinux 8.3 is the first AlmaLinux release, the version number is a reflection of the RHEL version it is based on, not the number or prior AlmaLinux releases.
Background
CloudLinux, a company who specializes in delivering a customized Linux-based operating system to large hosting providers and data-centers, decided to make their own RHEL fork when CentOS announced that they would no longer be maintaining their re-branded versions stable RHEL releases.
CloudLinux started a US 501(c)(6) non-profit foundation, AlmaLinux Open Source Foundation, wholly controlled by them (in reality a subsidiary), in order to develop their own RHEL clone based on stable RHEL version. CloudLinux announced that they would fund the AlmaLinux Open Source Foundation with 1 million USD.
AlmaLnux is technically released by the "AlmaLinux Open Source Foundation" though it is, in practice, a CloudLinux product.
Links
The AlmaLinux homepage is at almalinux.org and ISO images for it can be acquired from repo.almalinux.org/almalinux/8/isos/x86_64/
See Also