Red Star OS
From LinuxReviews
Jump to navigation
Jump to search

Red Star OS is a Fedora-based Linux distribution which is very popular in the Democratic People's Republic of Korea (North Korea). It features security modules even root can't touch or unload. It a has advanced anti-virus and anti-propaganda scanner and advanced file tagging. Its desktop environment is KDE 3.5 with a custom theme which looks very much like the default desktop on a proprietary operating system made by an American fruit company.
Installing Red Star OS 3.0
Installing Red Star OS is easy and straight-forward. Just download the ISO and burn it to a DVD or place it on a USB stick and boot. A user-friendly installer will suggest the primary drive as the installation drive. From there it's just a matter of clicking next and choosing username, password, and timezone.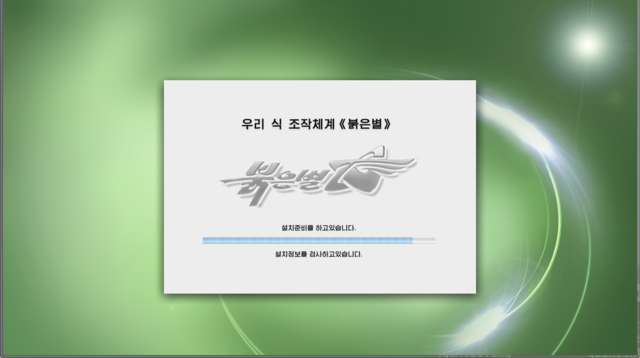 Red Star's installer does not have any confusing options for defining custom /home partitions or anything like that. There is also no full disk encryption support. This is good since it could make your computer unusable if you were to forget the password, or if the supreme leader wants to take a look at your documents. The installer is very user-friendly in every way.
Features and usability
Red Star Linux 3.0 comes with a pair of very secure kernel modules which are untouchable by user-space. The root user is unable to unload them or modify their operation. This provides high security for custom OS operations. These modules provide some very beneficial features to the user:
All files opened are tagged with a UUID which identifies the computer files are opened on. New UUIDs are appended to already tagged files. This way each file gets a complete history of all the machines who's touched them. This is highly useful in many ways. Torturing you to make you reveal co-conspirators is not required if you are arrested for distributing imperialist propaganda; their unique computer identifiers are embedded in your files.[1]
This is not the only benefit of having secure kernel modules outside of your control running. Red Star OS has a very advanced anti-virus scanner which will identify documents and images containing imperialist propaganda and automatically remove the files and sign you up for re-education.
There are some tools available that can be used to disable these wonderful security features[2]
Desktop environments
Red Star OS version 3 uses a highly customized version of KDE 3.5. It comes with a custom version of the Firefox web browser as well as all other software you need. You do not need other software than what is included.
The desktop looks very much like Mac OS X and they've done a good job at cloning it. The default language is Korean. It is possible to change it to English but it takes some work.[3]
Conclusion
Red Star OS 3.0 is a great distribution which will keep you loyal to the glorious supreme leader and the country's belief system. You never have to worry about being exposed to imperialist propaganda, the OS will automatically delete all instances of imperialist propaganda and report you and those who gave it to you so you don't have to do that yourself. It's efficient and time-saving. This distribution is highly recommended. The only draw-back is the very old software; The customized versions of KDE and Firefox included in Red Star OS 3.0 are very old and outdated.
The Chinese gave Red Star OS 3.0 a strong review at bilibili video[4].
There is a version 4.0 of Red Star but it is, so far, only available in DPR Korea.
Red Star OS 4.0
The Pyongyang Times - a state-owned Korean newspaper with editions in English and French - reported that Red Star OS 4.0 is released in January 2019.
"Red Star 4.0 server operating system has recently been developed. The developers established Red Star in accordance with the liking and emotion of Koreans and has improved the OS by making the most of the fertile features, performances and security elements of Linux."
The Pyongyang Times in January, 2019
[5]
We would love to get our hands on a copy.
Alternatives
HamoniKR is a South Korean Linux distribution customized for and adapted to the needs of Korean people. It lacks the very advanced anti-virus / anti-imperialists propaganda scanner and file tagging modules Red Star OS has but it is in other ways a lot more user-friendly than Red Star OS is.
Download
Notes