Deepin
From LinuxReviews
Jump to navigation
Jump to search
Deepin

The Deepin Desktop Environment

Developer(s)
China
(Wuhan Deepin Technology Co., Ltd)
OS family
Linux distribution
Based on
Debian 10.5
Source model
Free software
Initial release
February 28, 2004
Latest release
20 / September 11, 2020
Marketing target
Personal computing
Available in
Multi-lingual (Most languages, even French. No Norwegian)
Update method
Deepin App Store
Package manager
apt (dpkg)
Platforms
AMD64
Kernel type
Linux
Userland
GNU
Default user interface
Deepin Desktop Environment (Qt-based)
License
Free software licenses
(mainly GPL)
Website
www.deepin.org/en/

Deepin is a Debian-based Linux operating system from Chinese Wuhan Deepin Technology Corporation featuring a unique and very user-friendly desktop environment called "Deepin Desktop Environment". It comes with a wide range of easy to use applications written specially for it's Deepin Desktop Environment in C++ using Qt and the "Deepin Tool Kit" (DTK). Deepin is very easy to install, it is easy to use and it comes with everything you need to do most tasks you would want to do on a desktop or laptop computer.
written by 林慧 (Wai Lin) 2020-09-18 - last edited 2021-01-15. © CC BY
We tested Deepin 20, released in September 2020, for the purpose of this review. It is based on Debian Buster 10.5.
At A Glance
Deepin at a glance

Easy to install
Easy to use
Custom user-friendly desktop environment
Rich set of desktop unique applications available
Based on Debian 10.5. Debian, Ubuntu and Linux Mint users will know it beneath the hood
Made in China
Installation
Installing Deepin 20 is very easy. It will ask you what language you prefer, and there are many to choose between. It then asks for a installation target. You can simply click a hard drive or a SSD if you want to install to "Full Disk". There is also an "Advanced" partition editor for those who hopefully know what they are doing. The HDD or SSD must be 64 GiB or larger or it won't let you choose a HDD or configure partitions. That may be because the defaults partition layout is a bit wired. It will propose a 11+ GiB /recovery partition, among other oddities. Full disk encryption can be enabled using option hidden among very small text at the bottom of the installation screen. They don't really encourage you to hide your files from the friendly totally human-rights respecting Chinese regime.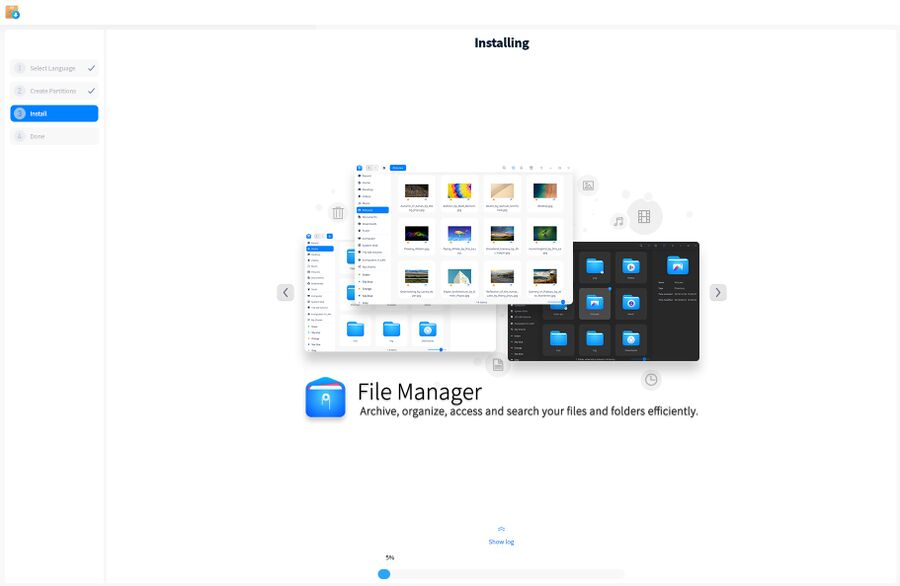 Deepin 20 shows a slideshow high-lighting the unique Deepin desktop applications it comes with while it installs.
Deepin will ask no more questions and proceed with the installation once you have selected a harddrive and approved the partition layout. The installation procedure will not take long depending on what hardware you have and the speed of the installation target (it will take a short while on an old computer with a HDD).
There are a few more steps to take upon first boot into Deepin once it is installed. It will asks you to set a keyboard layout and time-zone (not auto-detected using GeoIP), create a user-account and configure your network (!). You will only have to change network settings if you want to enter a Wi-Fi password just click next and use the default settings if you use a wired network. Deepin will then spend some time "Tuning system" before you get to a login screen where you can enter your new username and password.
Features And Usability
Deepin has a very user-friendly and well-designed desktop environment called the "Deepin Desktop Environment". It is written in C++ using the Qt libraries and a special GUI toolkit called the "Deepin Tool Kit" (DTK).

Deepin 20 with the welcome "Desktop mode" switcher, the Deepin Video player, the Deepin Control Center and LibreOffice.
Deepin will start a simple guide upon first login where you can choose if you want your desktop environment to have a "Fashion Mode" or "Efficient Mode" look. The one toolbar at the bottom of the screen will look slightly different depending on what you choose. Both look fine.
The Deepin desktop environment uses a well-implemented type of client side window decorations. Windows can be maximized fully, vertically or horizontally by clicking on the the maximize button using the right, left or middle mouse button. There is no button for shading windows, placing them on top of the stack or making them sticky between work-spaces. Those features are available, but you have to right-click the window title-bar to use them. The Western filthy foot desktop environment could learn a lot from the Deepin Desktop Environment which gets all the things dirty foot desktop gets wrong right. You don't have to remove functionality to make a desktop environment look beautiful and modern.
The default Deepin desktop does not have any separate application switcher area in the panel. Icons for open applications are, instead, added to the end of the middle row with default applications. There is also a "Multitasking view" where you can get an overview of all open applications. This is similar to the filthy foot desktop environments "Activities" view.
The Deepin desktop environment integrates well with any GTK or Qt based application one might run on it. The user-friendly and feature-rich Deepin file picker is used in place of the inferior GTK file picker in all applications, including applications like Mozilla Firefox that defaults to the GTK file picker on other Linux distributions.
The panel has a regular system notification area in the lower right corner. The Deepin Music player and other music players like Cantata can dock to this notification area. The "Notification Center" where system notifications become available is available among the notification icons. The notification is one of the many features the Deepin Desktop Environment, and KDE Plasma, has that filthy foot desktop and distributions using it lack.
Deepin has a on-screen keyboard easily accessible in the notification area in case you use it on a laptop or other device with a touch-screen.
The Deepin Desktop environment is overall very smooth, elegant and user-friendly yet it is also powerful and feature-rich. It offers a much better experience than the filthy foot desktop environment all the Western 白左 Linux distributions force their users to endure.
Default Applications
Deepin comes with a long list of very user-friendly yet feature-rich powerful applications (not toy "apps" like GNOME). Some are special Deepin applications, others are not.
Mozilla Firefox is the default web browser, Thunerbird is the default e-mail client and LibreOffice is the default office suite. Deepin ships the Firefox ESR (long-term support) edition.
The video player is a special application called Deepin Video. It supports playlists, it plays all the video formats, you can move ahead or back with the arrow keys and you can click anywhere on the timeline slider to jump to a specific time in a video.
The default file manager is another special Deepin application. It looks like something between Xfce's Thunar and KDE's Dolphin. There's also a special Deepin calculator, image viewer, photo organizer, document viewer and a data-base/collection oriented music player.
Deepin comes with it's own "App Store" where you can easily install a wide range of free software with a few clicks.
Hi-DPI Support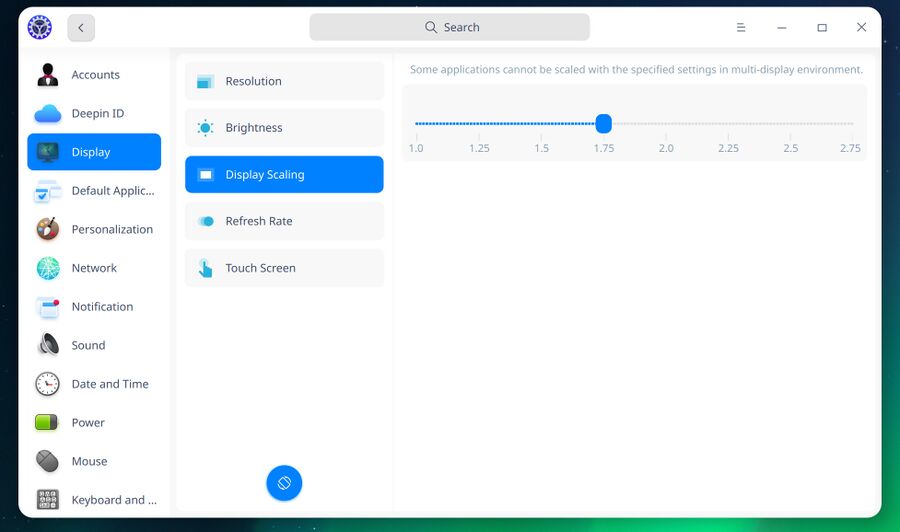 Deepin allows users with high resolution displays and/or poor eyesight to scale the desktop to any size using a simple slider.
Deepin has excellent support for high resolution displays and people with poor eye-sight. The Display section in the deepin Control Center allows you to set Display Scaling in incremental steps (1.0, 1.25, 1.5, 1.75 and so on). There's not just the too small 100% or a too big 200% settings filthy foot desktop limits that desktop environments scaling to.
Under The Hood
Deepin does not ask you to setup a root account password when you install it. You are supposed to use sudo to run commands as root. You can obviously just sudo -i to get a root shell anyway and, once there, use passwd to set a root password so you can use su (it does come with the su binary).
Deepin uses systemd for system service management and NetworkManager for network management.
It uses the tried and true Xorg display server (not Wayland) to provide the graphical environment. It uses the kwin window manager from KDE Plasma.
Deepin does not have any special security framework like AppArmor or SELinux. Debian does have AppArmor, it seems Deepin has decided to disable in their distribution.
Packages are, beneath the hood, managed using the Debian apt package management system. The only pre-configured repository in /etc/apt/sources.list is a Deepin "community-packages" repository. Other repositories can be added manually. The App Store uses native Deepin packages only, it does not tie in with flatpak FlatHub or Snap.
Verdict And Conclusion
Deepin is a very smooth, well-polished and user-friendly Linux operating system with a lot to offer that other desktop environments simply do not have. The Deepin Desktop Environment is feature-rich, easy to use and it gets a lot things right both GNOME and KDE get wrong. It is very user-friendly and simple, like GNOME, yet power-full and feature-rich like KDE Plasma. It is like a slightly simpler KDE Plasma environment without all the bugs KDE Plasma has.
Deepin is absolutely worth a try if you are looking for a very elegant, stable, feature-rich and easy to use Linux distribution.
Laptops And Other Hardware With Deepin Pre-Installed
Huawei offers laptops with Deepin pre-installed in the Chinese market. These machines are currently not available outside of China.
Links
Deepin 20 1002 for 64-bit x86 systems can be downloaded with BitTorrent using this magnet link: magnet:?xt=urn:btih:242b5046e31e5f51b96f2b7a7d34d47ea93b39c6
Last reviewed Linux distributions:
AlmaLinux


AlmaLinux is a fork of the commercial American GNU/Linux distribution Red Hat Enterprise Linux developed by CloudLinux incorporated. It is a 1:1 clone of the latest stable RHEL releases with different branding. It has a stable software base very suitable for production servers.

Rocky Linux


Rocky Linux is a upcoming stable-focused GNU/Linux distribution based on Red Hat Enterprise Linux. It will be binary-compatible with RHEL and follow upstream development the same way CentOS did before CentOS went from being a stable distribution based on stable RHEL releases to a beta-quality test-bed for RHEL towards the end of 2020.

Linux Mint


Linux Mint is a GNU/Linux distribution most notable for its distinct green and black branding. It it based on Ubuntu Linux LTS releases with the latest (as of early 2020) Linux Mint 19.3 release based on Ubuntu 18.04. It is available as live ISO images with either Cinnamon, MATE or Xfce. Linux Mint adds its own branding, some custom configuration files and newer versions of Cinnamon and MATE to its Ubuntu LTS variant. The differences beyond that are minor.

(See the Linux distributions category for more distributions)