Hannah Montana Linux
From LinuxReviews
Jump to navigation
Jump to search
Hannah Montana Linux was a GNU/Linux distribution themed after some TV show that was popular in the US in the early 2000s. There was just one release. It was just a version of KUbuntu, Ubuntu's KDE-desktop flavoured spin, with a custom KDE theme and a purple icon pack. That's it, that's all it was. The latest version available is from 2008. It used KDE 4.2, which is now ancient. The icons appear to simply be KDEs Oxygen theme from that time with half the icons shaded pink or purple.
Making your own GNU/Linux distribution like Hannah Montana Linux
There's zero reason to install an ancient version of KUbuntu with an outdated version of KDE just to get a Hanna Montana themed desktop. The better alternative is to simply download the icons and the theme and use that with a modern GNU/Linux distribution. The icons and wallpaper can be used on modern KDE version as well as other desktop environments such as XFCE4.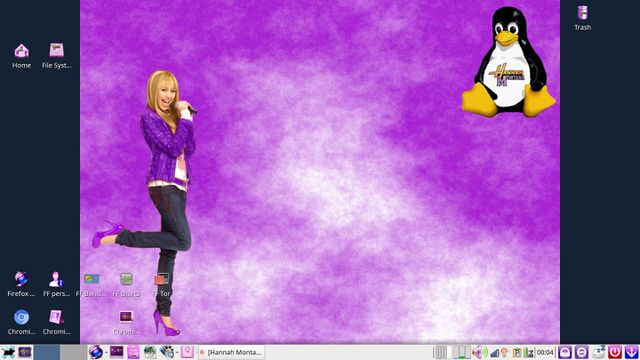 Here's the icons:
Unpack the icons and place them in either /usr/share/icons/ or $HOME/.local/share/icons.
Getting the rest of your modern GNU/Linux distribution Hannah Montana themed may be slightly more tricky. You can use this KDE 4.2 theme file as a starting point:
It has the following folders: bootscreen kdm ksplash plasma wallpapers - it does not include the icons (download the icon file separately).
You could make a custom a Plymouth theme with script which uses bootscreen/splash.png. The kdm display manager for KDE is discontinued so that theme can not be used on modern KDE. The ksplash theme is probably still usable and so are the wallpapers. Plasma has changed a bit between KDE 4 and 5 but you could make the Plasma theme work with some effort. Good luck.
Links
Hannah Montana Linux is still available for download at http://hannahmontana.sourceforge.net/ in case you want to try the full distribution.