KolourPaint
From LinuxReviews
Jump to navigation
Jump to search

KolourPaint is a pretty simple drawing program and graphics editor similar to Microsoft Paint. It has the basic tools tools required to paint and draw but no advanced features like layers, masks or anything on that level. It has a user-friendly interface and support for a huge amount of graphics file formats. It can be used to both create art and do image editing but it's lack of features makes it rather cumbersome compared to more advanced software. It is more like a kids toy than a full-featured graphics editor.
Features and usability
KolourPaint has some selection tools, pen and brush a drawing tools, a line tool, fill tool, spraying can and an eraser. And some tools for drawing squares, circles and ellipses. There's not much more to it than that. The bottom area has a color palette.
The Image menu item has some basic options for image editing such as Flip, Mirror, Rotate left and right and various effects.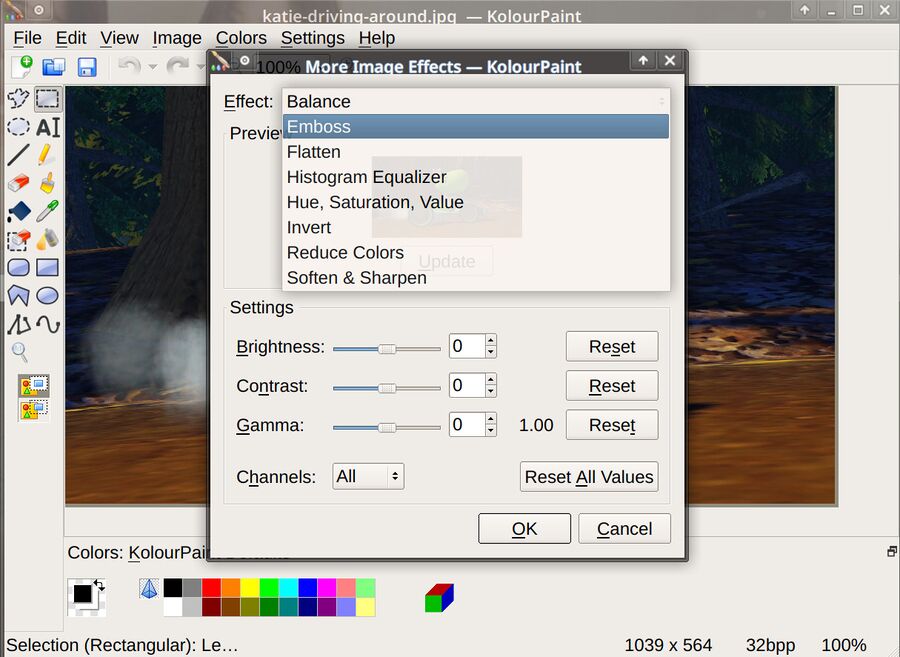 It is fair to call it's limited user-interface very user-friendly. Taking advantage of the features KolourPaint has is real easy. The fact that there's very few features to take advantage of makes it hard to do quite a lot of the things that are very quickly done in much more advanced programs like the painting program Krita or the image editor GIMP.
KolourPaint is in many ways very similar to Tux Paint and it will probably entertain a 5-6 year old who wants to play around with a simpler painting program.

Kolourpaint v4.2.62 on KDE 4.2.62
KolourPaint has a built-in screenshot function but it's limited: You can only take a screenshot of the entire screen. There is no option of selecting a single window or an area. There are dozens of better options for taking a screenshot.
Verdict and conclusion
You can open pictures in KolourPaint and quickly rotate them or mirror them or crop them or apply some text to them. And you can draw very advanced artwork if you have the patience to do that using a program with no layers or anything like that. It is just not a good choice for drawing compared to the much more feature-rich Krita painting program. It's also nowhere near as versatile as GIMP when it comes to photo-editing. However, KolourPaint is a whole lot easier to learn and use than GIMP and Krita. And it's fine if you just need the basics. But it really is more of a children's toy, like Tux Paint. It's not exactly something you can use as a replacement for Photoshop.