Rockit Girl
From LinuxReviews
Jump to navigation
Jump to search
Rockit Girl (락킷걸) is a South Korean rock/pop duo consisting of the very talented Han LeeSeul (한이슬) and Della (델라). The duo debuted in 2019. Rocket Girl has many wonderful rock hits as well as very charming happy songs like "Little Cat".
Members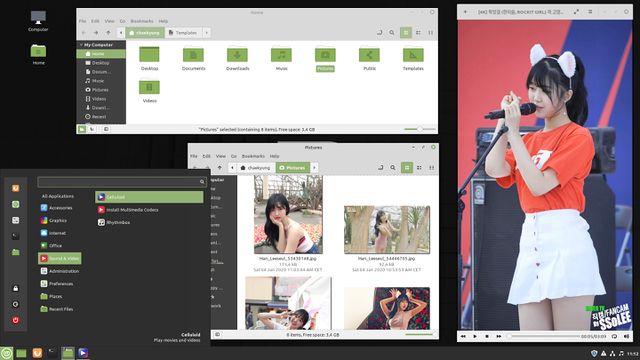 The free software operating system Linux Mint 19.3 Cinnamon Edition playing a Han LeeSeul (한이슬) fan-cam video using its default media player.
Han LeeSeul (한이슬), who is gorgeous and very talented, was born February 13th, 2000. She participated in the 2017 National Chunhyang Selection Competition and won. She Graduated from the Balgok High School in 2018.
Della (델라) is the other member of the Rockit Girl duo.
Discography
Rockit Girl is most famous for their wonderful smash hit "Little Cat" which was released in July 2019. It is a very cute and happy song about a little cat. Rockit Girl released more heavy rocky song titled "Rockit Girl" around the same time.
Rockit Girl released a metal version of "Little Cat" on YouTube in January 2020.
Links