Krita
From LinuxReviews
Jump to navigation
Jump to search
Krita is a very advanced printing program and raster graphics editor with a huge toolbox of features. It has all the bases covered, digital artists will find that it has everything one could desire from a modern painting program and more. It has layers, masks, a huge variety of brushes, easy to use color palettes and there's a standard and a "artist" palette. It supports vector art. There's python scripting support for animations. It utilizes multiple CPU cores for great performance and the canvas is OpenGL accelerated. Krita works on Linux, *BSD, Windows and Mac OS X.
Features and usability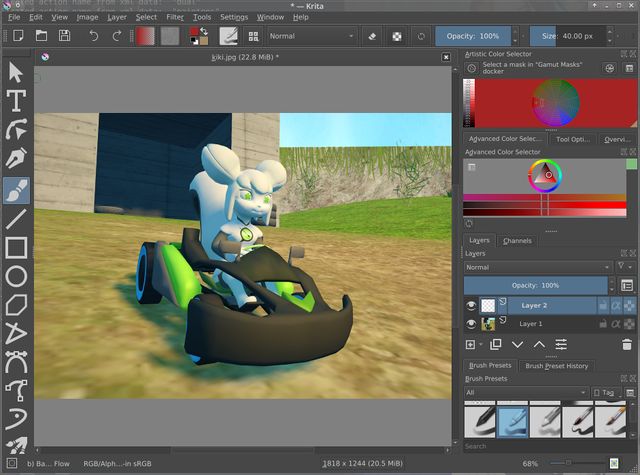 We would very much like to give a really in-depth review of Krita in terms of usability but we can't. Seeing that there are a lot of features is easy enough. Using and testing many of these features is also easy; we can add layers and paint on then move them up and down and around. We can choose brushes and paint broad strokes and we can choose colors and play around. Our problem with doing a proper review of Krita is that we are not "artists".
We do know that someone who is an actual artist made the splash-image for Krita version 4.2.0 entirely in Krita: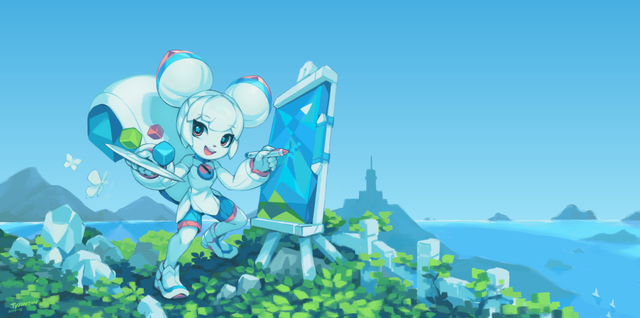 We strongly suspect that you will find that Krita has everything you need to make fantastic artwork if you are the artists. We simply can not verify if that is the since we are, in fact, not artists and as such it makes little difference if we use pencil and paper or Krita or just throw paint at the wall.
"Easy to use"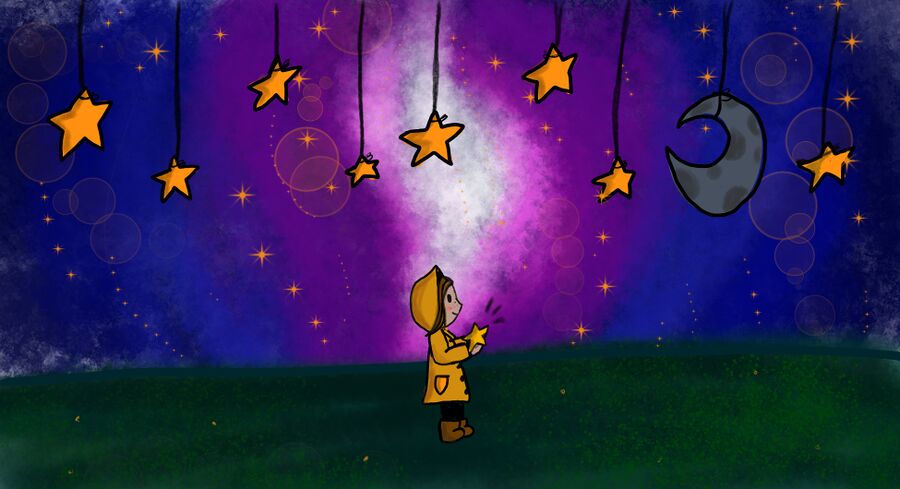 Digital Painter Asja Flaim, who made the above image in Krita, had this to say about Krita in an interview published in the Krita blog:
"It is easy to use, everything you need is easy to find and I can adapt my work space like I need it, with all my tools in place."
You can enjoy more of his artwork at Instagram.
Brief History-Lesson: Krita is 20 years in 2019
The idea of Krita was conceived all the way back in 1998[1] and development begun 1999. It took 5 years of programming before the first release in 2004. The first proposed name was Krayon; it was rejected in favor of of the name KImageShop which, as luck would have it, didn't stick. The more appropriate and fitting name Krita did.
Krita was originally distributed as a part of the KDE Office suite Koffice. KOffice 1.4, released in 2005, included it. It didn't take long before Krita's popularity demanded that it be it's own separate project.
Krita is now 20 years old if you count from the time it's first code was written.
Notes
News
Krita 5.0 Will Have A Built-In Screen Recorder


It has been one and a half years since Shi Yan first submitted a series of patches implementing screen recorder functionality. Those patches have finally been merged into Krita's master source tree. Krita 5.0 will have the ability to create neat time-lapse videos of drawings done in Krita by capturing canvas snapshots when it has been drawn on and the pen has been down for at minimum of two seconds.

Krita Paint Program Will Get SVG Mesh Gradients, Storyboard Docker, MyPaint Brush Engine And Dynamic Fill Layers Thanks To GSoC Students


Four students have been working hard on new functionality for the already superb Krita painting program as part of Google's Summer of Code program this summer. Support for dynamic fill layers using Disney's SeExpr expression language has made it into the Krita 4.4 branch scheduled to be released later this month. Krita 5.0, coming next year, will additionally have support for mesh gradients, storyboard and the MyPaint brush engine thanks to these students hard work.

Krita Gets $25,000 From Epic Games


Epic games, known for the proprietary Unreal game engine, has given the developers of the Krita paint program a $25,000 grant to improve Kritas development process.