KDE Plasma
From LinuxReviews
Jump to navigation
Jump to search

KDE Plasma, or just "Plasma", is the most advanced and feature-rich desktop environment available for modern computers. It is years ahead of anything else available for both other Linux distributions and other operating systems. It is highly configurable and it can be customized to have a wide variety of layouts. Panels can be placed anywhere. The desktop's root window can have a wide variety of applications such as calculators, notepads, clocks and much running on it. KDE Plasma allows for many different desktop layouts and workflows. There's support for multiple work-spaces and different "tasks" where one task can have a set of programs and another task can have another setup. The window manager supports compositing and offers many graphical effects like exploding windows, window overview on a cube and much more.
KDE Plasma's Blue-Print: Their Total Plan
The KDE community's Total Plan as revealed by KDE insider Jonathan Riddell after a meeting with members of the KDE cabal in Valencia is as follows:
"Plasma is a cross-device work environment by the KDE Community where trust is put on the user's capacity to best define their own workflow and preferences.
Plasma is simple by default, a clean work area for real-world usage which intends to stay out of your way. Plasma is powerful when needed, enabling the user to create the workflow that makes them more effective to complete their tasks.
Plasma never dictates the user's needs, it only strives to solve them. Plasma never defines what the user is allowed to do, it only ensures that they can.
Our motivation is to enable actual work to happen, across devices, across different platforms, using any application needed.
We build to be durable, we create to be usable, we design to be elegant."
The KDE community have, as we will show in this article, been successful in making a very powerful and highly configurable desktop environment which can be customized according to each users preference.
They have not yet managed to force KDE Plasma users to do actual work in their "work environment". While writing this article could be called "work", the truth is that a lot of our time is spent watching k-pop shows and music videos. KDE Plasma can absolutely be used for videos, games, and other entertainment.
KDE's also slightly failed in making Plasma ensure that it's always possible to do what you want to do due to the bugs. KDE is, sadly, not as bug-free as Xfce. There are some crashes which do detract from the experience. And it's quite sad because KDE Plasma could easily be the best desktop environment of all. It absolutely would be if it was bug-free.
Features and usability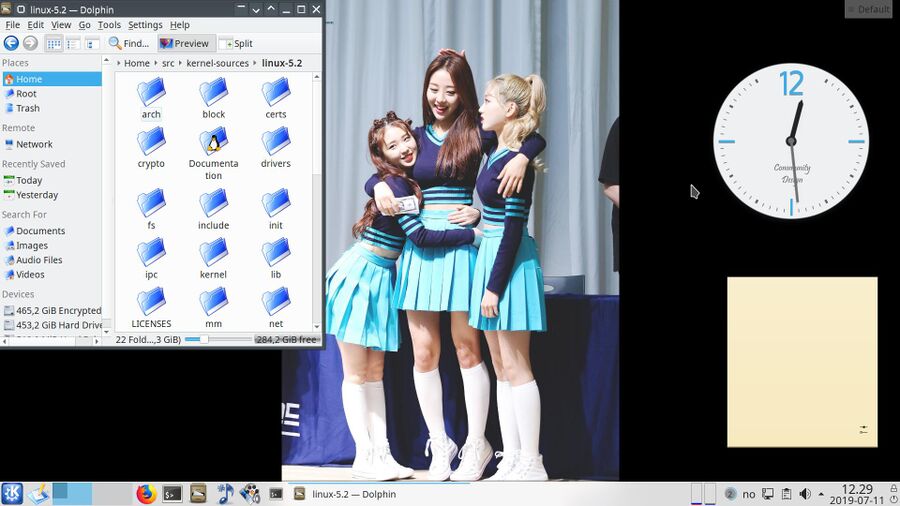 KDE Plasma's desktop environment many advanced features which makes desktop environments like Xfce, LXQt and that foot thing look ancient and outdated in comparison. The desktop itself can have small applications called "widgets" running on it. There are a lot to choose from. You can add various clocks, a calculator, a simple notepad, volume and screen brightness controls, a dictionary, comic strips, monitoring tools with graphs for the CPU, memory and network load and much more. It is of course possible to add good old application launcher icons.
Plasma's panels, and you can have more than one, can be resized and moved around. Panels have a auto-hide option which is broken in so many ways it's not even funny. And this is something which, sadly, plaques KDE: It really is quite buggy. This is absolutely not something you want from a desktop environment. Xfce just works as expected. That's simply not the case when it comes to KDE Plasma.
Broken Panel Auto-Hiding (and other problems)
If you like to auto-hide your panels so they do not waste the limited horizontal screen real-estate then KDE Plasma may not be for you. That very basic feature has been broken in KDE Plasma for a decade. It's a basic feature Xfce and LXQt users can take for granted; KDE Plasma users can't. There are workarounds for some of the bugs you are likely to encounter if you set your panels to auto-hide - but there's so many it's a lot of work to get it partly working. Using KDE 5.15.5 right now the panel is a) set to auto-hide and b) visible.
Here's a partial list of bugs just related to KDE Plasma's malfunctioning panel auto-hiding:
That's a very long list of panel-related bugs. Why include it? Kids who have been alive fewer years than I've used GNU/Linux like two whine about bugs not being detailed in length when I write a bad review. There you go, kids, close them bugs and the thousands of other open KDE Plasma bugs while you're at it and I'll happily write that KDE is not buggy. However, I simply can't do that without lying as of now.
KDE fan-boy kids with 2 months of C++ developer experience will probably whine anyway since this review doesn't detail the mountains of bugs in other areas. I could list them too but it would take forever so I'd rather not.
Verdict and conclusion
KDE Plasma is the most advanced desktop environment available for any OS. It is far ahead of anything else in terms of features. It is also extremely configurable; you can easily make it your own and adapt it to your preferences.
However, it is just not rock solid stable or bug-free and that's a problem.
The amount of bugs KDE is littered with makes Xfce a better choice if you are looking for a solid work environment. Just be prepared to waste 300% more time when using XFCE, if you can finish a job at all.
Workaround For Bugs
Pop-out toolbar menu displayed on the wrong monitor on multi-monitor setups: That's a known Qt 5.15.0 bug that affects Qt, KDE and also Windows and macOS. The only known solution is don't use Qt version 5.15.0. Qt 5.15.1 does not have that problem.
Mouse pointer is too small and does not follow system size in Qt/KDE applications: This is a new bug in Qt 5.15.1. Qt and KDE programs get a tiny mouse cursor while all other programs will follow the system-wise mouse pointer size. A work-around for this is to export XCURSOR_SIZE=48 or start Qt and KDE programs with XCURSOR_SIZE=48 programname. Setting the mouse cursor size in systemsettings5 will only make it big in that particular program and only until you close it; re-opening it or opening any other Qt or KDE program results in a tiny mouse cursor if you have Qt 5.15.1 and you haven't explicitly set XCURSOR_SIZE=.