Thunar 1.6.18 marks the end of Xfce 4.12
From LinuxReviews
Jump to navigation
Jump to search

Xfce 4.12, released 28 February 2015, was replaced by the GTK+3-based 4.14 version earlier this year. A few newly released distributions like Debian Buster are still shipping 4.12. The majority have moved on to 4.14 and so have the developers who are already working on the 4.15 development-series which will be released as Xfce 4.16 in October/November 2020. Thunar 1.6.18 will be the last update to Thunar's 1.6.x branch for Xfce 4.12. This indicates that IT'S OVER for Xfce 4.12. There will be no more updates and those who resist upgrading will be left on their own.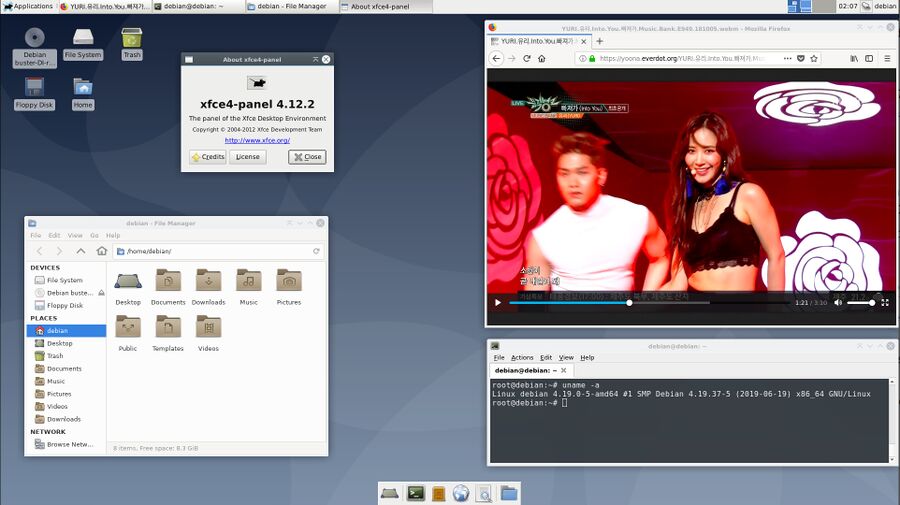 Thunar and a Xfce 4.12 desktop running on Debian Buster.
Thunar 1.8.x (for Xfce 4.14) is the current "stable" series. Thunar 1.8.10 was released with lots and lots of bug-fixes together with a Thunar version 1.6.18 for the soon-to-be abandoned 4.12 version of the Xfce desktop environment. Thunar 1.6.18's changelog has this somewhat concerning statement:
"Probably the last thunar release on the xfce-4.12 branch"
Thunar 1.6.18 Changelog
The rest of the changelog lists the fixes since Thunar 1.6.17:
Crash on refresh if remote folder has been removed (Bug #15961)
Remove 'auto-expand folders' from tree-view since it causes bad usability with keyboard (Bug #15743)
Changed Wiki links to https://docs.xfce.org/xfce/thunar/4.12/start
Dont restart the folder monitor on each refresh - Fixes "ghost files after moving files" (Bug #13364)
Fix build without HAVE_GIO_UNIX (Bug #12863)
Translation Updates: Catalan, Chinese (Taiwan), Danish, Norwegian Bokmål, Persian (Iran), Slovenian,
Xfce developers are already working on Xfce 4.15. Odd-numbered releases are development versions, even-numbered releases are "stable". 4.15 is therefore a development release which will be released as Xfce 4.16 slightly less than a year from now.
The faster-than-usual development cycle for the next major release is probably why the Xfce developers are indicating that it's over for Xfce 4.12. That may be a problem for distributions like Debian who decided to ship 4.12 when they released "Buster" but it's not a huge deal. More up-to-date distributions like OpenSUSE, Fedora and Manjaro Linux moved on to Xfce 4.14 long ago.
Xfce 4.12 may get security updates if any security issues with the old version are found. We asked the Xfce developers for comment about security updates and got this response:
"That depends on how trivial a backport would be. You're asking a volunteer to obligate themselves to an unknown amount of time/effort/work."
anonymous Xfce developer sources
They further added:
"the dramatic tone you're using makes it look like its the end of the world, can you please refrain from that?"
anonymous Xfce developer sources
The anonymous Xfce developer has a point: This isn't the end of the world. Xfce 4.12 was released in 2015, Xfce 4.14 is a stable and rock solid desktop environment and most have moved on to the new version.
Xfce 4.14 is worth a try if you are unfamiliar with Xfce, it's a solid, light and rock solid stable desktop environment which doesn't get in your way so you can focus on getting things done.
published 2019-11-10 -  last edited 2019-11-10