Thunar 1.8.10 Released With Plenty Of Bug-Fixes
From LinuxReviews
Jump to navigation
Jump to search

The latest release of the default file manager for the Xfce desktop environment has a very long list of bug-fixes in a variety of areas. Some fix trivial visual errors and some fix crashes when doing something like a refresh on a open remote folder which has been deleted. There are no new ground-breaking features, this is a stable version maintenance release which tackles bugs.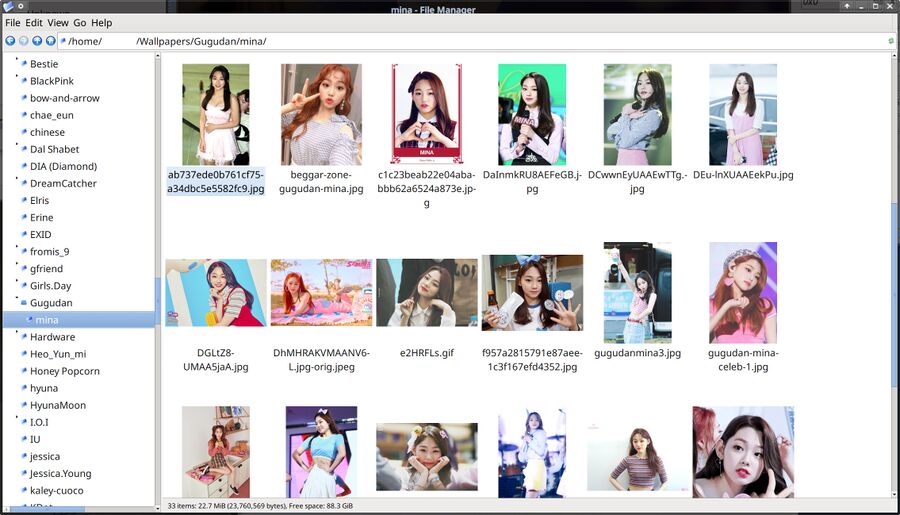 Thunar's Icon View showing image file previews in a folder full of Gugudan's Mina. She's so talented, we love her so much.
The complete very long list of changes since Thunar version 1.8.9 was released is as follows:
Allow compilation with panel 4.15
thunar-job: keep track of number of processed files (Bug #16117)
No context menu on right-click when started via trash-panel-plugin (Bug #16000)
icon text now centered after unchecking "Text besides icons"
Remove the vertical gap between icon and label (Bug #16041)
Fix icon view alignment (Bug #16107)
Not possible to grab scrollbar on the very right pixels when maximized (Bug #16050)
Wrap text of error dialog
Not possible to empty the trash via the pathbar context menu
Crash on refresh if remote folder has been removed (Bug #15961)
Center action buttons in conflict dialog window (Bug #15973)
Ensure UCAs use currently selected file path (Bug #15119)
make filename label selectable in conflict dialog window
Center action buttons in conflict dialog window (Bug #15973)
Clear UCA shortcut when the action is deleted
Prevent Gtk-CRITICAL when adding or modifying a UCA
Thunar SendTo Email: Add missing archive formats (Bug #15917)
sendto plugin: fix content type resolution. (Bug #15916)
sendto plugin: extract function tse_file_is_archive (Bug #15916)
All glory to lowercase (Bug #15394)
mismatched names between thunar.appdata.xml and thunar.desktop (Bug #15498)
Remove superfluous .desktop file "Thunar-folder-handler.desktop.in" (Bug #15467)
Prevent unnecessary fallback copy-delete in file move when overwriting
Fix possible memory leak
Fix popup menus size (Bug #15832)
Add Alt+D as accelerator for Open Location (Bug #15828)
Do not insert hyphens at intra-word line breaks (Bug #15856)
The source for the new version of Thunar can be found at archive.xfce.org/src/xfce/thunar/. Most GNU/Linux distributions will likely have the updated version available in their repositories in a week or two. Thunar's homepage website is at docs.xfce.org/xfce/thunar/start.
published 2019-11-10 -  last edited 2019-11-10