Thunar 4.15.1 Brings A Pause Button On Copy/Move File Operations And Much More
From LinuxReviews
Jump to navigation
Jump to search

The Thunar file manager for the Xfce desktop environment went strait from version 1.8.15 to 4.15 in order to make the version number indicate which Xfce release it is for. Thunar 4.15.1 has since been released to address some unfortunate regressions in 4.15. The latest Thunar version made for Xfce 4.16, scheduled to be released in October/November, has a broad range of bug-fixes as well has long-sought new features like a pause/resume button on the file operation dialog boxes. Here's what's new.
written by 윤채경 (Yoon Chae-kyung)  2020-07-07 - last edited 2020-07-24. © CC BY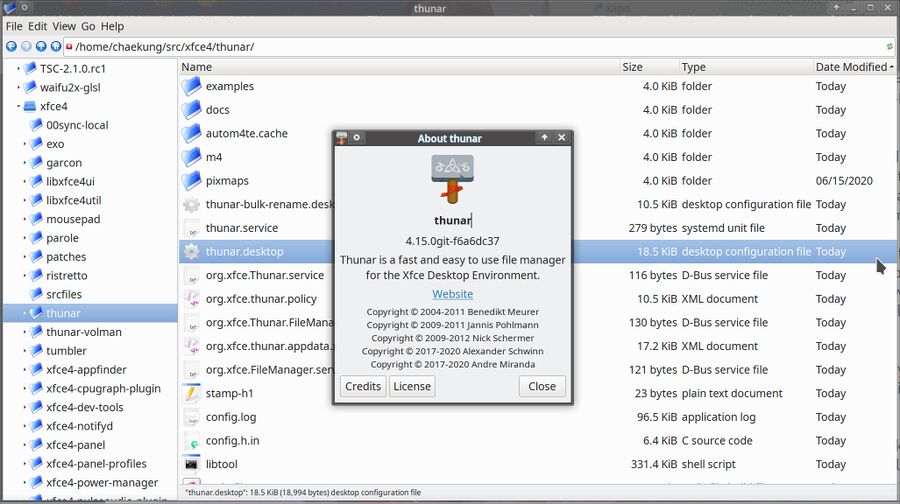 Thunar 4.15.1 running on Xfce4 git.
A lot has happened in the Xfce development tree since Xfce 4.14 was released back in August 2019. The powerful yet slim Thunar file manager for Xfce is no exception.
The release notes for Thunar 4.15, writteh by Xfce developer Andre Miranda, note that:
"I would like to thank the usual hard work of translators and the many contributions from Theo, Reuben, Cyrille and Yousuf, thank you all, we really appreciate your efforts."
Xfce 4.15 release notes
One welcome change in Thunar 4.15+ is the introduction of a Pause button next to the Cancel button in the file progress dialog box. Most file managers have had a handy button for pausing file operations for quite some time. Thunar finally got one in v4.15.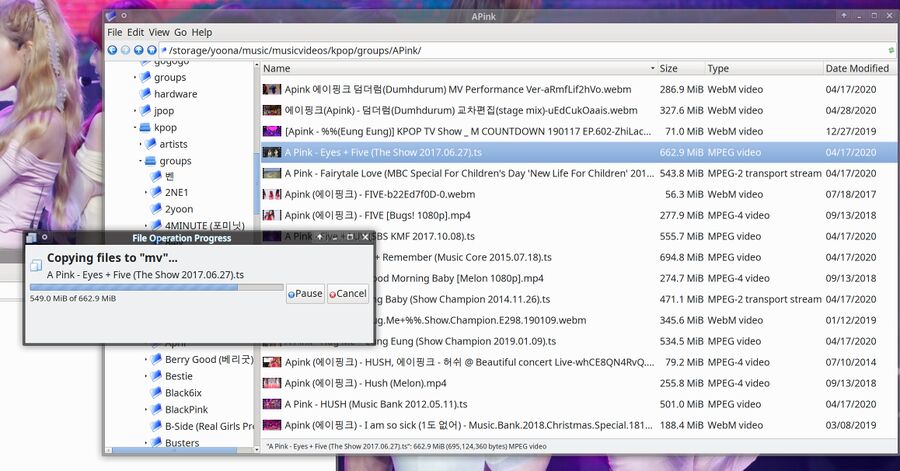 Thunar 4.15 lets you pause file operations from the file progress box.
Other big changes in Thunar 4.15+ are less visible. Xfce developer Alexander Schwinn has made several big changes beneath the hood in preparation for the release of gtk4. Thunar and Xfce uses GTK for the interface and a lot of other things beneath the hood so these changes were necessary. They are mostly not user-visible but they are huge changes nevertheless. He has also made a lot of general cleanups.
One example of less-obvious cleanup changes is the merger for four file context menus into one that is re-used in the various places a file context menu will appear. Changes like that make the code much easier to maintain.
The context menu you get when you right-click a file view under Arrange Items now only says By Name and By Size instead of Sort By Name and Sort by Size. It is a small cosmetic change that makes more sense.
Thunar now uses XfceFilenameInput to validate long filenames. This solves a long-standing problem with very long filenames.
Thunar now accepts variables like $HOME in the file address bar (you can get to it with ctrl+l.


Thunar 4.15 gives you a new option if you copy a file into a folder where a file with that name already exsits.
Thunar will now offer to rename a file if you copy a file into a folder where a file with that name already exists in addition to the Cancel, Skip and Rename options previous version offer.
Dragging and dropping multiple files in the icon view is now possible. It has always worked the list and compact views, now it works in icon mode too.
There are, as mentioned, many more less-important small and under-the-hood changes in Thunar 4.15. You can read the Thunar 4.15 release announcement to see them all if you are particularly interested.
Thunar 4.15+ will be available in major distributions when Xfce 4.16 is released. That will happen in October/November according to the current roadmap.