SuperTuxKart 1.1 Is Released With Better MultiPlayer Support, Better HiDPI Support and A New Arena Track
From LinuxReviews
Jump to navigation
Jump to search

The latest release fo the free software kart racing game SuperTuxKart has many improvements to its online multiplayer gaming mode. There is better game synchronization, IPv6 support, flags indicating where servers are located and many smaller fixed under the hood. There is new emoji support in chats, greatly improved touch-screen support, specially useful for those playing the Android version, and better font scaling and user interface scaling. SuperTuxKart is very usable in 1440p and 4k resolutions. The latest version adds a new gaming arena called "Pumpkin Park". Binaries are available for Linux, Windows, macOS and Android.
written by 윤채경 (Yoon Chae-kyung)  2020-01-05 - last edited 2020-08-30. © CC BY
Better Online Multiplayer Experience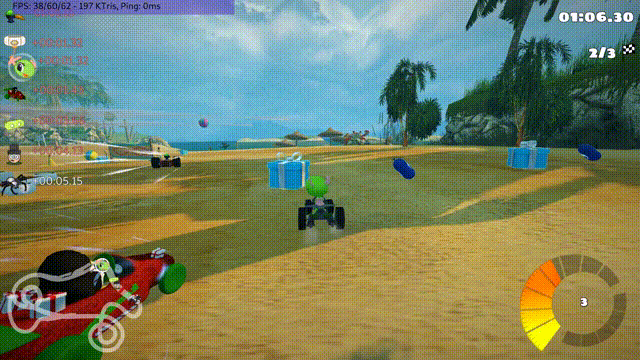 KDE mascot Katie is available as a SuperTuxKart add-on. She is a very competitive and ruthless driver.
SuperTuxKart 1.0 was the first release with support for online Internet gaming. Previous releases had networking support but they were limited to LAN setups. SuperTuxKart has several online game modes. It supports regular races, a football mode, capture-the-flag and free-for-all play mode.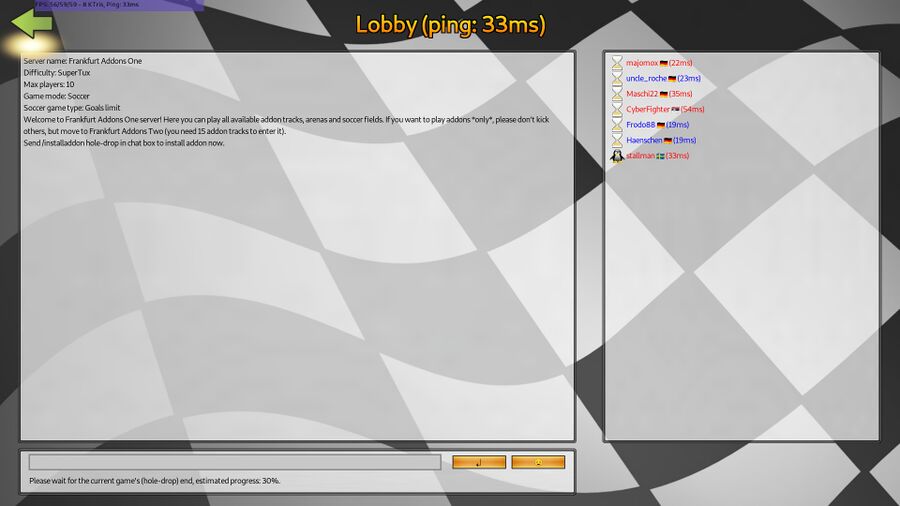 A online multiplayer game servers lobby. Version 1.1 lets you use emjois when you chat with other players.
The online multiplayer support has been improved in version 1.1. SuperTuxKart 1.1 adds IPv6 support, better support for add-on tracks and, most importantly, better game synchronization. There's also emojis support in chats and flags which indicate which country a server is located in.
The lack of players active players does limit SuperTuxKart's online multiplayer gaming experience. There are a lot of servers to choose from but most of them have no active players on them. There is typically just one or two servers with active players racing or fighting in one of SuperTuxKart's many arenas.
New Arena Track: Pumpkin Park

The new Pumpkin Park Arena track.
SuperTuxKart 1.1 has a new arena-only track called Pumpkin Park. It can be used for the non-racing game modes like football (it is not a regular race track). This is the only new track the 1.1 release.
A close-up inspection of the SVN "assets" tree reveals that there are several new tracks in the works for future releases including this rather interesting track by "sam" called "Ciudad Catalina":
Ciudad Catalina racing track by "by sam". It's a work in progress track scheduled for a later release. Crossing the finish line doesn't work and there are some other minor issues with this track which need to be resolved.
Better "High-Resolution" Monitor Support
1440p and 4k users can enjoy better a lot better user-interface scaling and font scaling in the new version. Font sizes can now be configured in the user-interface.
SuperTuxKart will run smoothly at 4k on mid-range hardware like the RX 570 if some of it's graphics settings (Bloom, Light Scattering and Light shaft) are disabled.
General Improvements
SuperTuxKart has a "story mode" where you need to complete challenges and races in order to unlock new tracks and cards. Version 1.1 has a new timer which lets you see just how fast you have finished its various challenges.
Those who do not want to play the "story mode" in order to unlock new features can edit a file in $HOME/.config/supertuxkart/config-0.10/. We are not going to reveal which file or what you would need to change, no-no cheating.
There is also a somewhat strange new feature which lets you see what power-ups other players are holding in multi-player modes in the 1.1 release. That feature was added to make the game fair in case someone was "cheating"; the servers were already sharing that information which meant that anyone running a modified version could already, in theory, see who was holding what power-up.
SuperTuxKart has a ranking system which ranks players after each race. Those who play a lot get a higher rank. The latest version will show you how your ranked was changed after each multi-player race.
There are many more more subtle and less noticable improvements. The driving-on-the-ground sound effect is no longer playing when karts are flying. The points system, which affects the ranking system, distributes point more randomly and less predictably in the new version.
No Steam Release
The SuperTuxKart source-code is licensed under the GNU GPLv3. The current developers are working on dual-licensing it to MPLv2/GPLv3 so it can be made available in the Steam store. This is a long process since it requires consent from all previous contributors. SuperTuxKart could be made available in the Steam games store at later date - but it version 1.1 will not be included.
Improvements Since 1.1 RC1
SuperTuxKart 1.1rc1 was released late last month. SuperTuxKart developer Benau had this to say about the changes between the release candidate and the final release:
What is the biggest improvement between SuperTuxkart 1.1rc1 and the final 1.1 release?
SuperTuxKart developer Benau
on January 5th, 2020
Installation
The major GNU/Linux distributions do not yet have the 1.1 release in their repositories. Some distributions like Manjaro Linux will probably have the updated version in their repositories within a week or two, others, like Debian, will probably not have the 1.1 release until late next year.
Binaries for Linux, Windows, Mac, APKs for Android and the source code area available from a SuperTuxKarts download page at SourceForge. You can also checkout and compile the git version yourself (fairly easy).
SuperTuxKart 1.1 profiles are backwards-compatible. All achievements and unlocked karts and tracks stay intact when upgrading from 1.0 to 1.1.
You can install whatever older version your distribution offers by using the special apt://SuperTuxKart on Ubuntu and Linux Mint or the special appstream://SuperTuxKart on distributions with KDEs Plasma Discover. SuperTuxKart packages in all distributions repositories are named supertuxkart. Downloading version 1.1 from SourceForge is recommended if you know how to unpack and install software from a .tar.xz archive.
SuperTuxKart's 1.1 release-announcement is at SuperTuxKart 1.1 released.