DevilutionX 1.2 Is Released For The Enjoyment Of Diablo Fans
From LinuxReviews
Jump to navigation
Jump to search

DevilutionX is a source port of the classic Diablo game with support for the Diablo: Hellfire extension pack that lets you play Diablo on a vast array of modern hardware, including hardware running GNU/Linux. Fans of this game from the late 1990s can enjoy a long list of game-play related improvements, performance improvements and other improvements in the latest DevilutionX release. The original game, or a shareware version, is required to use DevilutionX. Going with the shareware version will likely result in a huge disappointment.
written by 윤채경 (Yoon Chae-kyung)  2021-04-07 - last edited 2021-04-07. © CC BY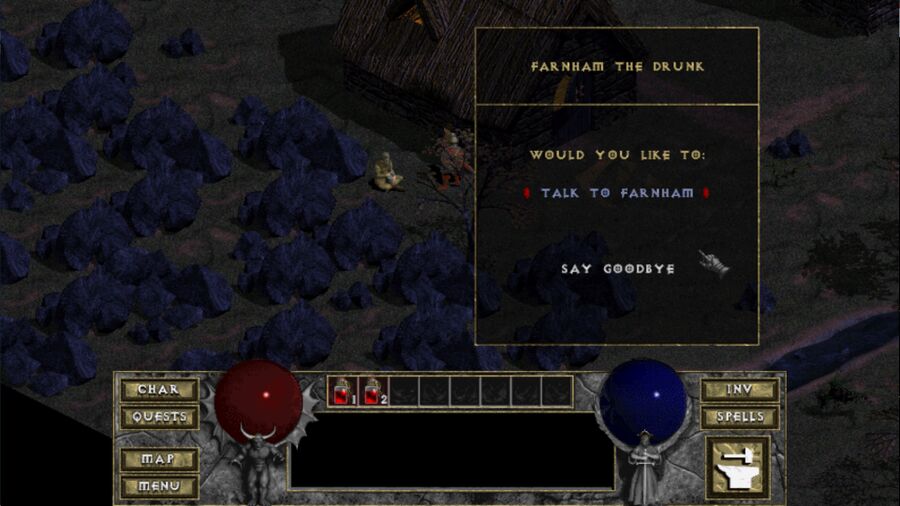 Diablo on Linux running in DevilutionX 1.2. Would you like to talk to Farnham?
Diablo is a role-palying video game that was released by Blizzard Entertainment in January 1997. An expansion pack for it called Diablo: Hellfire was released later that year. Diablo was originally just for Microsoft Windows. PlayStation and macOS versions become available in 1998. There wasn't any GNU/Linux release.
DevilutionX is, according to the GitHub page, "a source port of Diablo and Hellfire that strives to make it simple to run the game while providing engine improvements, bugfixes, and some optional quality of life features". It is just a source code port, the game data is not part of the project. You can either pay good money for the 20+ year old Diablo game (GoG has Diablo for $9.99) or download the shareware version from http://ftp.blizzard.com/pub/demos/diablosw.exe (50 MiB) if you want to play it.
DevilutionX will need the file spawn.mpq from the the shareware version if you want to go that route. The diablosw.exe file can be extracted using Wine (spawn.mpq ends up in $HOME/.wine/drive_c/Diablo/Spawn/spawn.mpq). That file can simply be copied into in the same folder as the DevilutionX AppImage if you acquire the Linux AppImage release from github.com/diasurgical/devilutionX/releases/. There are several other options listed on that page.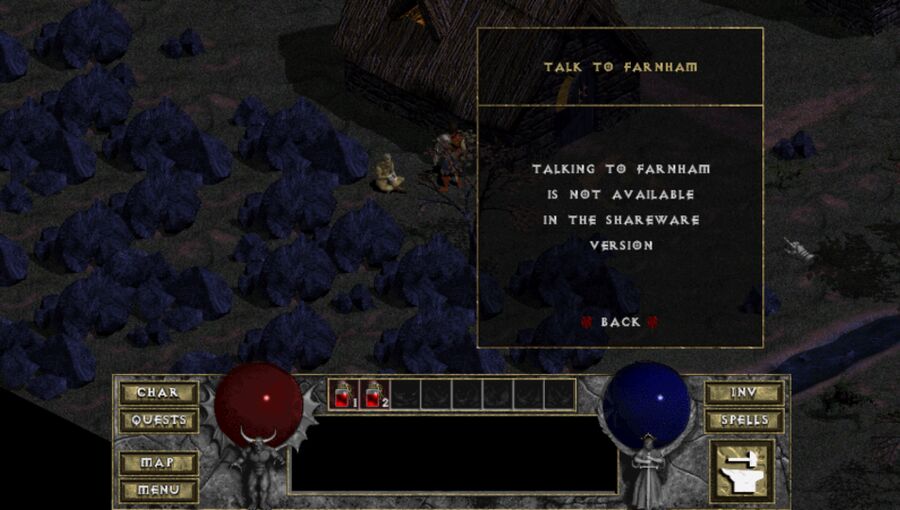 No-no talking to Farnham in the shareware version.
You will quickly discover that the Diablo shareware version is very limited and, overall, utterly pointless if you try it. You really can't do much. You can't even talk to the first person you encounter.
Moving on, fans who have paid for the original game can use DevilutionX 1.2 to enjoy it with widescreen menus, sound in the few in-game videos, improved transparency and some other minor improvements to the in-game audio and graphics. There's also a long list of game-play improvements, better controls and several not-so-visible improvements to the overall codebase.
The DevilutionX releases page at github.com/diasurgical/devilutionX/releases has Linux versions for Arm and x86-64 in the form of an AppImage, a macOS disk image, a Nintendo 3Ds version, a PlayStation Vita version, a DragonFly BSD version and Microsoft Windows versions for x86 and x86-64.