Strawberry
From LinuxReviews
Jump to navigation
Jump to search

Strawberry is a database-oriented music player made for enjoying large music collections. It supports all the common audio file formats. It has many advanced features like metadata tag editing, album art and song lyric fetching, audio analyzer, equalizer and "scrobbler" support for a variety of services. Strawberry started as a fork of the Clementine music player which at the time was based on Qt4. Strawberry uses the more modern Qt5 framework for it's graphical interface. It is a very good music collection manager and player as of version 0.7.2.
Strawberry is available for Windows, all the major Linux distributions and macOS.
Features and usability
Strawberry is a "collection"-oriented database-driven player. You have to configure one or more music folders when you start it for the first time. Strawberry will then analyze the collection and add it to a searchable database. This takes a very long time if your collection is large. Strawberry will eventually finish and populate it's "Collection" tab with songs. That tab can then be used to search through your music collection.
Strawberry can also be used as a regular "non-database" music player. It has a "Files" tab on the left side which can be used to browse the filesystem. It is also possible to drag and drop files from filemanagers like Thunar and Dolphin into the playlist.

Strawberry 0.5.5 playing songs added from the file system browser while it's "Updating collection".
Strawberry's collection view can be used to quickly search through your songs and group them in various ways such as "Album artists/Album", "Genre/Artist/Album". There is also "Advanced grouping..." where you can manually enter any tag for first, second and third level grouping. The collection view was not fine in versions prior to 0.6.0. You may find that Strawberry is a buggy piece of trash if your distribution ships an earlier version.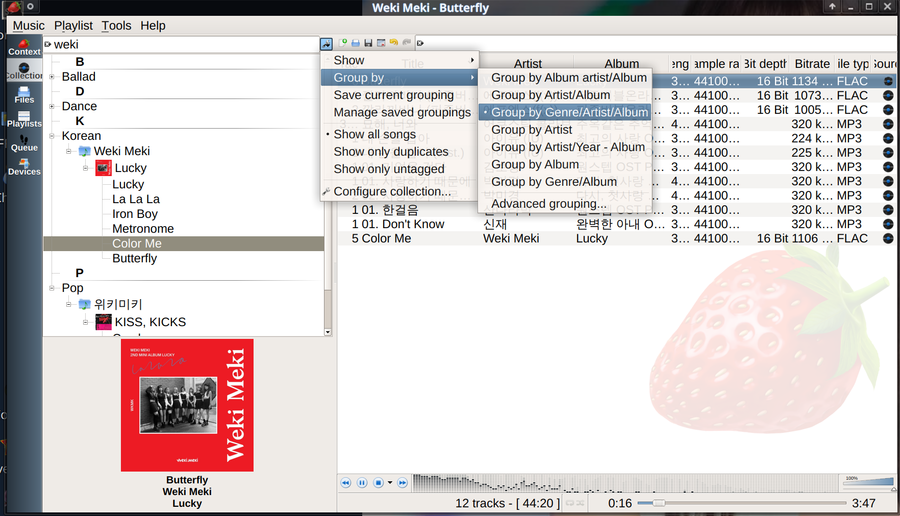 Strawberry can group the collection list in various ways.
Strawberry has a small UI issue you that you will have to fix if you are using a high resolution monitors. It does not care what icon sizes you have defined for Qt applications in tools like qt5ct or the KDE systemsettings. You can, in recent versions, configure what icon sizes you want for every aspect of the interface in Tools ▸ Settings... ▸ Appearance. And you can, alternatively, set the QT_SCALE_FACTOR variable and start it with something like QT_SCALE_FACTOR=1.5 strawberry to make the interface (icons, menus, everything) bigger. You will have to "fix it" by using either of those options if you are using a high resolution monitor.
Strawberry supports a tray icon for showing/hiding it. You can configure it to close to the system tray in Settings ▸ Behavior (not default). Stawberry had a bug where clicking the tray icon would always open it maximized prior to version 0.6.4.
Video files
Strawberry will happily play any video files present in the playlist. A separate window for the video pops up when video files are played. The video window absolutely no controls but it can be re-sized.
Verdict and conclusion
Strawberry is a very nice music collection manager and player that lets you quickly search for a song, artist or album once your music collection has been indexed. It can also play files on the file system that are not part of the music collection which makes it a good all-around player for any purpose.
Earlier versions had some issues that are all iron out in the latest release. Make sure you're using 0.6.4 or 0.7.2, you may find that it is a bad experience if you use an old version like 0.5.5.
Installation
The Strawberry homepage at strawberrymusicplayer.org has Linux distribution specific pagages for openSUSE, Fedora, Mageia, Debian and Ubuntu as well as an AppImage and packages for Windows and macOS. Those packages are typically more up-to-date than what distributions carry, downloading and installing packages from the homepage may therefore be preferable to installing it through a distributions package management system.
Links
Alternatives
Stand-alone music players:
discontinued / abandoned / bankrupt & finished: Clementine | Amarok
Music Player Daemon clients:
mpd is a database-oriented music player daemon which can be controlled by numerous front-end programs.
discontinued / abandoned / bankrupt & finished: Sonata | KMP | Glurp