Mageia
From LinuxReviews
Jump to navigation
Jump to search

Mageia is a user-friendly modern community-made Linux distribution with Xfce, KDE Plasma and GNOME editions. It was started as a fork of Mandriva (Mandrake) Linux in 2011 when a group of employees jumped ship from the now defuct Mandriva S.A corporation. It has since become a full distribution in it's own right with modern features and polished desktop environments.
Mageia 7
Mageia 7rc was released June 2019 and it is very close to what will be the final version 7. Thus; it is what we used for the purpose of this review. We choose it's Xfce edition since it's a light yet fully featured desktop environment. There is also a KDE Plasma desktop version and some foot thing.
Mageia 7 has updated software throughout the system; it uses a 5.1 series kernel (5.1.5 as of now), Xorg 1.20.4 and MESA 19.1 as a graphics stack.
Release cycle and support
Mageia is not a rolling release distribution. It operates on a 9-month release cycle with 18 months of support for each release. Thus; you will have to upgrade once a year at minimum.
Installation
The LiveUSB (or DVD) image boots into a friendly blue screen where you can choose to start a live environment or go directly to the installer. There's two options for each, with our without novidya binary blob drivers. This distribution is clearly not Stallman-approved. It does make things a lot easier for owners of hardware which doesn't function without proprietary drivers.
Booting into a Live environment requires answering 20 questions about language, do you accept a license, timezone, "best time" (that's obviously lunchtime but there's no such choice) and keyboard. keyboard, location and timezone. It will eventually bring up the desktop environment for the edition you downloaded. There are Xfce, KDE Plasma and Gnome editions available.
The Live desktop has a friendly Install on Hard Disk icon on the desktop. Starting a system installation is a simple matter of clicking that icon and Next. First you choose the disk to install to. The next screen offers to not install "Unused hardware support" and localization. Clicking Next after making that choice will begin Mageia's installation.
| | |
| --- | --- |
| | Note: There is one major flaw in Mageia's installer which can not be ignored: It does not offer any easy way to encrypt the installation target. This is a major draw-back compared to most modern distributions who do offer this option. Systematically invading people's privacy has become a matter of routine for border agents, police and similar terrorist organizations. Not having any strait-forward option to encrypt may be a deal-breaker. It is possible to choose Custom disk partitioning and Export mode to get a hard-to use disk partition interface. Disk encryption may be possible if you're an expert but even then it's not that easy to setup and if you're not.. good luck. Many other distributions have a simple easy-to-use [x] encrypt check-box. |
Mageia will ask a few more questions like if you want a graphical or text-based bootloader. It will also prompt you for a bootloader password. The installer then copies many files, asks what default boot option you want and it's done.
The installer never asks you to create a user account or set any root password. This is done upon your first boot.
Hardware support
Mageia is, as mentioned, not entirely Stallman free software. It comes with proprietary drivers for NVidia graphics hardware as well as other proprietary drivers. It also includes all the binary firmware blobs required for many of the Linux kernel's free drivers. It will therefore work fine with just about any laptop or desktop, old or new, with no need to install additional drivers.
The first boot: A Windows Vista Experience
Mageia 7 immediately starts downloading updates the first time you boot your brand new installation. That's an interesting design-decision and one which, quite frankly, is horrible in so many ways.
20 minutes later the first-boot updating is done and Mageia prompts you to configure a root password and a username and password.
The Desktop Experience
Mageia's default Xfce desktop alright but it's not perfect. It's set to use a theme called Adwaita-Xfce and Adwaita icons. Adwaita is made for some foot OS without menus and the menu-bar in programs like Thunar look broken with that theme. This can of course be fixed by changing the default theme to something better - but this shouldn't be a problem in a default installation.
The Xfce 4.14pre (4.13.5) desktop Mageia ships with is otherwise fine. The default settings are fine. There's two panels extending the full horizontal length and default panel applications, tray and menu (Whisker Menu) have sane good-looking defaults.
Most of Xfce panel plugins are not installed by default so you will have to add those manually if you want more. GTK themes and icon themes are severely lacking, the out-of-the-box options aren't there and the package manager has nothing when you search for "icon" or "theme". You will have to install something manually to make it look acceptable.
Software installation and availability
Mageia's software manager is called RPMdrake. It's a easy to use software manager. There's categories to browse and a search-tool.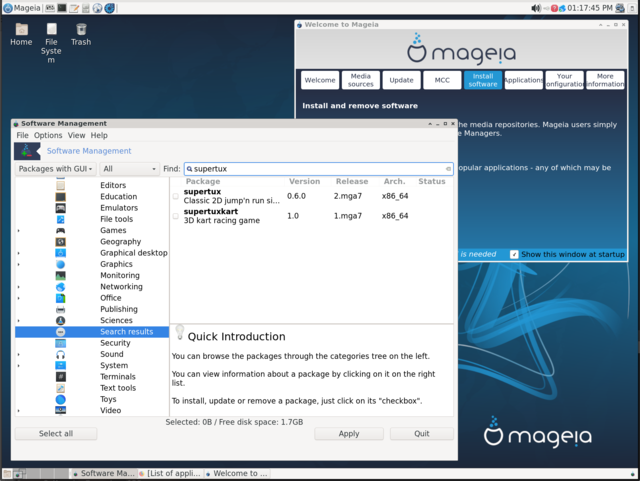 Installing software with RPMdrake is easy; just search for what you'd like, click the check-box and press Apply.
Most of the software you expect to be available in a distribution is there and the versions available are current. You can go right ahead and play the latest version of SuperTuxKart or install kdenlive and do video-editing.
Some areas are, however, lacking. Specifically desktop themes, icon themes and that kind of thing. Mageia's got nothing. It's not like there's just too few choices - it's not nothing.
Under the hood
Mageia uses systemd as init and service-manager. Managing services is done the same way it's done on any other distribution using systemd.
Package management is handled by a RPM front-end ("dependency solver") called urpmi. You can manage software using the graphical RPMdrake software manager. urpmi is what you will be using in terminal emulators. It appears to have mostly the same switches and options other similar tools like dnf and apt has. You can look at the urpmi manual page to get an idea of what it's like.
Security
Mageia does not have SELinux or any other hardening security-framework.
Verdict
Mageia is a fine and mature distribution which is easy to use but it does have it's shortcomings. No easy way to do full disk encryption during installation is a deal-breaker.
The default Xfce theme should not be one that's broken. And there's plenty of better icon themes but they are nowhere to be found in Mageia's repositories. This may seem trivial but it is something other distributions nailed down long ago. And it isn't very user-friendly, someone installing Linux for the first time won't know how to extract a theme to $HOME/.local/share/themes.
All in all it's a good distribution but it needs more polish. It's simply not slick enough.
Links