Mageia 8 Is Released With GNOME, KDE Plasma And Xfce Live Installation Media For x86-64
From LinuxReviews
Jump to navigation
Jump to search

The Mageia 8 operating systems offers the KDE Plasma, GNOME and Xfce desktop environment, updated system packages including Linux kernel 5.10.16, Mesa 20.3.4 and GCC 10.2, updated applications and an updated, but still somewhat lacking, installer.
written by 林慧 (Wai Lin) 2021-03-01 - last edited 2021-03-01. © CC BY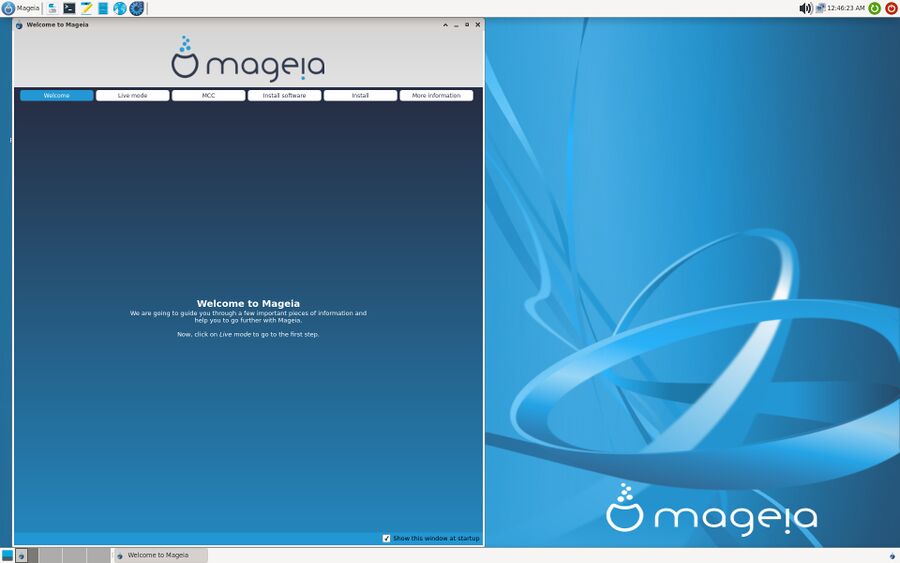 Mageia 8 Xfce edition in the Live Media environment.
Mageia is a free community-developed Linux-based operating system the systemd init system and the dnf package manager to manage software packages in the RPM package format.
The latest Mageia 8 is available as a "classic installation" variant that lets you install it but not trying it beforehand, "Live Media" editions with a live environment you can use to test it, and optionally install it, and a very small (just 50 MiB) "Network installation" image. The "Live Media" images are available in variants with KDE Plasma, GNOME and Xfce. All the images can be acquired using either HTTPS or the BitTorrent protocol.
Mageia 8 offers a wide range of desktop environments in addition to those you can try using the "Live Media" editions. Mageia 8 lets you optionally install:
GNOME is the only desktop environment that defaults to using the Wayland display server on Mageia 8. Wayland support for KDE Plasma is available, but it is not used by default.
The packages used in the base system are, of course, updated to mostly very modern versions. Those include Linux kernel 5.10.16, glibc 2.32, LLVM 11.0.1, GCC 10.2, rpm 4.16.1.2, dnf 4.6.0, Mesa 20.3.4, X.Org 1.20.10, Firefox 78, Chromium 88, LibreOffice 7.0.4.2, Python 3.8.7, Perl 5.32.1, Ruby 2.7.2, Rust 1.49.0, PHP 8.0.2, Java 11, Qt 5.15.2, GTK 3.24.24 / 4.1.0, QEmu 5.2, Xen 4.14, VirtualBox 6.1.18.
The Mageia 8 installer supports using the Flash-Friendly File System (F2FS) for system partitions. Make sure you do not accidentally choose it if you are installing onto a spinning HDD for some odd reason. The updated installer has also gained support for connecting to Wi-Fi access points secured with WPA2. This is a huge improvement for machines without a Ethernet port for WiFi cables, the previous installer could only connect to WEP-inrealitynotsecured access points.
The Mageia 8 installer still lacks an easy way to enable disk encryption. It is in theory possible to install with LVM and full-disk LUKS encryption using "custom partitioning" but you have to be a very patient and skilled wizard to do that and you can easily end up with a unbootable system the first time you try even if you are. There is no chance that your sorry old amah (阿嬷) will be able to do it on her own.
The installation images, all using squashfs, are now compressed with Zstd. Both booting the images and the installation process itself should, in theory, be a bit faster thanks to this change. It is probably hard to notice in practice unless you are using ancient hardware. The individual software packages, distributed in the RPM package format, are also compressed using Zstd.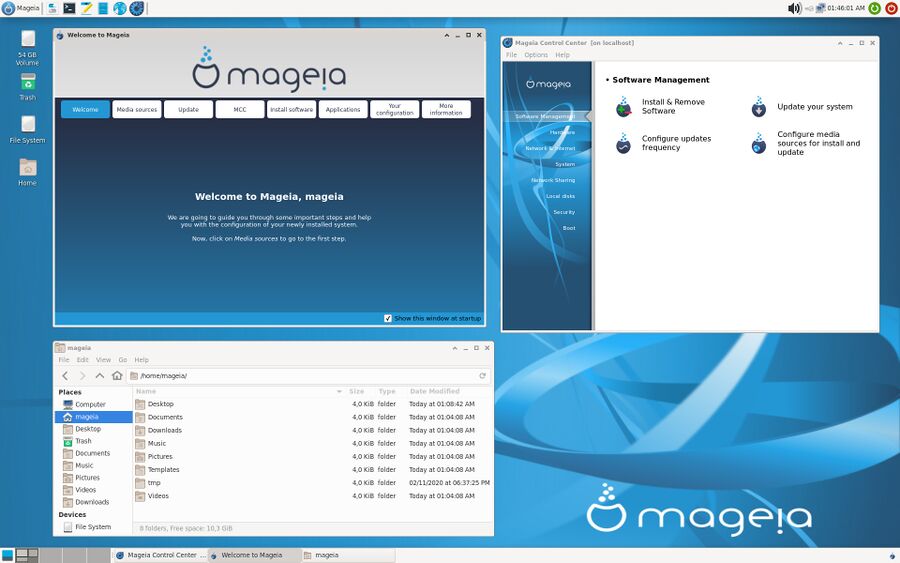 The default desktop on Mageia 8 Xfce Edition once it is installed.
The Mageia 8 Xfce Live Media installs an alright Xfce 4.16 desktop with a fine set of default applications such as the Mozilla Firefox web browser, the Delunge BitTorrent client, GIMP, Claws Mail for e-mail, HexChat to get on IRC and LibreOffice for spreadsheets and text documents. Tons of other free software can easily be installed from the "Mageia Control Center" (Install & Remove Software opens rpmdrake within its window). Mageia does not come with any decent media player so you may want to install smplayer or VLC using that tool. The "Control Center" can also be used to view and configure hardware, configure network settings as well as many other settings such as SMB, NFS and WebDAV shares, disk partitions, network firewalls and parental controls. Adwaita
Magina 8 is currently only available for x86-64 and, if you choose the Xfce edition, x86. There is currently no installer for ARM. The Mageia team plans to add ARMv7 and AArch64 installers "in the coming months".
Magina 8 can be acquired from www.mageia.org/en/downloads/ and the release-notes can be read at wiki.mageia.org/en/Mageia_8_Release_Notes.