KDE Plasma's goals Revealed
From LinuxReviews
Jump to navigation
Jump to search

The KDE community have secretly had and worked according to a short document outlaying their total plan for their fancy eye-candy filled desktop environment for several years. KDE insider Jonathan Riddell managed to put an end to the conspiracy at a KDE Plasma meeting in Valencia and the document is now revealed on KDEs website for all to see.
Their Total Plan is as follows:
"Plasma is a cross-device work environment by the KDE Community where trust is put on the user's capacity to best define their own workflow and preferences.
Plasma is simple by default, a clean work area for real-world usage which intends to stay out of your way. Plasma is powerful when needed, enabling the user to create the workflow that makes them more effective to complete their tasks.
Plasma never dictates the user's needs, it only strives to solve them. Plasma never defines what the user is allowed to do, it only ensures that they can.
Our motivation is to enable actual work to happen, across devices, across different platforms, using any application needed.
We build to be durable, we create to be usable, we design to be elegant."
There you have it, that's their vision. They don't want to control you, and they don't even want to restrict you, and they actually believe you have the capacity to customize your own desktop according to your own preferences. This goes strait against everything the GNOME people would have you believe: That all but the most basic features should be removed so the user-interface does not get "cluttered". The KDE gang doesn't even want to remove your ability to theme your desktop and are instead adding piles of icons themes and color schemes to the KDE store which is tightly integrated into their KDE Plasma desktop's "Software Center" Plasma Discover.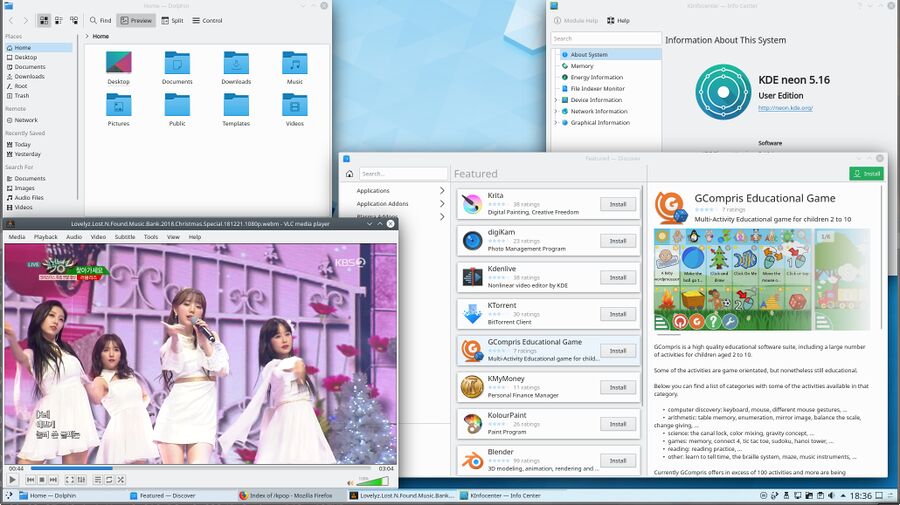 And it doesn't end there, it gets worse. Just look at the second last sentence of their statement: Our motivation is to enable actual work to happen. This is the true motivation for KDEs window-manager having a title-bar and easy management: They want you to work and get things done. Could it be that the creators of the most advanced and powerful desktop environment made it as powerful as it is to make you a suit-wearing corporate slave? Was this the real motivation for making Krita, the most advanced free digital painting program there? Is this what the Calligra Office Suite is all about? Look at the first sentence in their statement: "Plasma is a cross-device work environment". We'll just leave you with the following video for your consideration:
published 2019-06-22 -  last edited 2019-06-22