Kdenlive 21.04.0 Is Released With Speech To Text Support And Nicer Zoom Bar
From LinuxReviews
Jump to navigation
Jump to search

The latest version of the free Kdenlive video editor for Linux and Windows can do speech to text conversion for subtitles or transcripts. Manual module installation is required, and kdenlive won't recognize them, so it won't do you any good. The online resource module which provides easy access to sound clips from Freesound and other sources has been rewritten, the Zoom bar has been improved and there are a lot of bug-fixes.
written by 윤채경 (Yoon Chae-kyung)  2021-04-24 - last edited 2021-04-24. © CC BY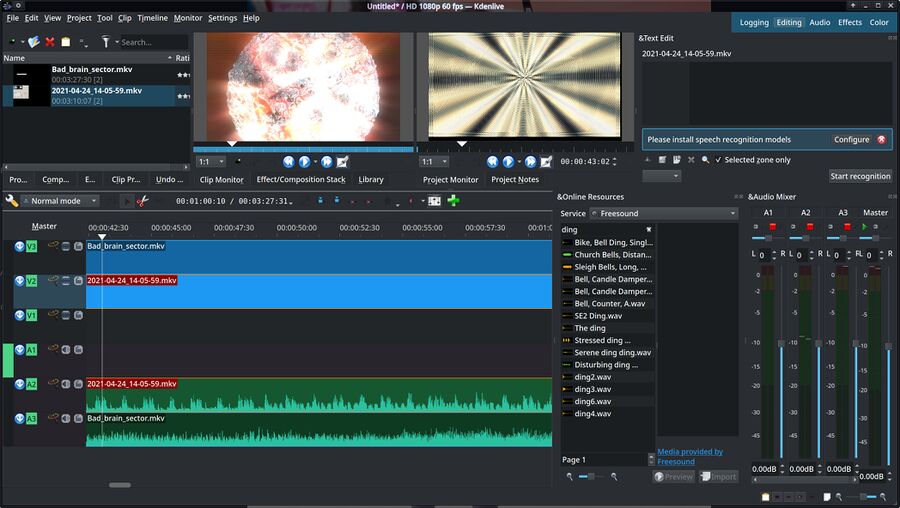 Kdenlive git as of April 24th 2021 with the default dark and depressing theme and style. You don't have to use that, there are plenty of happier themes available under Settings ▸ Color theme.
Kdenlive 21.04.0 has a brand new speech to text conversion tool. It can, in theory, make the job of writing subtitles for a video real easy. It does not work out of the box, though. You will have to "please install speech recognition models" from alphacephei.com/vosk/models. The files available there range from 1 to 1.4 GiB.
Unpacking the various speech to text models that are available in a folder and pointing kdenlive at it is, of course, not enough to make it recognize it. You can try to select Custom models folder and point Kdenlive at a folder with a model. That will seemingly make it recognize it, but if you try actually use the feature kdenlive will start then abort with some error like:
"ERROR: Fst::Read: Can't open file: ivector/HCLr.fst ERROR: Fst::Read: Can't open file: ivector/Gr.fst ERROR (VoskAPI:KaldiRecognizer():kaldi_recognizer.cc:38) Can't create decoding graph terminate called after throwing an instance of 'kaldi::KaldiFatalError' what(): kaldi::KaldiFatalError"
None of the kdenlive developers were, when asked, able to explain one is supposed to get this "feature" working. It seems like they just half-baked it and included it in the release anyway. You will probably end up completely wasting 15 minutes trying to get it working and conclude that it's broken. There is some code for it, so it may be something that could be practically useful in a future kdenlive release.
The "Online resources" functionality for fetching free audio effects, video clips and other free content you can use to mix up your videos has been re-written since the last release.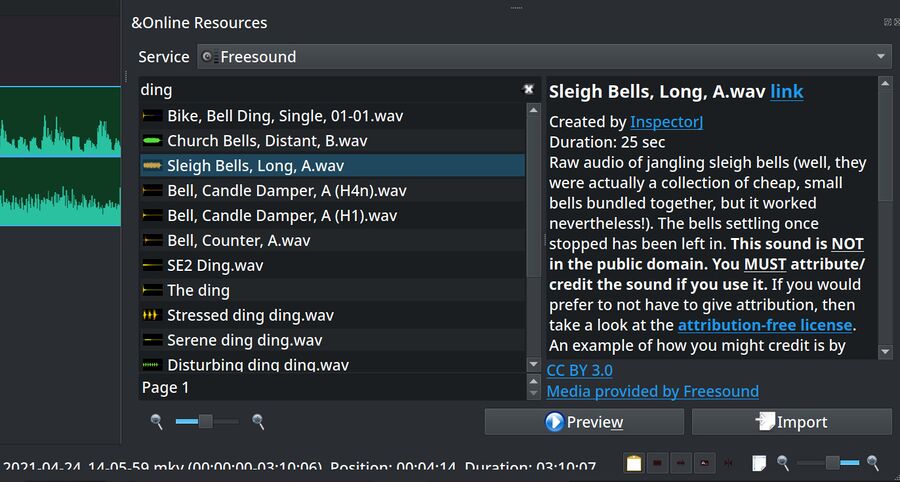 The "Online resources" view can be used to fetch audio from freesound, movie clips from the Internet Archive and photos and videos from Pexels and photos from Pixabay. The Pixabay functionality is kind of broken, half the searches there result in a HTTP 400 error (which hints that it may be a Pixabay restriction on searches, not a kdenlive bug). Fetching photos from other free sources like unsplash.com isn't supported. There is no way to add more sources, so you'll have to be content with those that are available.
Freesound clips can be previewed, but you can't download them without going through some hoops. Clicking Import brings up a prompt asking if you want to launch a web browser and login. The link will include a post-back to 127.0.0.1 port 1337 (it will look like /%3Fclient_id%3DfFo1lNyrTSJDp5PAGgKg%26redirect_uri%3Dhttp%3A//127.0.0.1%3A1337/%26response_type%3Dcode%26state%3D3j1IuDCb) so that may or may not work depending on what web browser you are using and how it is configured - if you actually have a FreeSound account. Registering is free and easy enough, you just have to provide some throw-away e-mail (Salt Your Data!) you can use to "confirm" one activation link, read or not read pages upon pages of "terms of use" and solve ten Google reCATCHA's.
Clicking Import on a freesound clip once you are logged in there, or images from sources that do not require you to login, brings up a file dialog box where you are asked to provide a location where the file should be saved. Kdenlive will add the file to your project bin clip list automatically once the file has been "imported" (saved) to the location you provided.
The timeline zoom bar has also been re-done in this release. It works pretty much like it did in previous releases, it's just a slightly bigger than it used to be.
There's also lots of bug-fixes since the last release so you can expect slightly less frequent crashes in kdenlive 21.04. It is still a pretty buggy and crash-prone editor, so do expect some crashes if you go through all the available effects (and there are many) and apply two hand-fulls. It does work fine for most hobbyist video editing projects and long as you stick with the sub-set of the effects it has that don't cause issues.
You can get kdenlive 21.04 as a Flatpak from flathub.org/apps/details/org.kde.kdenlive. That, and compiling the source from code, is currently the only ways to get it. The kdenlive.org/en/download/ page still lists kdenlive 20.12.3 (and that includes the Flatpak link) as the latest version. It will probably be updated within a day or week once some Kdenlive developer sobers up and remembers that they have their own website, not just a Flathub page.