GOverlay 0.5 Is Released With Support For MangoHud Graphs
From LinuxReviews
Jump to navigation
Jump to search

GOverlay is a user-friendly heads-up display and effects manager for tools like MangoHud and vkBasalt that have no graphical interface of their own. The latest version adds support for configuring graphs on the MangoHud heads-up display and a on/off button for MangoHuds FPS counter.
written by 윤채경 (Yoon Chae-kyung)  2023-03-27 - last edited 2021-03-27. © CC BY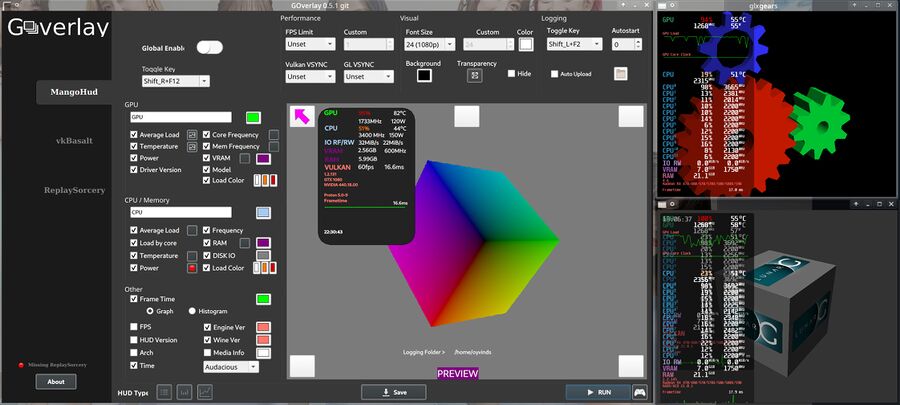 GOverlay v0.5.1 and glxgears and vkcube with MangoHud overlays on the right-hand side.
GOverlay 0.5, released one week ago, has bunch of new small graph buttons next to items such as Average Load, Temperature, Core Frequency and Mem Frequency in the MangoHud configuration section. These new buttons will, as you would expect, add graphs over the named data-points appear in the MangoHud overlay display. There is also a new button that lets you enable or disable the FPS counter.
GOverlay can also configure the vkBasalt visual effects tool and the ReplaySorcery screen recorder. There's nothing new in those sections in this release.
Most distributions have GOverlay available as a package, but you will likely get a 0.4.x version if you install it using your distributions packages today. It is possible to acquire the source code from github.com/benjamimgois/goverlay/releases and compile it if you want it before your distribution makes version 0.5.0 available. It is as easy as typing make once you have checked the code out from git - if you have the lazbuild Lazarus project build program installed (probably available as part of a package named lazarus, the name may vary with distribution).