Xfce 4.14pre2 Released
From LinuxReviews
Jump to navigation
Jump to search

The second pre-release of the upcoming GTK3 port of the popular Linux desktop environment Xfce is now available for your enjoyment. There's minor updates to most of the components that make up the Xfce 4 desktop and major updates to a few components like Xfce's window-manager xfwm4. 4 panel-related bugs are squashed and a few settings-related bugs are corrected. All of the components have gotten a lot of translation updates making this release a lot better for non-English speaking users.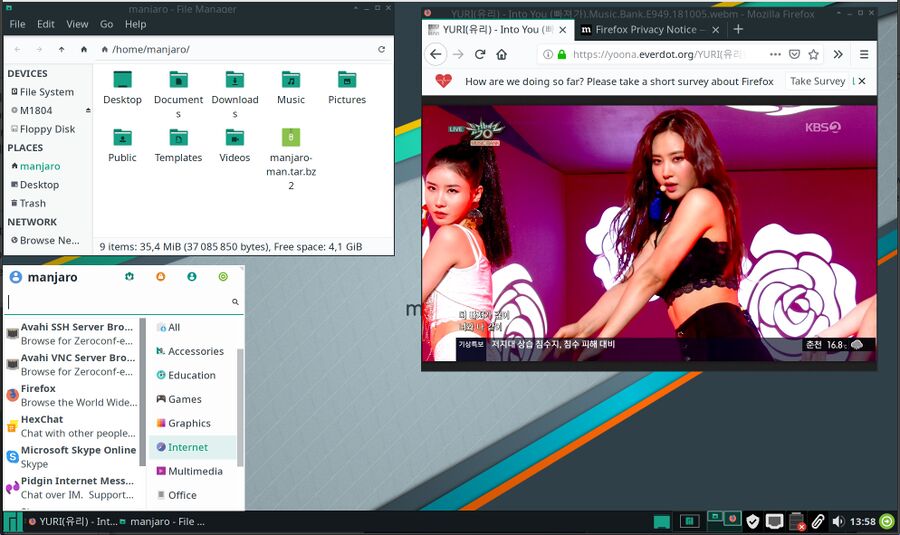 A new release of Xfce's file manager Thunar was made available yesterday. Updated versions of all the other components have followed in short order.
Thunar's volume manager thunar-volman got a 0.9.3 release with updated translations. And that's it.
The thumbnail generator tumbler got a 0.2.5 release which, like thunar-volman, has nothing but updated translations new to the release.
xfce4-appfinder, the handy application finder and launcher which appears upon pressing alt+f2 in Xfce, has been updated to version 4.13.4 with one bug closed and many translation updates including Chinese, Danish and Russian.
Xfce's window manager xfwm4 stands out as having a long list of improvements and bug fixes.
The goodies in the new 4.13.3 version of xfwm4 are:
Update CSS for tabwinb only on theme change (Viktor Odintsev)
HiDPI: Use GTK3 scaling attributes for window titles (Viktor Odintsev)
HiDPI: Adjust default theme with scale
Fix initial pointer location when zooming
Fix double-click distance setting (Adam K)
Allow the top of the frame to be cropped when maximised (Adam K, bug #14470)
Update default theme to use maximized cropping
Fix build without compositor (bug #15432)
Improved GLX support with NVIDIA proprietary/closed source driver (bug #15453)
Compositor updates with GLX
Small optimization with zoom on GLX
Increase X11 client priority of xfwm4
Change default compositor background to plain black
Fallback to resource class name for icons (Iharob Al Asimi, bug #15510)
Clear shortcut in settings-dialog when removed (bug #12802)
Remove icons from window menu
Fix regression with maximized window (bug #15638)
I18n: Update translations: bg, ca, cs, da, de, es, fr, gl, hr, hu, hy_AM, id, ie, it, lt, ms, nl, pl, pt, pt_BR, ru, sr, tr, zh_CN, zh_TW
There is, of course, no mention on Wayland support in xfwm4's changelog. The rumors that Xfce will come to Wayland are utterly false. Our sources within the Xfce developer community tell us that there will not be any Xfce port to Wayland any time soon and the best realistic guesstimate for when it could happen would be "maybe sometime the next decade".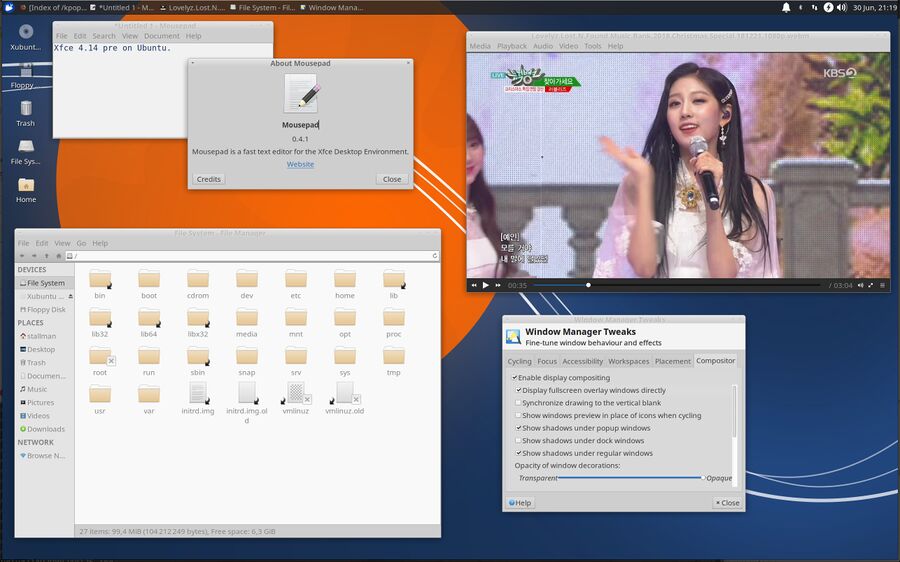 Xfce's screensaver, new to the 4.14-series, had 3 bugs fixed and a lot of code clean-ups in version 0.1.6. It is based on code forked off mate-screensaver which itself was a fork of the xscreensaver-fork gnome-screensaver. One Xfce developer, speaking under anonymity, told us that "seems 60% of the code is a simple signals connections/reconnections and duplicated getters/setters" when Xfce Screensaver 0.1.5 was released. This version is smaller but it is still very large. Xfce developers speaking under anonymity had this to say about it's size:
"im still not convienced that screenlocker should have 18k loc"
anonymous xfce developer
The updated version of the session manager (xfce4-session 4.13.3) has fixes for a font-related bug in the logout dialog, a bug in the auto-start editor dialog is fixed and a xfsettings bug that would occur when programs are terminated is also fixed. And there's a lot of translation updates.
libxfce4util 4.13.4 has translation updates for Danish and Galician and that's all that's new in since the last version.
libxfce4ui 4.13.6 has translation updates and that's it.
xfce4-settings 4.13.7 will now show the correct icon on color dialogs. There's also several fixes related to display management and previously missing icons added to the settings manager.
xfce4-panel 4.13.6 has 4 fixes for the tasklist in Xfce's panel. There's also two fixes for the preferences dialog and many translation updates.
Xfce 4.14pre2 will likely be available on XUbuntu and Manjaro Linux by tomorrow. Other distributions will have get it the coming weeks. Except Debian, of course, which won't get it for years (The next major Debian release code-named "Buster", scheduled to be released in a week or two, will be using 4.12 and stick with it for the duration of it's life-cycle).
Source tarballs for the individual packages are available from https://archive.xfce.org/xfce/4.14pre2/src in case you'd like to compile Xfce yourself. There is also a "big" (just 14 MB) tarball with all the components available at https://archive.xfce.org/xfce/4.14pre2/fat_tarballs/
published 2019-06-30 -  last edited 2019-07-01