We Are Still Waiting For Microsoft Edge For Linux
From LinuxReviews
Jump to navigation
Jump to search

Microsoft announced that their Chromium-based Edge web browser would be available multiple platforms, including Linux, in a presentation called "State of the browser: Microsoft Edge" back in November 2019. We are still waiting for a Linux version to materialize. It seems that Microsoft has either forgotten about, or abandoned, the Linux version of their Edge web browser.
written by 윤채경 (Yoon Chae-kyung). published 2020-08-03 - last edited 2020-08-03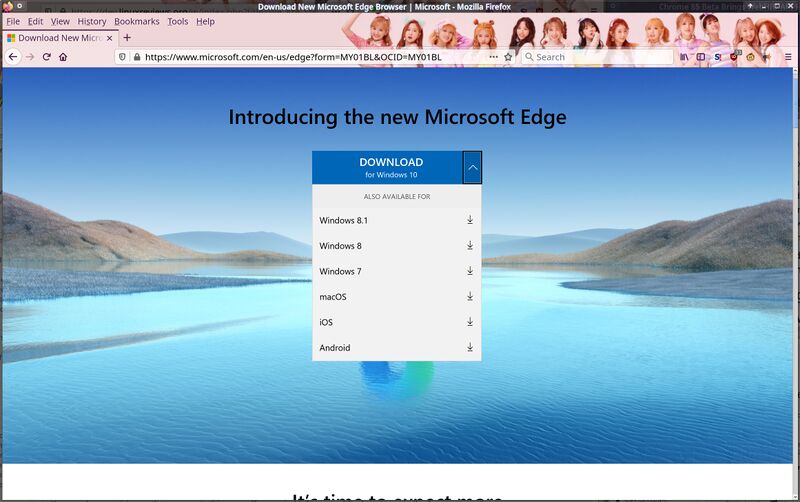 Microsoft Edge is available Windows, iOS, macOS and Android. There is no promised Linux version.
Microsoft gave up on their own web browser engine and turned to Google with the release of a "new" Edge based on the Chromium rendering engine back in January 2020. They promised to make that new Chromium based Edge browser multi-platform at a presentation called "State of the browser: Microsoft Edge" held on November 4th, 2019. That included a Linux version listed as "available in the future" on the slides. No specific date was announced, the speaker simply that said it would be released "at a later time".

A slide from the Microsoft presentation "State of the browser: Microsoft Edge" revealed on November 4th, 2019. Colleen Williams mentioned that Edge for Linux would be availability "at a later time" while the slide was shown.
No Linux version of Edge has materialized now eight months later which is, arguably, "a later time". We reached out to Microsoft for comment and they did not respond. They never do. We can only speculate that Microsoft either forgot that they promised to make a Linux version of their Edge browser or abandoned it for unknown reasons.
The excellent Chromium-based South Korean NAVER whale web browser is available for Linux for those who absolutely want to use a proprietary web browser on Linux even though there are many good free software browsers like plain Chromium, Firefox, Dooble, Falkon and Pale Moon available. The lack of a Edge for Linux is no huge loss, it is just another indication of a severe lack of willingness to keep Linux-related promises on Microsoft's part.