NAVER whale
From LinuxReviews
Jump to navigation
Jump to search
NAVER Whale

The Whale browser showing a web page.

Developer(s)
NAVER Corp
Engine
Chromium
Operating system
Linux, Android, Windows, macOS, iOS
Type
Web browser
License
Proprietary (terms)
Website
whale.naver.com/en

NAVER whale is a Chromium-based web browser from the South Korean Internet giant Naver Corporation. It has many unique features like a toolbox with a calculator, timer, calendar and unit converter and a built-in music player. There are also a lot of not-really builtin features like stock price monitoring and exchange rate conversion which in reality access and use various NAVER web services. Most of those services are only available in Korean language. The web browser itself has English text in most menus and help texts. Some features, like the built-in music player, do not have any English translation. Whale is overall a fine web browser but the tie-ins with South Korean web services who are only available in Korean language and the lack of translations for some of its features means that it is not the best choice for English-speaking people.
NAVER whale is free as in zero price but it is not free software. You must submit to their "Terms Of Use". Whale is available for GNU/Linux (.deb is the only package provided), Android, Windows, macOS and iOS.
The Harmonica-HamoniKR Community Edition of the South Korean Linux distribution HamoniKR comes with NAVER Whale as the default web browser.
Installation
NAVER whale packages for Windows, macOS, Android and iOS as well as a .deb package for Ubuntu 14.04 64-bit are available at whale.naver.com/en/download. Linux users running other distributions have to use a tool like alien to convert their .deb file to alternative package formats. Converting the .deb to a .rpm using alien and installing it is not straight forward, but it is absolutely doable if you know how to use the console.
The .deb package has this description as of version 2.8.105.18:
"Journey to the next browsing"
dpkg-deb -I naver-whale-stable_amd64.deb
Features And Usability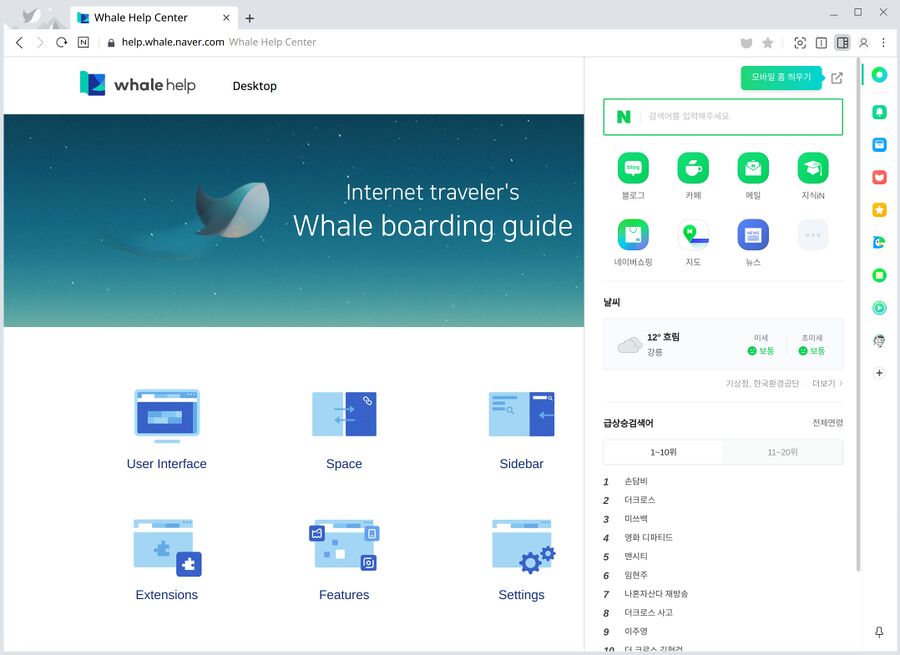 NAVER whale has a sidebar with access to whale-specific features on the right side of its window. Most of the features in the sidebar are closely tied to or just accessing NAVER web services.
NAVER whale version 2.6.90.16 is based on version 76.0.3809 of the Chromium web browser source code. Web page rendering works the same as it does in Chromium and other Chromium based browsers. Extensions from the chrome web store as well as extentions from NAVERs own extensions store can be installed and used.
The Whale browser has a unique sidebar, which can be switched off in the menu, on the right side. This sidebar provides quick access to mostly NAVERs own web services as well as bookmarks and some handy tools like a music player and a toolbox with a calculator, timer and a calendar. The music player is not translated to English, it will show Korean text when the system language is set to English.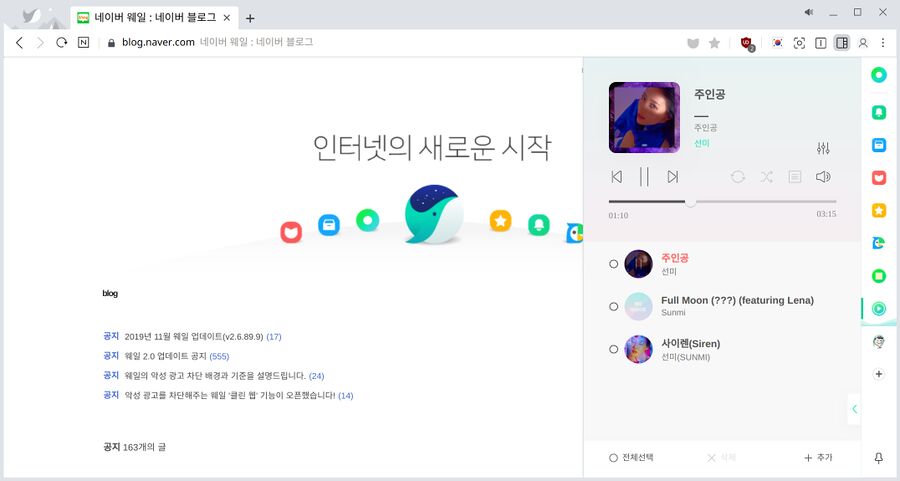 The built-in Whale music player playing the smash hit 주인공 (Heroine) by South Korean pop sensation 선미 (Sunmi).
The built-in music player is fairly simple. It lets you add files, but not folders, using a + button. You can also drag and drop files into it from file managers. There is no playlist management. It does save the files you have queued when you close it but you can't save it as a playlist or load playlists.
Most of the other features in the sidebar are simply front-ends for some of the many web services NAVER provides. NAVER is not a house-hold name like Google in the west but they are huge in South Korea. Most of these services are not available in English and most of them require you to login. The top item in the sidebar, called "Greendot" in English, is a front-end for NAVERs search services. NAVER search is also the default search engine used when you type search keywords into the address bar.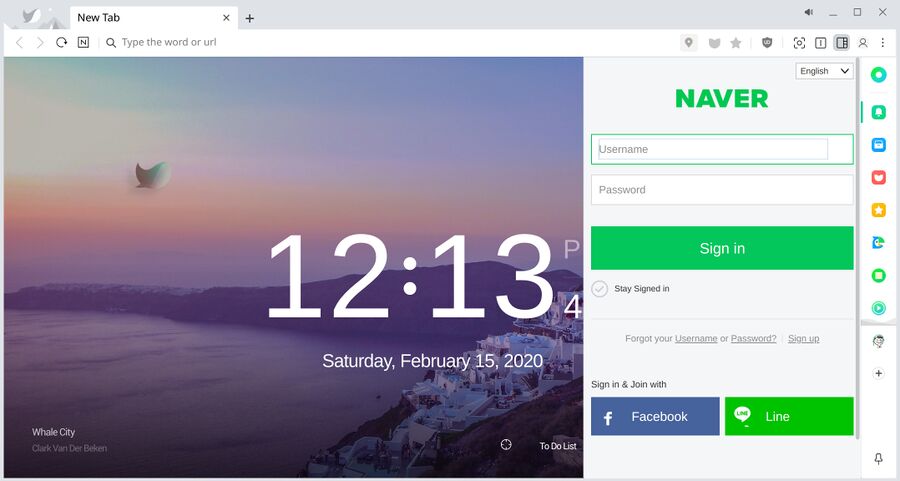 Whale shows you a login prompt if you click the sidebars "Naver Notice" icon.
Using the "Naver Notice" sidebar feature to sign up for a Naver account using a LINE account (You need either a LINE account or a Facebook account) brings up a message saying:
"Welcome!
You can enjoy the latest News and Video clips as well as reliable contents such as Experts Reports and Dictionary at NAVER, Korea's largest portal.
Please update your information to get the full experience of NAVER's various community and personal services more easily and securely.
NAVER Post, Cafe, KnowledgeiN NAVER Mail, Calendar, Memo, Cloud, Contacts"
NAVER signup message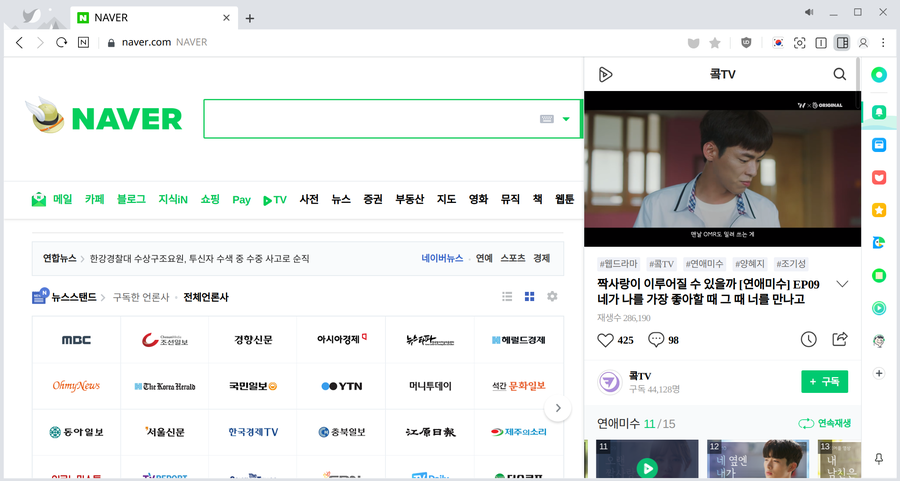 Signing up for NAVER lets you use their various services from the browsers sidebar. None of them are available in English.
The NAVER signup message is available in English but the web services it grants access to are not. There are icons and thumbnails so you can make it play some video clips and see what the weather in South Korea is like. It is not at all useful beyond that unless you can read Korean.
The context menu you get if you right-click or press ≣ Menu when you are viewing a web page brings up a menu with two useful unique menu items: Open page in mobile window and Open space. The option to see how a page looks on a mobile phone is quite useful for web developers.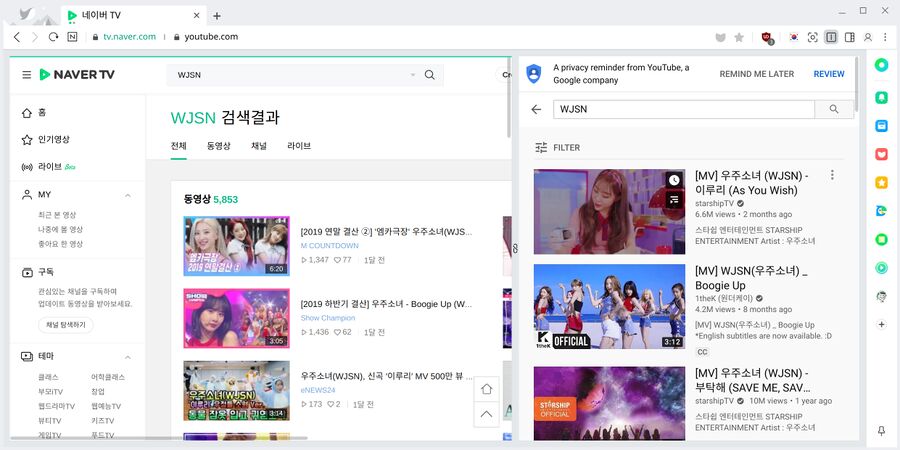 The Whale browsers "Open Space" (split window) feature.
The "Open Space" feature is perhaps more mobile/tablet-oriented. It splits the window in two so you can view two web pages side by side in the same window. You can move the divider to make one of the halves take up more or less space. Why they called this ability to view two web pages "Open Space" is a good question.
Documentation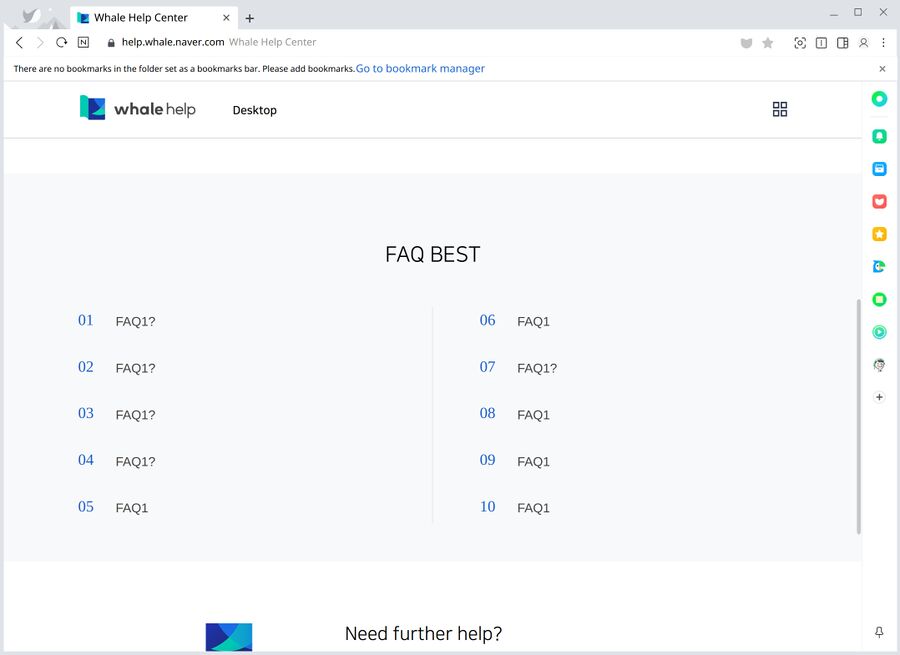 NAVER provides a not that helpful FAQ BEST support page in English in case you have any questions you'd like answered.
NAVER provides English documentation for Whales unique features and a "FAQ BEST" page. That "FAQ BEST" page is, at time of writing, not at all useful.
Verdict And Conclusion
The South Korean NAVER whale is a overall fine web browser with a lot of extra features that are mostly useful for people who speak Korean. The heavy tie-ins with web services operated by NAVER and a few of their select partners is a concern. This is specially true since most of those service require you to have and be logged into a NAVER account. Many of the built-in features will simply not work without a NAVER account.
A built-in music player is a nice touch, but is it not all that useful compared to stand-alone music players like Elisa and Cantata.
NAVER whale may be a good choice for people who speak Korean and do not value their privacy (the tie-in with NAVERs many web services is a very real privacy-concern). It is not a very good choice for people who do not understand Korean since most of the services it is tied into, and some of the user interface, is only available in Korean language. Logging into the "Naver Notice" form in the sidebar and clicking around does bring up many pictures and video clips of very beautiful South Korean people, so there is that for those who enjoy looking at beautiful Asian people. That is simply not enough to recommend this browser to anyone who does not speak Korean, everyone who does not understand the Korean language are better off using a browser which is not tied to web services in a language they do not understand.
Links
The English website for NAVER whale is at whale.naver.com/en/. There is a "story" page with English language marketing at whale.naver.com/en/story.
The Linux version of the browser can be acquired from whale.naver.com/en/download. Changes between releases are documented at whale.naver.com/changelog/.