Thunar 1.8.13 Is Released With Unfortunate Bug That Makes It Useless As A File Manager
From LinuxReviews
Jump to navigation
Jump to search

The latest release of the Thunar file manager for the Xfce desktop environment has several bug fixes, including crash fixes, and a new bug which breaks drag and drop of multiple files. Select 4 or 10 files in Thunar 1.8.13 and drag them and only one of the files is dragged along thanks to a very unfortunate commit for opening multiple files in a single application. It is very unfortunate that the commit which added that feature made Thunar utterly useless as a file manager and it is quite embarrassing that the Xfce team released Thunar with such a usability-breaking bug.
written by 윤채경 (Yoon Chae-kyung)  2020-03-25 - last edited 2020-03-25. © CC BY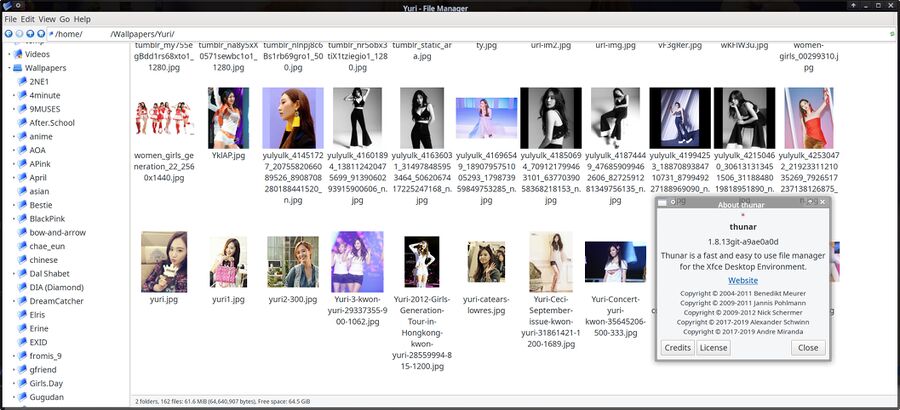 Thunar 1.8.13 git with two very unfortunate commits reverted.
The Xfce teams "Release notes" story for Thunar 1.8.13 is:
Use tre-view toplevel path of the cursor, if available, in order to prevent jumping (Bug #16024)
Increase vertical gap between icon and its label slightly (Bug #16041)
Fix crash when inserting USB device in tree-view mode. (Bug #15172)
Fix jump to Home when ejecting a currently viewed device (Bug #16504)
Allow context menu when editing location in pathbar (Bug #16483)
Sort device entries in tree view (Bug #16471)
Allow to open multiple files at once (Bug #2487)
Fix incorrect pathbar autocomplete (Bug #16267)
Avoid unreadable names in detailed view (Bug #16391)
Prevent crash when renaming files (Bug #10805)
Translation Updates: Belarusian, Croatian, Finnish, French, Hebrew, Indonesian, Kazakh, Malay, Portuguese, Portuguese (Brazil),
The official release note story neglects to mention that the "Allow to open multiple files at once" commit breaks drag and drop of multiple files. That total scandal makes Thunar utterly useless for file management. Using Dolphin, Nemo, Caja, GNU Midnight Commander and everything and anything else, even GNOME's joke of a file manager "Files", is preferable to trying to manage multiple files with Thunar 1.8.13 due to that gigantic blunder.
"It can be seen as a bug when you select multiple files and open them, and only the last one is opened. That's why I pushed it as well to 4.14 ... wonder why I did not notice that flaw since now, I am working with that fix since a month now. I should do some more DnD from time to time."
anonymous Xfce developer source
who pushed the commit
"I didn't do any dragging of multiple file either"
another anonymous Xfce developer source
"Sorry for my bad patch everyone. I clearly didn't test it enough."
anonymous Xfce developer source
who wrote the committed patch
Those who use the git version of Thunar can revert the offending commit 9801a67b3a165fc1be81b520ec28b5529a9ab822 as well as fe53f759991f3e5df89a4496dc9b353d0560b762 (which fixed a warning caused by the removeal of 9801a67b3a165fc1be81b520ec28b5529a9ab822, it will fail to compile if you don't revert this too) to get a sane and working Thunar with functional support for dragging and dropping multiple files.
The source code for Thunar 1.8.13 can be acquired from archive.xfce.org/src/xfce/thunar/1.8/. You should absolutely NOT download and compile it, you should avoid it at all cost. Use 1.8.12 or the version included in your distribution, which is probably fine, instead of upgrading until a 1.8.13.1 or a 1.8.14 release which fixes the drag and drop issue becomes available.
| | |
| --- | --- |
| | Update: Thunar 1.8.14 Is Released. It has the commit which broke drag and drop reverted. It is otherwise identical to 1.8.13. |