Linux Gamers Account For Close To 1% In The Steam Hardware Survey For January 2020
From LinuxReviews
Jump to navigation
Jump to search

0.9% of all desktop and laptop gamers using Steam were playing games using a Linux operating system in January according to the latest Steam Hardware Survey numbers. That is the highest ever reported GNU/Linux market share. The majority of Linux users using Steam running Ubuntu 18 LTS with Arch Linux, Ubuntu 19.10 and Manjaro Linux trailing behind. The latest numbers are a bit surprising given that Steam reported a record low 0.67% Linux market share in December 2019.
written by 권유리 (Kwon Yu-ri)  2020-02-03 - last edited 2020-02-03. © CC BY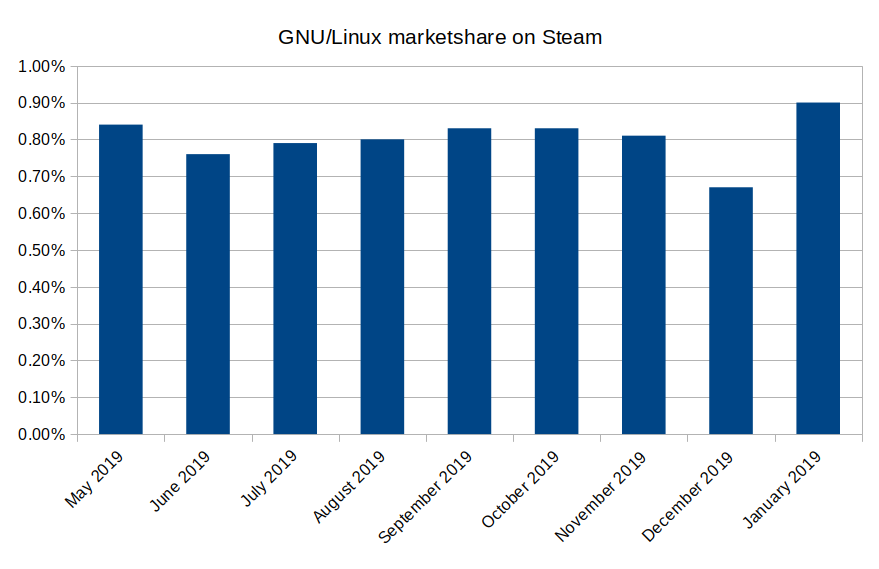 A record high 0.9% Linux market share puts free software operating systems running the non-free Steam game store and launcher within reach of 1%. That is not a gigantic market share, but it is a whole number.
The current Steam Hardware Survey numbers (that page will only show the last month) claim that the 0.9% Linux OS percentage as an increase of +0.07%. Steam reported a 0.67% Linux market share in December 2019, which was a yearly low. The numbers don't quite add up (0.67+0.07=0.74%, not 0.9%). The Windows numbers reported in December were rather strange with Windows 10 dropping by 13.14% to a 61.09% total in favor of Windows 7. The January numbers have Windows 10 at 79.23%, a with supposed 7.58% increase (67.09+7.58=74.67). That 5% difference between the reported December number and the number Valve based the supposed Windows 10 growth on indicates that they have decided that the December numbers whey published were inaccurate.
The most popular Linux distributions among Steam users in January were:
Distribution
Version
Market share
Ubuntu
18.04.3 LTS
0.20%
19.10
0.1%
Arch Linux
Rolling
0.1%
Manjaro Linux
Rolling
0.09%
Linux Mint
19.3
0.05%
macOS is three times more popular than Linux with a 3.01% market share divided among macOS 10.15x, 10.14x and 10.13.x.
Data from steamdb.info show that Steam itself had marginal growth in January with concurrent in-game players ranging between 4.2 and 5.7 million throughout the month.
The currently five most played games on Steam are:
| Game | This Month | Last Month | GNU/Linux Support | free to play |
| --- | --- | --- | --- | --- |
| Counter-Strike: Global Offensive | 1 | 1 | yes | yes |
| Dota 2 | 2 | 3 | yes | yes |
| PLAYERUNKNOWN'S BATTLEGROUNDS | 3 | 2 | No (Only for Windows) | no |
| Grand Theft Auto V | 4 | 4 | No (Only for Windows) | no |
| MONSTER HUNTER: WORLD | 5 | - | No (Only for Windows) | no |
The two most popular games on Steam are both free (of charge, not free software) and available in native Linux versions. The other three can be played in Wine with lower performance and no official support.
The Steam numbers do not say much about overall Linux gaming market share. Valve is the only company offering a native Linux version of their gaming store and launcher; the Linux market share among all gamers is probably lower than 0.9%. Still, it is nice to see that the Linux market share on Steam is nearing the 1% mark.