Steam's Hardware Survey For December 2019 Places Linux Gaming Interest At A Yearly Low
From LinuxReviews
Jump to navigation
Jump to search

The latest hardware survey from Valve's Steam game store and launcher has GNU/Linux marketshare at a yearly low of just 0.67% market share. The other operating system numbers in their hardware survey numbers for December 2019 are a bit strange with Windows 10 showing a reduction of 13.14% in favor of Windows 7.
written by 권유리 (Kwon Yu-ri)  2020-01-05 - last edited 2020-01-05. © CC BY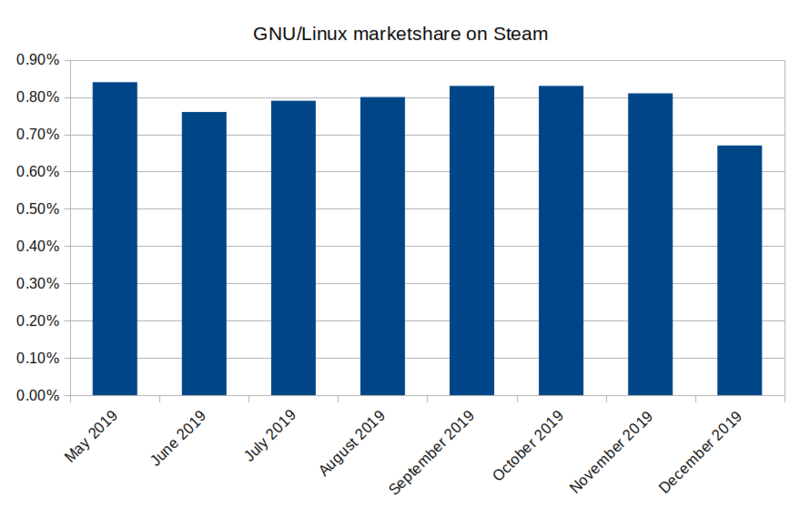 GNU/Linux was never a very popular gaming platform or a widely used desktop platform for that matter. The situation is not improving, the latest monthly Steam hardware survey numbers do not indicate any rapid increase in interest for free software operating systems among Steam users.
GNU/Linux marketshare on Steam has been stagnant around 0.8% for most of 2019. The December 2019 numbers show a 0.14% reduction to a mere 0.67%. The other operating system data is somewhat strange. Windows 10 has a 13.14% reduction to a 61.09% total with aging Windows 7 taking that that piece of the pie. A 14.57% increase in Window 7's marketshare in December 2019 places it at a 33.05% of the total. macOS saw a 0.45% reduction to a 2.47% total.
Data from steamdb shows that Steam itself increased its user-share from 17 million at the start of December to 18 million at the end of December.
Counter-Strike: Global Offensive (free and available on GNU/Linux), PLAYERUNKNOWN'S BATTLEGROUNDS (Windows only), Dota 2 (also free and available on GNU/Linux), Grand Theft Auto V (Windows only) and Tom Clancy's Rainbow Six Siege (also Windows only) are currently the five most played games on Steam.
Steam users with a total of 16 GB system memory increased by 8.41% in December making 16 GB RAM the most popular configuration with a 46.37% total. 8 GB RAM is also trendy with a 30.69% total. Some RAMlets never learn, 6% of Steam users get by with just 4 GB system RAM. Memory prices are currently at a multi-year low with industry "experts" (insiders) expecting a price-hike in 2020. It is a good time to pick up some RAM if you are stuck with 4 or 8 GB, specially if you have an older system with DDR3. Both regular and ECC DDR3 memory sticks are cheap and abundant in the used market (no-no wasting money on overpriced brand new DDR3 which has been collecting dust on shelves for years) and DDR4 is cheaper than it has been in years.
Nvidia's GeForce GTK 1060 was the biggest GPU hit in December. It got a 5.66% marketshare increase bring the total percentage of Steam users gaming on that card to 20.3%. Graphics cards from competitor AMD are not gaining popularity and their total share is so low it's barely measurable.
Electronic Arts and others outright banning paying customers who use their software entertainment products like Battlefield V on GNU/Linux machines is likely not helping GNU/Linux become a mainstream gaming platform.