Wine 4.21 Is Released With DHCP HTTP Proxy Configuration
From LinuxReviews
Jump to navigation
Jump to search

50 bugs are fixed in the latest development release of the Wine compatibility layer for running Windows software on GNU/Linux machines. Several address memory leaks and general fixes. There's also application-specific fixes for Lego Digital Designer, LegoLand and Lego Island 2 - and fixes for Gothic 2, Everquest Classic, Nextiva and Crysis 1 for those who don't play Lego.
published 2019-11-26 - last edited 2019-11-30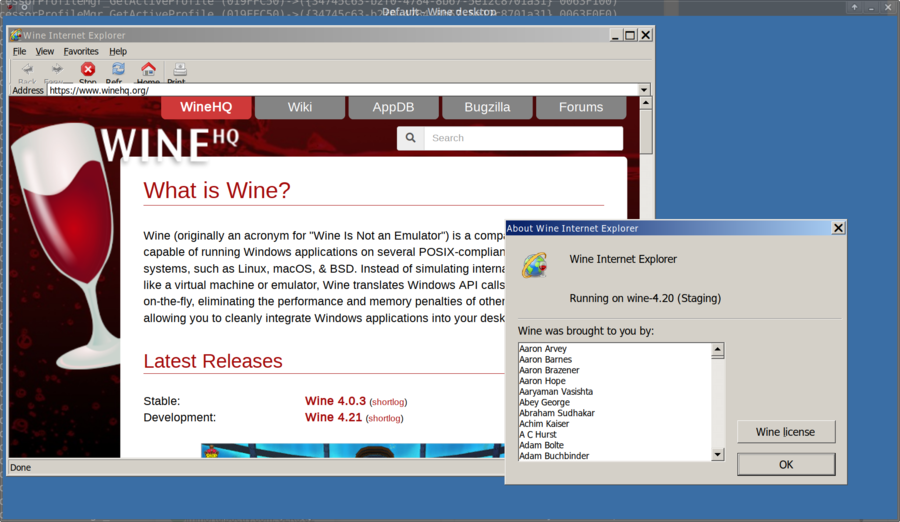 Wine comes with it's own built-in web browser called "Wine Internet Explorer".
The high-lights in Wine 4.21 are:
HTTP proxy configuration through DHCP.
Parameter block support in Direct X 9.
More dlls converted to PE.
50 bug-fixes.
The complete list of bug-fixes and changes can be found in the very long and detailed Wine 4.21 release-announcement.
Wine's numbering scheme differs from the rest of the free software community where odd numbered releases are development-releases and even-numbered releases are stable releases. The releases stable versions with a single digit (currently 4) and bug-fixes for that stable branch are named y.0.x. Wine 4.0.3, released last week, is the current "stable" version. Wine 4.1, 4.2, 4.21 and so on are development-versions leading up to an eventual 5.0-release. Some distributions, like Fedora and Manjaro Linux, will ship the development branch and the more stable-oriented, like Debian, includes the stable branch in their repositories.
Wine's application database is a great place to check how well a Windows-program or game runs under Wine on a GNU/Linux distribution.
The latest Wine-release can be acquired from wiki.winehq.org/Download.