Version 0.4.1 of the user-friendly KDE-focused Music Player Elisa Released
From LinuxReviews
Jump to navigation
Jump to search

It is still early in the development of the simple and not-yet easy-to-use music player Elisa. It does have a lot of potential and steady progress is being made. The latest versions has much better accessibility support for those with poor or no eye-sight, improved keyboard navigation and a better file-browser.
The latest version of Elisa appears have other bug-fixes not mentioned by the developers as well. Version 0.4.1 did fine indexing a rather large music collection which made 0.4.0 stall and hang. That may be due to changes in it's own code or the KDE libraries it uses. It is a welcome improvement regardless of why.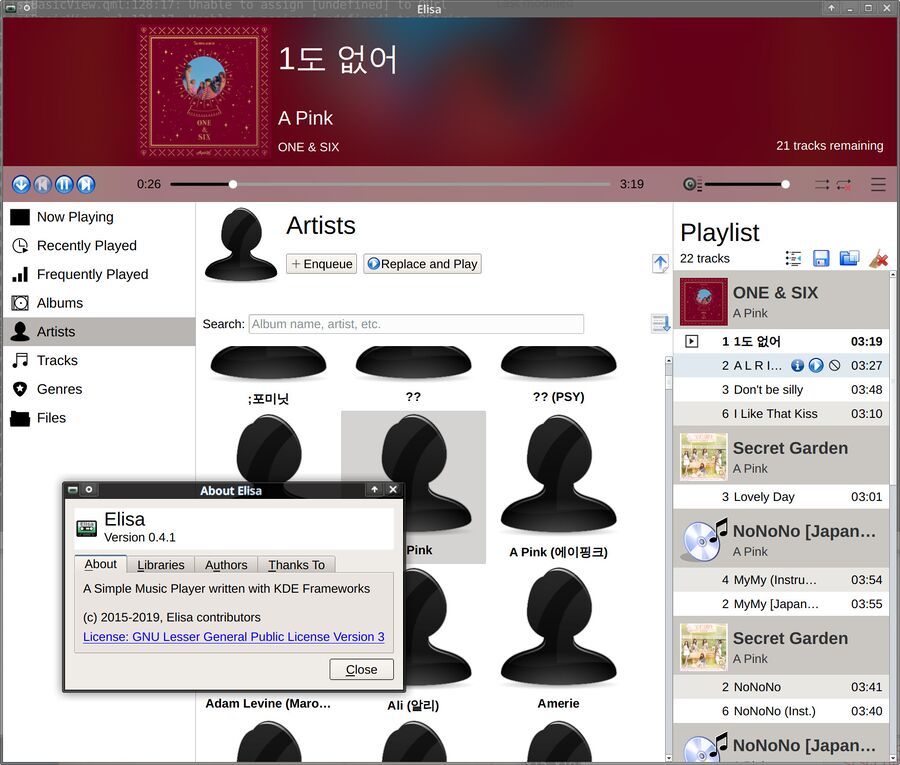 Developer Matthieu Gallien, who develops Elisa with help from Nate Graham, had this to say about the bugs fixed in this release in the release-announcement in his blog:
Much improved accessibility by providing more metadata to help screen readers do their job by Matthieu Gallien ;
Use full-height separators in ContentView to make Elisa more consistent with other KDE applications by Nate Graham ;
Make Playlist items span full width (Fix bug 408210) by Nate Graham ;
Improve focus handling by improving keyboard navigation and usage and improving focus indicators by Matthieu Gallien ;
Fix delegates in the file browser to have same look than other grid view delegates (Fix bug 407945) by Nate Graham ;
Improve build system to require only the minimum versions and to provide better feedback (Fix bug 407790 and 407799) by Matthieu Gallien.
We didn't exactly give it wild praise and endorsements in our review of Elisa 0.4.0, mostly because it couldn't even index the music collection and there's some room for improving the way songs are added to the playlist. There is still no drag-and-drop in version 0.4.1. Yet we do have high hopes for this player. It has a lot of potential and development appears to progress nicely. It will likely be a really great music player in the not too distant future. Meanwhile there's Music Player Daemon and the Cantata MPD front-end..
You can download the source for the new Elisa from https://download.kde.org/stable/elisa/0.4.1/ and there is also a Flatpak at https://flathub.org/apps/details/org.kde.elisa
Elisa uses cmake for building and builds like any other modern piece of software; unpack it and mkdir cmake_build;cd cmake_build;cmake .. && make j$(nproc)
published 2019-06-28 -  last edited 2019-06-28