SuperTuxKart git20200711 Snapshot Is Released For Android, Linux, and Windows
From LinuxReviews
Jump to navigation
Jump to search

The latest version of the popular kart racing game SuperTuxKart has a improved tutorial for new users, improved gamepad support, full IPv6 LAN and WAN support and better server performance when it is set up to act as a server. This is a snapshot release in anticipation of an upcoming beta release that will be followed by a full release in the fall. We can also reveal that SuperTuxKart will get Vulkan support and it may arrive sooner than you think.
written by 윤채경 (Yoon Chae-kyung)  2020-07-12 - last edited 2020-07-12. © CC BY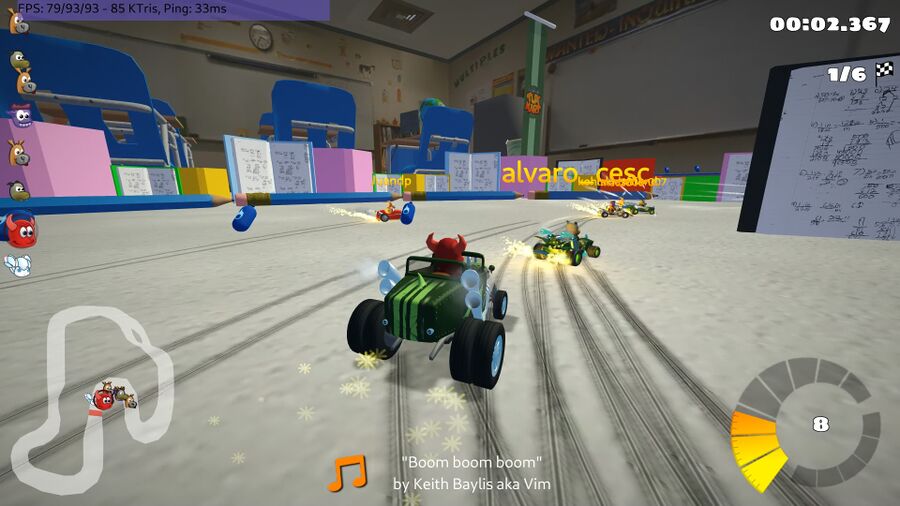 Current git snapshot of the GNU/Linux version of SuperTuxKart.
The free software kart racing game SuperTuxKart has become very popular on Android over the last few years. More than 220 thousand people have installed the Android version and more than 25 thousand people play it regularly. Much of the developer focus over the last year has been on the mobile versions for Android and iOS. That does not mean the GNU/Linux and Windows versions have been neglected, there have been improvements to those versions as well.
More Tracks Included in the Android version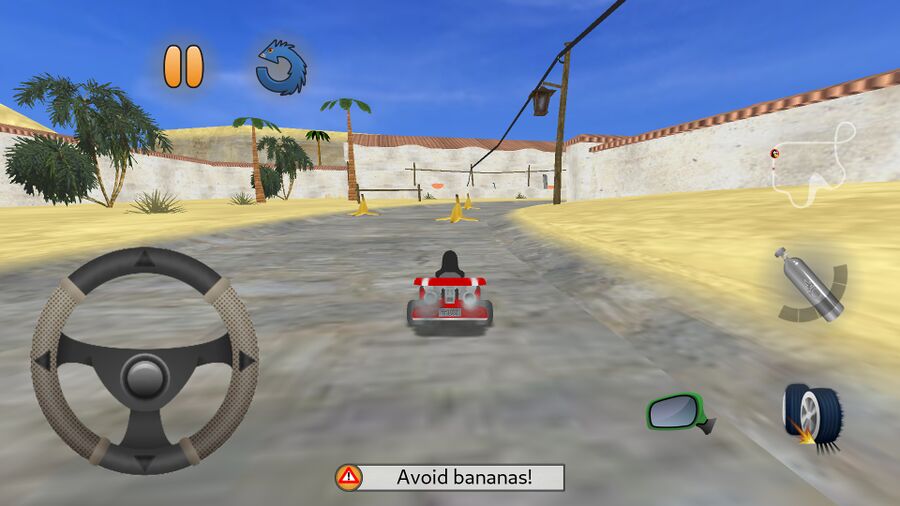 SuperTuxKart git20200711 running on Android.
One major change which only affects the Android is that the Android version now includes all the tracks. These versions did previously not include all the tracks that were available in the GNU/Linux and Windows versions. This was not a decision by the SuperTuxKart team but rather
"because google apk size limit
we now use android app bundle (max allow 150mb) so ok"
anonymous SuperTuxKart developer sources
Improved Tutorial
SuperTuxKart has a tutorial available in the "Story Mode" designed to teach new players how to play the game. This tutorial has been greatly improved with specific instructions for the various platforms SuperTuxKart supports. Players using touch-screen devices will get instructions specific to their devices.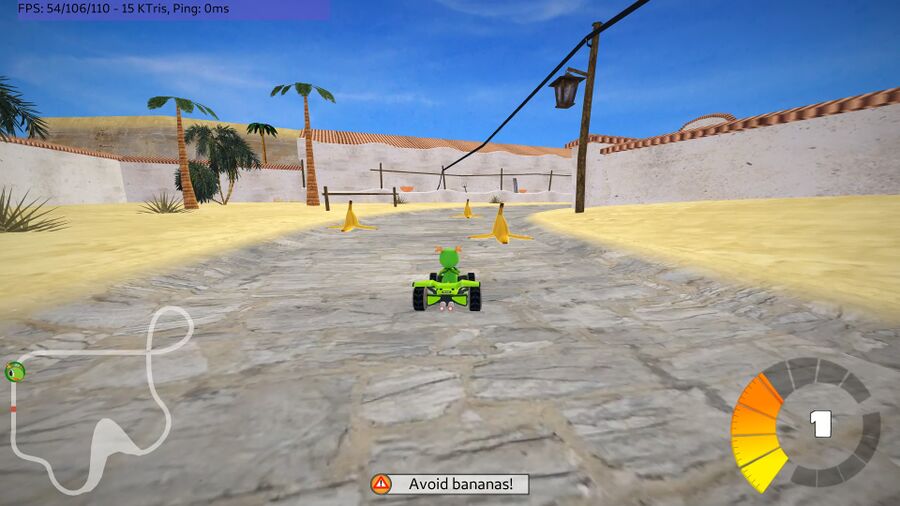 SuperTuxKart tutorial: You must AVOID THE BANANAS!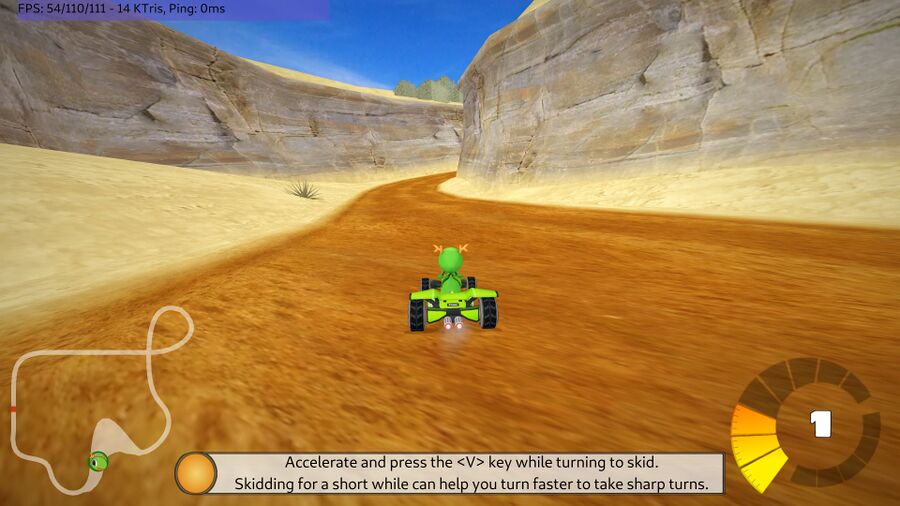 SuperTuxKart tutorial: You can press V to skid.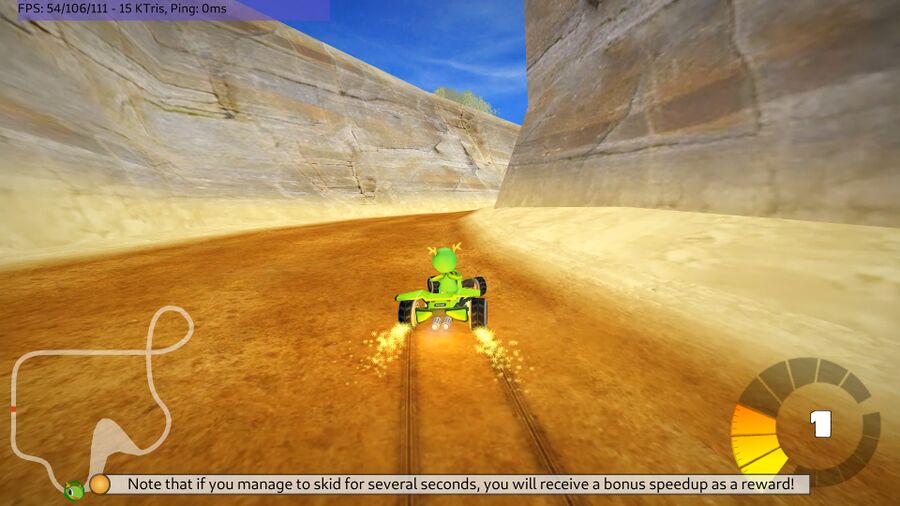 SuperTuxKart tutorial: Skidding can give you a bonus!
Better Gamepad Support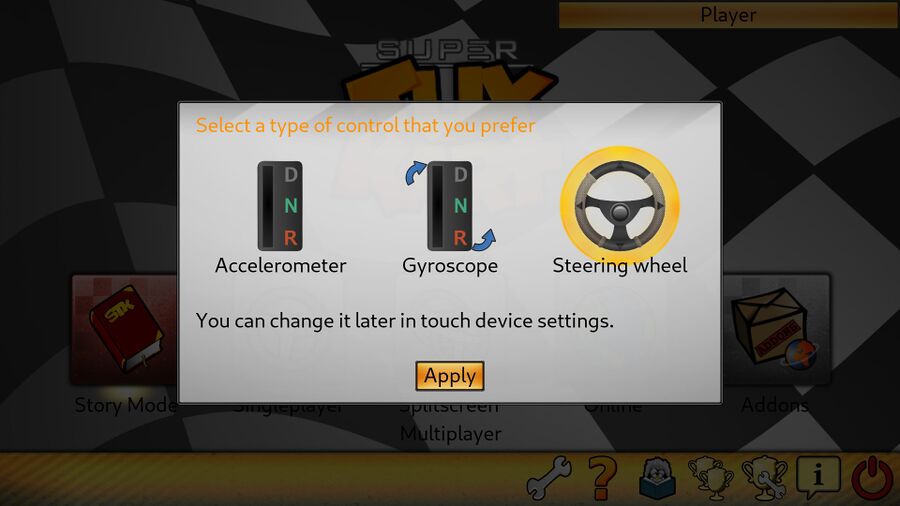 SuperTuxKart for Android can be controlled using accelerometer, gyroscope, a on-screen steering wheel or a bluetooth gamepad.
The gamepad support have been greatly improved. Many of the gamepad fixes are specific to bluetooth gamepads connected to Android devices while some of them benefit all the platforms SuperTuxKart supports.
Other New Features
Those who are hosting SuperTuxKart game servers will be pleased to know that the server performance has been greatly improved.
There is also full support for IPv6 over LAN and WAN.
Some GNOME-Specific Bugs Remain Unfixed
There are some minor GNOME-specific issues with SuperTuxKart under the GNOME desktop environment that remain unsolved. Switching workspace has a tendency to make SuperTuxKart minimize and disappear. It also has a tendency to disappear from the workspace view if you switch between it and another application on the same workspace. These kinds of GNOME specific problems that are, like all the problems other software projects like mpv have with GNOME, what you could fairly call GNOME bugs and problems since only affect GNOME. SuperTuxKart developers speculate that
"maybe sdl2 doesnt like gnome.."
anonymous SuperTuxKart developer sources
The SuperTuxKart makes heavy use of the Simple DirectMedia Layer (SDL2) toolkit.
Vulkan Version Coming
One of the biggest behind-the-scene SuperTuxKart developments right now is a port of the games graphics engine to Vulkan. This is a big job. This undertaking is done..
"mainly because apple opengl is crap.
Apple does not have Vulkan, only Metal, but MoltenVK works OK"
anonymous SuperTuxKart developer sources
Vulkan support could arrive as soon as the next SuperTuxKart stable release.
"maybe when the final 1.1.1 comes out"
anonymous SuperTuxKart developer sources
Other Developments
SuperTuxKart is slowly getting support for the Haiku operating system.
Availability
The SuperTuxKart git20200711 snapshot release can be acquired from the SuperTuxKart/git20200711/ folder at SourceForge. There are Windows and GNU/Linux packages that are about 600 MiB large. There's also Android packages optimized for Android running on armv7, aarch64 and 864_64 architectures. The Android version of the git20200711 snapshot can also be installed directly from the Google Play Store where it is called "beta".
Snapshot versions of SuperTuxKart are not available in the free F-Droid Android app store.
"because fdroid is not official and it doesn't like beta build. only update for real release"
anonymous SuperTuxKart developer sources
The latest iOS version is only available from the Apple "TestFlight" service.
The name of the developer source has been anonymized to protect Benau's identity.