SuperTuxKart 1.1 could be released "anytime"
From LinuxReviews
Jump to navigation
Jump to search

Version 1.1 of the popular free kart racing game SuperTuxKart for GNU/Linux, Windows, Mac OS and Android is essentially ready. Developer sources tell us that the git version is as good as ready to become a v1.1 release and that the release could happen "anytime". The new version has IPv6 support, new skins, better touch-screen controls and quite a few bug-fixes and improvements under the hood.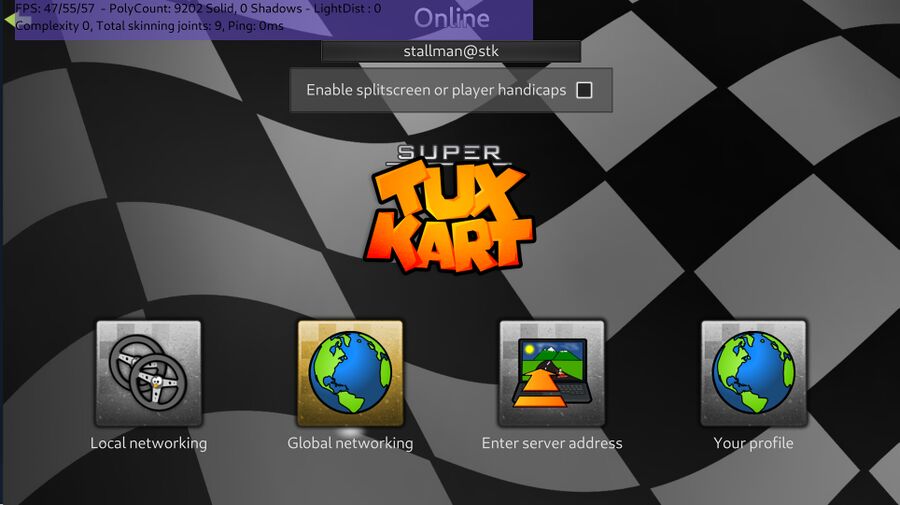 SuperTuxKart's multi-player menu
The release of SuperTuxKart 1.0 back in May brought many networked multi-player modes which allowed regular races, time trials, a soccer mode, a battle-mode and a Catupre-The-Flag mode to be played against other players using online servers. The networked multi-player mode lacked IPv6 support which is now in place in the soon-to-be-released 1.1 version.
Support for flags indicating where a server is located has been added to the multi-player mode. It was already possible to see if a server was close or far away by it's "ping" time; now it is also possible to see what country it is in.
Zommers will be happy to learn that SuperTuxKart version 1.1 has emoji support. They may also be happy to learn that the Android version's touch-screen controls have been greatly improved.
Hi-DPI users can enjoy changable font sizes and other graphics improvements in the GUI. The font-size can now be set to a range between "Extremely small" and "Extremely large".
There's also new skins available and many subtle improvements under the hood.
All that stands in the way of a SuperTuxKart v1.1 release is a proper release-announcement; a blog-post highlighting the changes in version 1.1 is desired and required.
SuperTuxKart's multi-player mode is quite fun.
Android users can install a beta version close to the 1.1 release available in the Google Play Store. GNU/Linux users can either wait or acquire the git version. instructions for compiling the git version are on our SuperTuxKart review page. Windows and Mac OS users will simply have to wait patiently for the Hong Kong situation to calm down so a proper release-announcement can be written.
The 1.1 will become available download "anytime" at SuperTuxKart's homepage supertuxkart.net.
published 2019-10-04 -  last edited 2019-10-05