Latte Dock 0.9 for KDE Plasma released
From LinuxReviews
Jump to navigation
Jump to search

Latte Dock is an alternative to standard panels offered by the popular and very feature-rich KDE Plasma desktop environment. It looks very similar to something we have vague memories of seeing when visiting someone using a thin laptop made by an American fruit company.

The "Latte" dock shows applications icons which grow in size when you move the mouse over them.
The new version is a result of one year of development. It has some interesting features which regular panels do not have. It can adapt it's colors based on the color scheme used by the currently active window. You can either share dock layouts between KDE Plasma "Activities" or have a unique layout for each activity. Latte Dock can auto-hide and "dodge" either the active window or all windows. It is also possible to define custom mouse wheel actions if you flip the "Advanced" switch.
Latte Dock's settings have been redesigned with the goal of making the settings both more flexible and more understandable.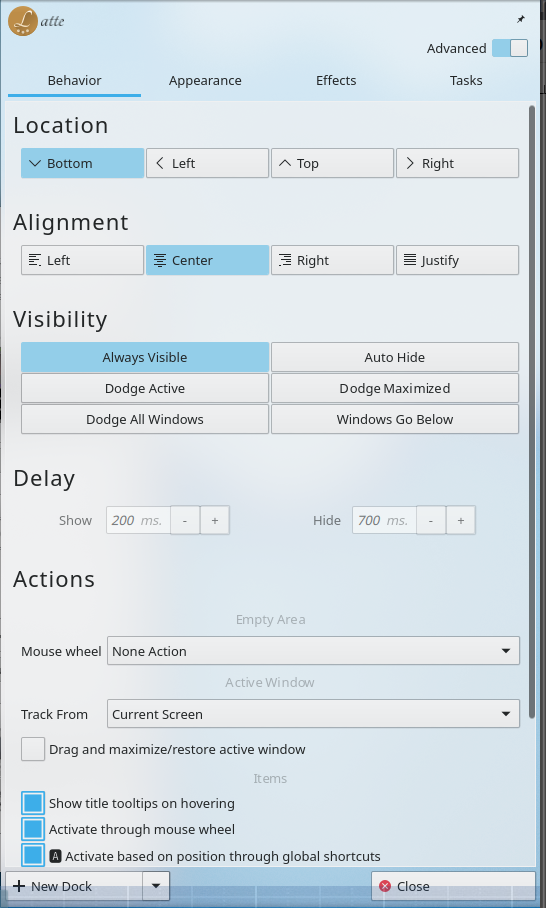 You can change the mouse wheel actions and several other features if you flip the "Advanced" switch.
Ready to use packages for Latte 0.9.0 are currently only available on the KDE Neon distribution. The minimum requirements for building it from source are simple, you just need the development packages for Qt >= 5.9 and KDE Plasma >=5.15. The source for 0.9.0 is available in the KDE "store" and the development source code can be acquired from github.


Latte supports several different layouts including a "Plasma" layout which looks similar to the built-in KDE Plasma panels.
The Latte dock is developed by Michail Vourlakos. Just him, he is currently the whole Latte Dock team. He writes a blog at psifidotos.blogspot.com and that blogs has a release announcement titled Latte Dock v0.9, "...a world to discover...". He would much likely appreciate some help if you are a C++ programmer willing to contribute to a small free software project.
published 2019-07-30 -  last edited 2019-07-30