Krita Gets $25,000 From Epic Games
From LinuxReviews
Jump to navigation
Jump to search

Epic games, known for the proprietary Unreal game engine, has given the developers of the Krita paint program a $25,000 grant to improve Kritas development process.
written by 윤채경 (Yoon Chae-kyung)  2019-12-18 - last edited 2020-09-22. © CC BY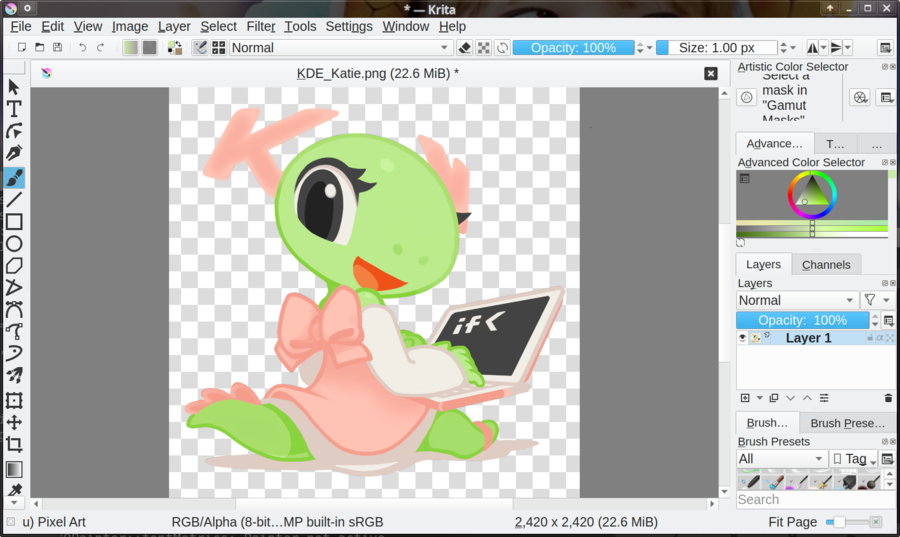 Krita version 4.2.8 released November 27th, 2019.
Krita has come a long way since it's development begun in 1999. It has an estimated five million users thanks to a lot of developer focus on making it a truly cross-platform product. There are nightly builds for Windows and MacOS available for free and paid versions available in both the Windows Store and the Steam store. GNU/Linux users can get it in their distributions repositories, all the distributions have a fairly recent version of Krita available. There's also Appimage and Flatpak packages.
Kritas development is organized by the Netherlands-based Krita Foundation. It is a non-profit organization which collections donations and pays several developers to work on Krita development. That organization just got a $25,000 donation from Epic games.
Epic is a proprietary games giant known for games like Fortnite and the Unreal game engine which is used by a lot of proprietary games. Epics donation was, according to an announcement on krita.org published December 18th, given with the explicit purpose of making Kritas development "more sustainable".
Epic games is not known to be very Linux-friendly or free software friendly. It is nice to see that they are contributing to a free software project like Krita. This does not mean that their Epic Games Store and launcher or any of games will get native GNU/Linux versions any time soon - but it is a step in the right direction.