KDEs "Season of KDE 2020" Student Program is Open For Enrolment
From LinuxReviews
Jump to navigation
Jump to search

The KDE e.V. non-profit organization behind the K Desktop Environment has a student program similar to Google's Summer Of Code program. Students can participate in 40 or 80 day community projects and they do not have to be code-related. Students who want to write code can do that and get help from an experienced mentor. Those who prefer to work on other areas can choose a project related to KDEs documentation, websites, translations or other areas that are related to KDEs free software efforts.
written by 林慧 (Wai Lin) 2019-12-11 - last edited 2019-12-11. © CC BY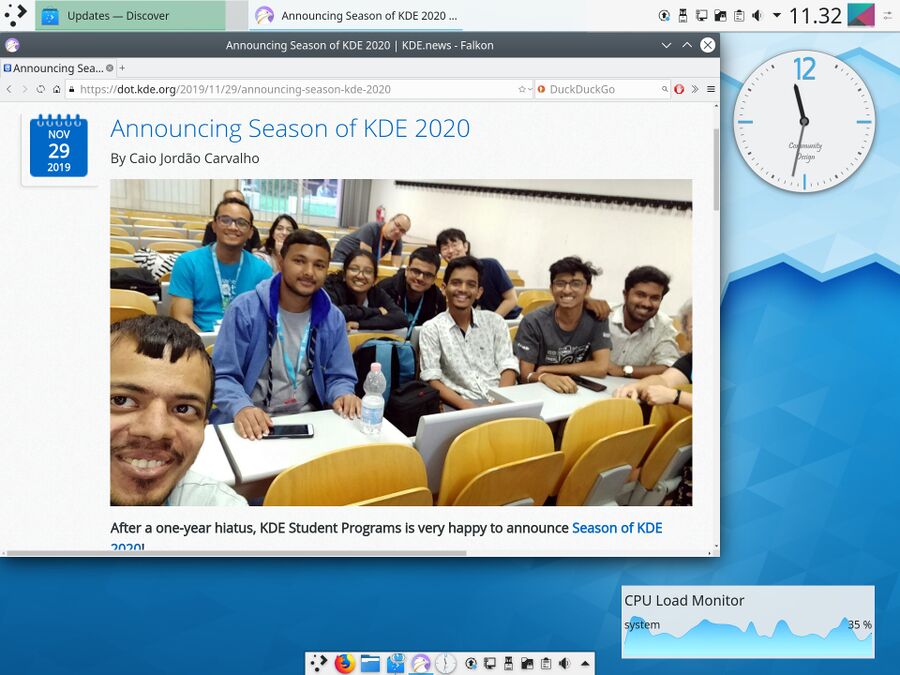 The KDE Plasma desktop environment showing the "Seasons of KDE 2020" announcement in the Falkon web browser.
Students who would like to participate can submit an application describing their project between December 9th 2019 and January 3rd 2020. That application-window opened Monday and there's 3 weeks left. The projects which are approved are announced on January 6th 2020.
The KDE "Season of KDE 2020" team asks that students who are interested in submitting a project contact them and discuss possible projects before submitting an application. There are several ways to contact them:
The KDE SOC team has made a "ideas page" with some loose ideas for projects. The "KDE applications" list is another good starting-point for students who are looking for a project to take on. The bottom of that page is filled with a list of abandoned KDE software which could be revived.
Applications to participate can be submitted at season.kde.org. Students will not get paid for participation, KDE e.V. is, after all, a non-profit with limited funds. What students will get is a helpful mentor and a team willing to help out. It may be worth it for the learning-experience and it won't look bad on a CV.