KDE Plasma 5.16.1 released
From LinuxReviews
Jump to navigation
Jump to search

The KDE software project has released the first minor bug-fix update for the 16th iteration of the fifth generation KDE desktop. Sleep and Suspend were broken in an earlier release and these fairly essential features now work again. The power management module will also ignore applications requesting power management inhibition when the battery's critical.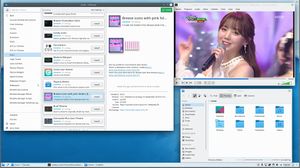 In other areas, the Software Manager Discover will now tell you when Flatpak's are being downloaded and KDEs window-manager is again able to use translations and speak the system-configured language.
We tested this release using KDE's own Neon distribution and found that there's a whole lot of other bugs that need to be fixed. The KDE Plasma desktop is shockingly bug-riddled compared to Xfce.
The full release announcement can be read at https://kde.org/announcements/plasma-5.16.1.php
published 2019-06-19 -  last edited 2019-06-19