KDE Launches Plasma Widget Tutorial Website
From LinuxReviews
Jump to navigation
Jump to search

The KDE team has launched a new tutorial portal for developers and non-developers alike who want to learn how to make widgets for the KDE Plasma desktop environment. The site has many examples and a friendly introduction KDE Frameworks API. It s a nice resource if you want to make your first widget program and you know a little or even no C++.
written by 윤채경 (Yoon Chae-kyung)  2020-10-01 - last edited 2020-10-01. © CC BY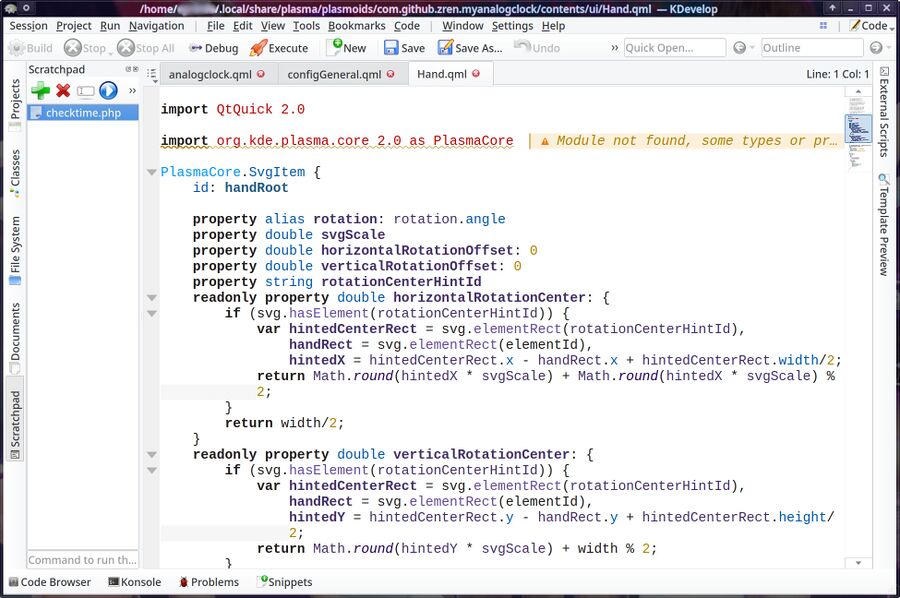 br>The KDE Plasma clock widget open in the kdevelop editor.
The new KDE Plasma Widget Tutorial can teach you how to make small widget programs for the KDE Plasma desktop environment using examples. It will teach you the basics of the QML language, give you a run-down of the Plasma's QML API and show you how to test your widget so you can see if it works or not.
The KDE Plasma Widget Tutorial is a great resource for both beginners who are unfamiliar with programming in general and programmers who know C++ but do not know anything about KDE.
The new Plasma Widget Tutorial is just a small step in a bigger effort to better document KDE. Several other tutorials are coming.
"It's a steap in the direction of having better developer documentation of the frameworks and Plasma. There is also a kirigami tutorial in preparation and a few others."
You can check it out at develop.kde.org/docs/plasma/widget/.