KDE Connect now lets you connect your Mac to Android phones and Linux desktops
From LinuxReviews
Jump to navigation
Jump to search

KDE Connect is a multi-platform project for securely synchronizing and controlling one device from another. It has so far been been limited to synchronization between Linux desktops and Android phones. This technology is now available to Mac and Windows users thanks to KDEs Summer of Code students Weixuan Xiao and Piyush Aggarwal.
It has been exactly one month since we wrote about these sharp young students efforts to bring KDE integration to new platforms as part of the KDE GSOC program and they have done it. Weixuan Xiao has created a KDE Connect version for Mac which you can download and try right away and Piyush Aggarwal has successfully produced a Windows version which is available in the form of nightly builds.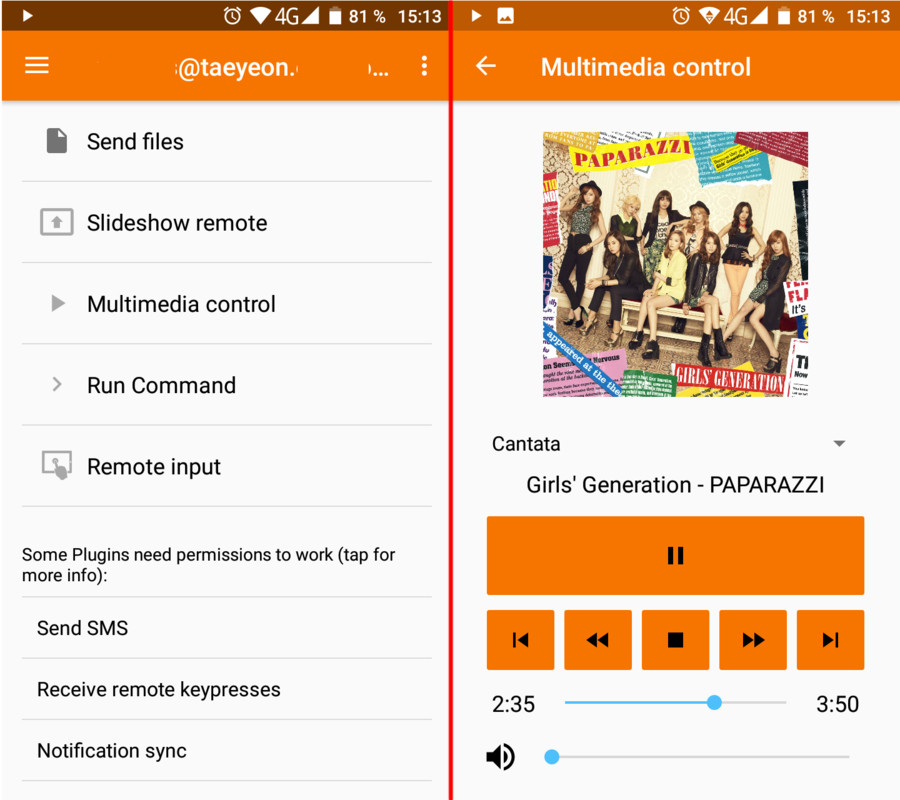 KDE Connect on Android controlling a music player on a Linux machine. We do not have any iToddler toys and can therefore not test the new MacOS version.
Features implemented in the KDE Connect Mac version so far
The Mac version will so far allow you to do the following from a connected phone:
Run pre-configured commands on your Mac
Control the volume
Keep the Mac's screen connected when the phone's connected
The Mac version can also be used to do to the following with a connected phone:
Make the phone ring so you can find it if you forgot where you put it
View the phone's battery status from your desktop
It will soon be possible tor receive phone notifications as desktop notifications on a Mac. This is still work in progress. A input-plugin for controlling a Mac's mouse from a phone is also in the works.
More features coming, including Siri integration
We asked developer Weixuan Xiao what we can expect in future versions of KDE Connect for Mac.
- What were your biggest challenges making a Mac OS version of KDE Connect?
"The dev group chooses to adapt KDE Connect rather than making an entirely new one. So, it reduced much work. But the difficult part is something like DBus, we are extremely familiar with it. But to run it on macOS, there were lots of work."
- Are you happy with the result?
Sure :)
- What, if anything, remains to be fixed?
There are some more plugins to be fixed, such as sftp plugin, virtual input plugin, etc. But most of plugins work well. All of them will be fixed in one month. And a production-ready one will be released next month.
- What are your plans for the future?
I'm going to add more features of macOS, such as Siri integration, and fix HiRes for KDE Connect.
Weixuan Xiao has written a detailed blog post about the KDE Connect Mac version with screenshots and more details. The blog is at kde.inoki.cc which uses a DNS provider which is censored by some European ISPs so you may have to use Tor or a proxy to read it. Weixuan Xiao has a github page is at github.com/Inokinoki.
The Mac OS version of KDE Connect by Weixuan Xiao can so far only be acquired from KDE's nightly binary factory. This version requires macOS 10.14. There are build instructions on the KDE Connect wiki if you would like to build a binary which works on earlier version of Mac OS.
The Windows version of KDE Connect is also coming along nicely. There is no stable release but there are Nightly Windows binaries available. There's also Windows build instructions on the KDE Connect community wiki in case you would like to build it yourself.
Android versions of KDE connect can be acquired from F-Droid and the Google App Store.
Ports 1714-1764, both UDP and TCP, are required for device discovery.
You can learn more about KDE Connect on the KDE Community Page for KDE Connect.
published 2019-07-17 -  last edited 2019-07-17