KDE Connect
From LinuxReviews
Jump to navigation
Jump to search

KDE Connect is a KDE technology which allows you to securely synchronize and control devices. It is available for Linux, Android, Windows and Mac. A device with KDE connect can be used to control music playback or send SMS messages or transfer files and many other things on another device running KDE connect.
You do not need GNU/Linux to enjoy KDE Connect. It can be used to send files between two Android phones or a Android phone and a Windows computer or any other two supported devices for that matter.
Requirements
KDE Connect needs firewall ports 1714-1764 to work and both UDP and TCP is required. Device discovery will not work if these ports are blocked by a firewall.
The Linux Desktop version
The desktop version of KDE Connect lives in the system tray. Right-clicking the system tray opens a menu which can be used to access other devices or launching the configuration dialog box. The configuration dialog can be used to pair devices. It can also be used to turn various features on or off.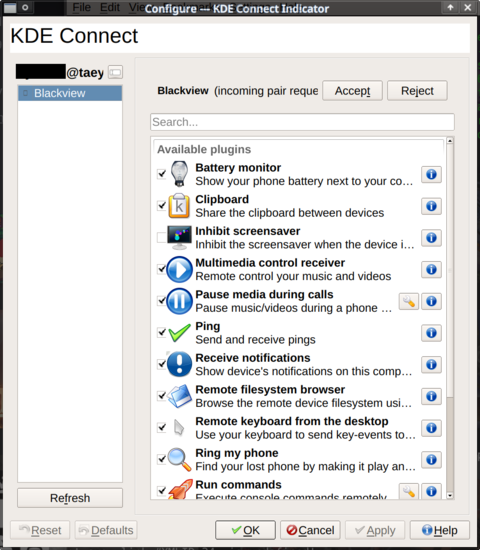 The Linux desktop version KDE Connect's dialog for configuring a new device.
File transfer is one of the more handy features KDE Connect offers. It works smoothly once it is configured correctly. Sending files to other devices will only work if the target device is configured to allow access to a folder or several folders on it.


Access denied: "Count not mount device filesystem" is what you get if you try to access a phone's file system before you have authorized a device and specified what folders should be accessible.
KDE Connect integrates with other applications using the KDE framework. You can use the file manager Dolphin to access files and folders on connected devices - but you do not have to use a file manager. Any KDE program can use file systems on connected devices. You can load and save files in Kate, KolourPaint or any other program built using the KDE framework.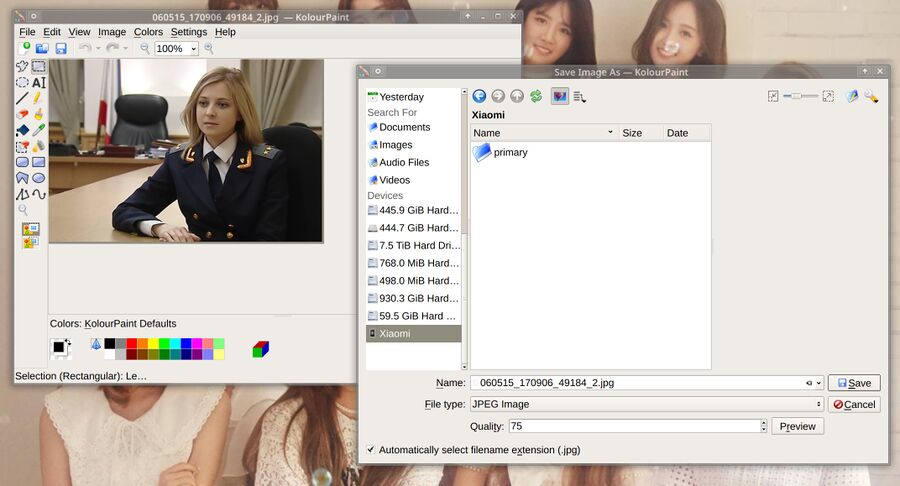 KDE programs see remote file systems connected by KDE Connect as if they were any other file system.
The Linux version of KDE Connect can be installed using your distribution's normal method, all the distributions have it in their repositories. It is designed with the KDE Plasma desktop environment in mind but that is not a requirement. It works just fine in desktop environments like LXQt and Xfce as well (programs using the GTK file dialog will not be able to use connected file systems as if they were local).
The Mac OS version
The Mac OS version of KDE Connect can be acquired from KDE's nightly binary factory. This version requires macOS 10.14. There are build instructions on the KDE Connect wiki if you would like to build a binary which works on earlier version of Mac OS.
The Mac OS version is in early stages. It is fully functional but it is not yet released as a "stable" release.
We do not have a Mac OS and can therefore not provide screenshots or much more information. As of July 2019 the Mac OS version can do the following from a connected phone:
Run pre-configured commands on your Mac
Control the volume
Keep the Mac's screen connected when the phone's connected
The Mac version can also be used to do to the following with a connected phone:
Make the phone ring so you can find it if you forgot where you put it
View the phone's battery status from your desktop
The Mac OS version can be downloaded from KDE's Nightly Binary-factory.
The Android version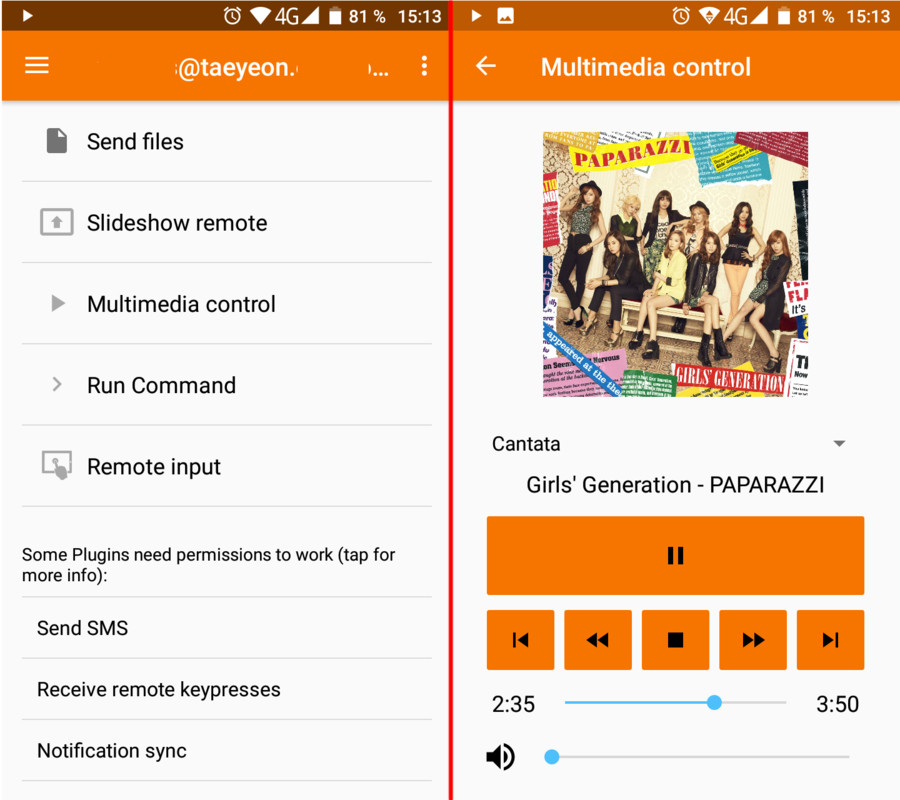 KDE Connect for Android controlling a music player on a Linux desktop. Notice the small drop-down where the media player Cantata is mentioned: Tapping it will list all the available media players if more than one is running.
The Android version KDE connect can be used to access and control features on Linux, Windows and Mac computers running KDE connect.
Controlling music players running on desktop machines from KDE Connect works just fine.
The Android version requires you to configure and grant access various features individually before they can be used. You will not be able to send files to a device before access to a folder or folders on that device are configured. Sending files to a device works smoothly once that is done.
The Android version is both available in the free F-Droid app-store and Google's Appstore.
The Windows version
We know there is one and we know it can be downloaded from KDEs Nightly Binary Build Factory. We have no further information at this time.
Verdict and conclusion
KDE Connect is really useful program which is worth a try. It is handy for sharing notifications and files between devices. It is also very useful for controlling media players running on one device from another.
KDE Connect can be used with or without a computer and you do not need GNU/Linux. It can be used to send files between two Android phones or an Android phone and a Mac or any other combination of support devices.
Links
KDE Connect's wiki page is at community.kde.org/KDEConnect.