GNOME 3.36 "Gresik" Is Released
From LinuxReviews
Jump to navigation
Jump to search

The latest version of the smart-TV/tablet GNOME "app" environment which is pushed as a default on several GNU/Linux distributions meant for desktops for some incomprehensible reason has a new "app" for managing shell extensions, performance improvements, parental controls and a redesigned clock. There is still no system tray, window manager buttons for anything beyond closing windows or anything else one would expect from a desktop environment.
written by 林慧 (Wai Lin) 2020-03-14 - last edited 2020-03-14. © CC BY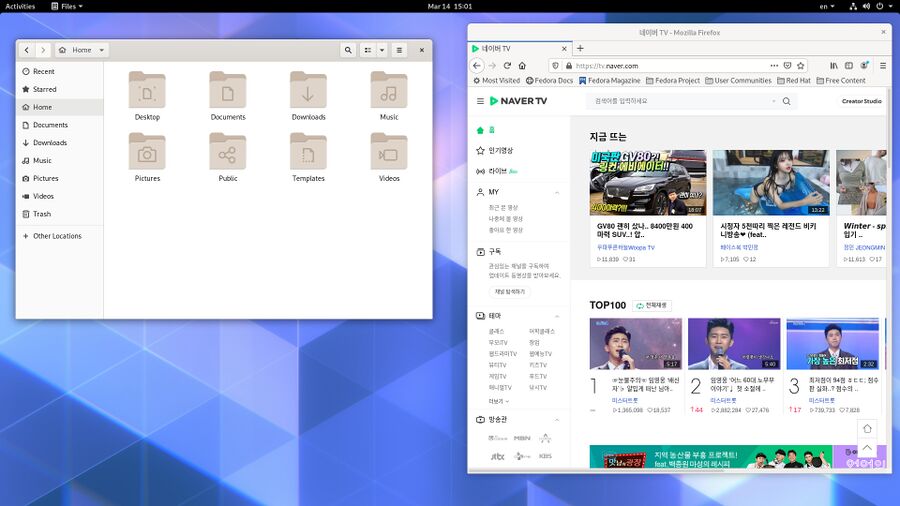 The GNOME 3.36 "desktop" on Fedora 32.
GNOME 3.36 still lacks all the features you would expect from a desktop environment. There are no window title bars, just some odd header bar without buttons to place windows on top or minimize or shade windows. The GNOME window manager does have a close button, the GNOME developers have not yet removed that feature. It is possible to minimize windows by right-clicking on the header-bar. Getting them back once they are minimized requires you to either click on a "activities" bar or use alt+Tab ↹ since there is no window list.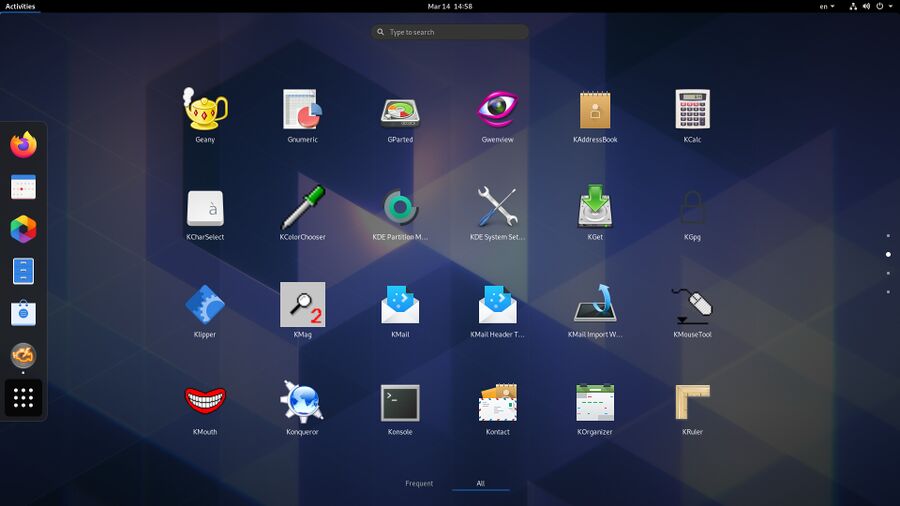 The GNOME 3.36 "Activities" view. You will have to use "Activities" to launch "apps" (not software programs) and switch between and manage "apps" if you use GNOME.
There is also no system tray where music players like Cantata or IM programs like Spectacle can live. The lack of basic features like a panel window list and a systme tray makes that concept called multi-tasking which Bill Gates proudly introduced when Windows 3 was released in 1990 hard and cumbersome. This will never be fixed since it is a intentional design decision.

GNOME's many shortcomings are intentional design design decisions.
The lack of basic features is not limited to the GNOME "desktop" shell itself. All the made-for-GNOME apps seem to lack most of the basic features you would expect from a software program. They all have a smartphone style "hamburger" menu instead of a regular menu bar sucessful desktop programs have. This has to do with a mindset where GNOME developers consider GNOME to be a unique "software platform" that is seperate from the GNU/Linux eco-system. Successful KDE programs like Krita work well in any GNU/Linux desktop environment as well as other operating systems like Windows and macOS. GNOME "apps" appear to be designed to only be used on smartphones or tablets running GNOME (they can, of course, be used on desktop computers running GNOME too, but they are so useless it's pointless to do so).
Those with high resolution displays will be saddened to learn that GNOME 3.36 still lacks any way of configuring DPI, font sizes or icon sizes. The Settings ▸ Displays option does allow you to configure a Scale setting of either 100%, so everything is too small, or 200% so everything is too big.
GNOME 3.36 does have some improvements since the previous release. Most of them are listed in the release announcement:
"The GNOME Project is proud to announce the release of GNOME 3.36, "Gresik".
This release brings a new lock screen and a new app for managing shell extensions, among other things. Once again, the shell has received many performance improvements.
Improvements to core GNOME applications include better support for metered networks and parental controls in GNOME Software, a new look for the initial setup assistant, a redesigned GNOME Clocks, and many more.
More information about the changes in GNOME 3.36 can be found in the release notes.
GNOME 3.36 will be available shortly in many distributions. If you want to try it today, you can use the soon-to-be-released Fedora 32 beta or the openSUSE nightly live images which will both include GNOME 3.36 very soon.
If you are interested in building applications for GNOME 3.36, look for the GNOME 3.36 Flatpak SDK, which is available in the www.flathub.org repository.
This six-month effort wouldn't have been possible without the whole GNOME community, made of contributors and friends from all around the world: developers, designers, documentation writers, usability and accessibility specialists, translators, maintainers, students, system administrators, companies, artists, testers and last, but not least, our users.
GNOME would not exist without all of you. Thank you to everyone!
Our next release, GNOME 3.38, is planned for October 2020, after our yearly GUADEC conference in Zacatecas, Mexico. Until then, enjoy GNOME 3.36.
The GNOME Release Team"
GNOME 3.36 release announcement
GNOME is the default desktop environment on many commonly used Linux distributions such as Fedora, OpenSUSE and Ubuntu. You can wait and get the next major releases of those distributions if you want to try GNOME 3.36. There are, luckily, spin/variants of those distributions with sane and usable desktop environments like Xfce and KDE Plasma if you want to avoid having to use a "desktop" which is clearly designed for tablets and smartphones on a desktop computer.