First UbuntuDDE Remix 20.10 Groovy Beta Is Released
From LinuxReviews
Jump to navigation
Jump to search

UbuntuDDE Remix 20.10 Groovy Beta is a GNU/Linux distribution based on the Ubuntu 20.10 Groovy Gorilla beta released last week. It features the latest version of the very user-friendly yet powerful Deepin Desktop Environment instead of the laughable and utterly useless tablet/smart-TV desktop environment Ubuntu's regular release ships with. This beta-release is primarily for testers. We tested it and we liked it.
written by 권유리 (Kwon Yu-ri). published 2020-10-09 - last edited 2020-10-09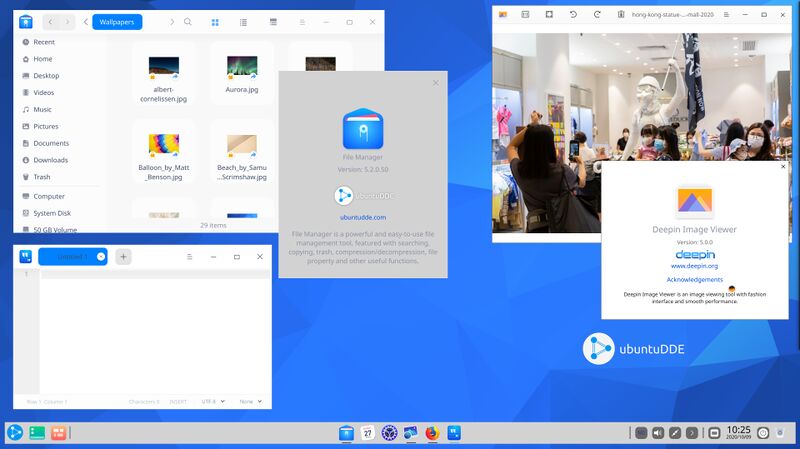 The default desktop environment on UbuntuDDE Remix 20.10.
UbuntuDDE is a Ubuntu "spin", or "remix", with the Deepin Desktop Environment instead of the borderline useless smart-TV "desktop" environment Ubuntu's regular releases ship with. UbuntuDDE Remix 20.10 Groovy Beta is based on, and otherwise identical to, the Ubuntu 20.10 Groovy Gorilla beta released last week. It features Linux kernel version 5.8.0, Mozilla Firefox 81, Thunderbird 78.3, gcc 10.2.0 and Qt 5.14.2.
UbuntuDDE Remix 20.10 comes with the latest Deepin Desktop Environment (version 20) which was released one month ago. The Deepin Desktop Environment is, as the name implies, a desktop environment made by the Chinese developers of the Deepin Linux distribution for the Deepin Linux distribution. That doesn't mean it can't be used with other distributions, it can. UbuntuDDE shows that it can work great on alternative Linux distributions. There's also packages for Arch, Manjaro Linux and Fedora 33 available. The Fedora 33 packages are horribly broken, selecting Deepin from a login manager on that distribution results in a desktop background with some icons in it and that's it. There's no panels, no window manager, no nothing when you login to Deepin on Fedora, it's just garbage on that distribution. That's not the case with UbuntuDDE.
The base system beneath the hood is the only difference between the UbuntuDDE Remix 20.10 and the Deepin Linux distribution. Deepin is based on Debian buster 10.5, UbuntuDDE is based on Ubuntu. The desktop environment you get is as good as identical. Everything works, looks and feels the same. The default panel configuration, with a single panel on the button of the screem, is identical.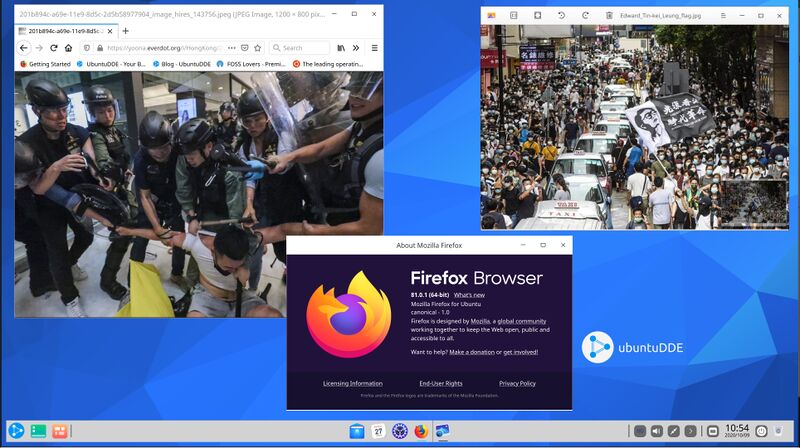 Mozilla Firefox 81 is the default web browser on UbuntuDDE 20.10 Groovy Beta Firefox.
The pre-installed packages do differ slightly, but not by much: UbuntuDDE comes with the Celluloid video player instead of the Deepin Video Player and Atril (from the MATE desktop) is the default document view. That seems to be it terms of differences between pre-installed applications. Mozilla Firefox is the default web browser in both cases, both ship the Thunderbird e-mail client as the default e-mail client, both have LibreOffice as the default office suite and none of them come with Steam pre-installed.
Ubuntu 20.10 Groovy Gorilla is scheduled to be released on October 22nd. We do not know if UbuntuDDE Remix 20.10 will be released at the same time or a week or two after.
UbuntuDDE Remix 20.10 Groovy Beta can be acquired from the projects ubuntudde.com/download/ page if you prefer a HTTPS mirror. You can also use this fine magnet:
magnet:?xt=urn:btih:e71c8b78f9b7ba5c02357f3d3516cfe7014b7cda
The sha256sum should be 77c1aef764f2a707e56676d098bf268eef61a4e143171bda7b21ab74156e2a4d.
The UbuntuDDE homepage is at ubuntudde.com. There is a Donate To UbuntuDDE page available with PayPal and Patreon payment options for those who want to support this project.