GNOME 3.38 "Orbis" Is Released
From LinuxReviews
Jump to navigation
Jump to search

The latest GNOME release has re-vamped application grouping and ordering in the applications overview, "intelligent" tracking prevention in the GNOME Web browser that in practice does nothing, redesigned adaptive user-interface for the GNOME Maps application and deeper systemd integration beneath the hood.
written by 林慧 (Wai Lin) 2020-09-16 - last edited 2020-09-16. © CC BY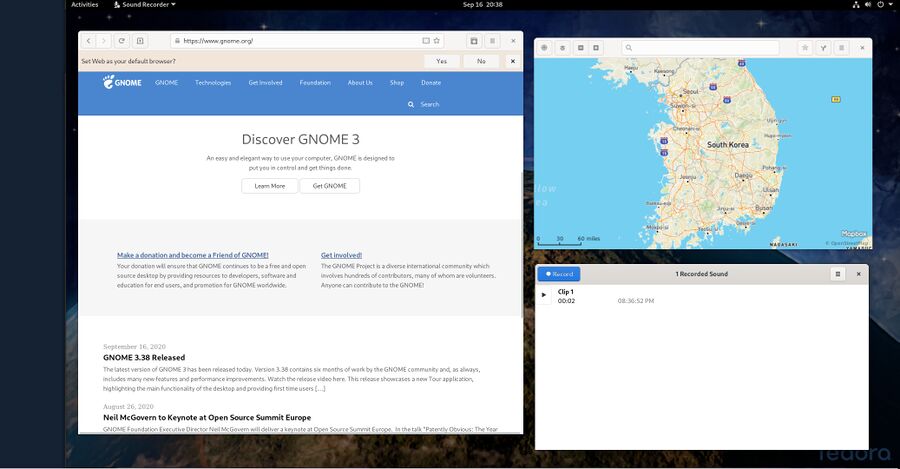 GNOME 3.38 on Fedora 33 with GNOME Web, GNOME Maps and Sound Recorder open.
The latest GNOME desktop release brings quite a few smaller and somewhat subtle user-interface improvements to the shell and several GNOME "apps". The applications overview reorders and groups applications in a more intelligent way in GNOME 3.38. The difference is there but it is not very noticeable unless you do a side-by-side comparison with earlier versions. Most GNOME users will probably be happy with the changes.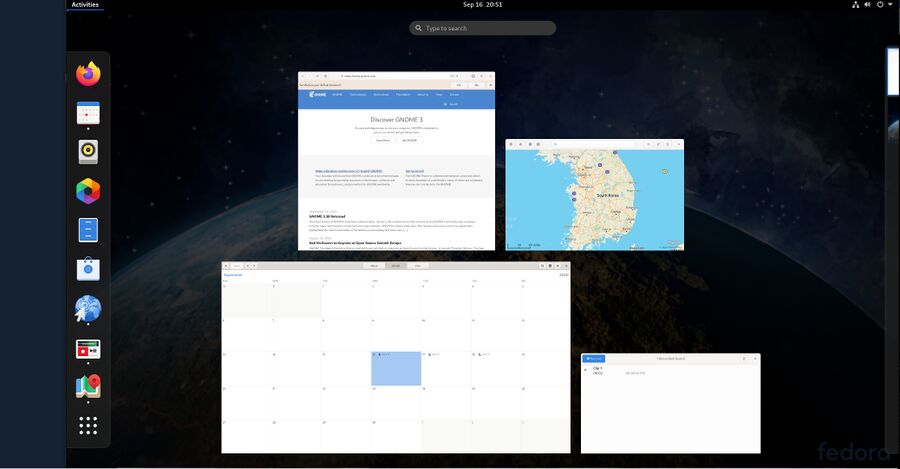 The new and improved applications overview in GNOME 3.38 on Fedora 33.
GNOME 3.38 has a new "welcome tour" feature that launches the first time you start. There is not much too it, it tells you how to launch applications, that there is a search feature you can use and that notifications can be shown by clicking on the clock in the middle of the top panel. It may be a bit useful for anyone who never owned a computer who tries GNOME for the first time.
The GNOME Web browser has gotten a new feature the GNOME developers call "intelligent tracking prevention" in GNOME Web 3.38. This new "feature" will, in practice, do absolutely nothing for you beyond perhaps provide a false sense of security.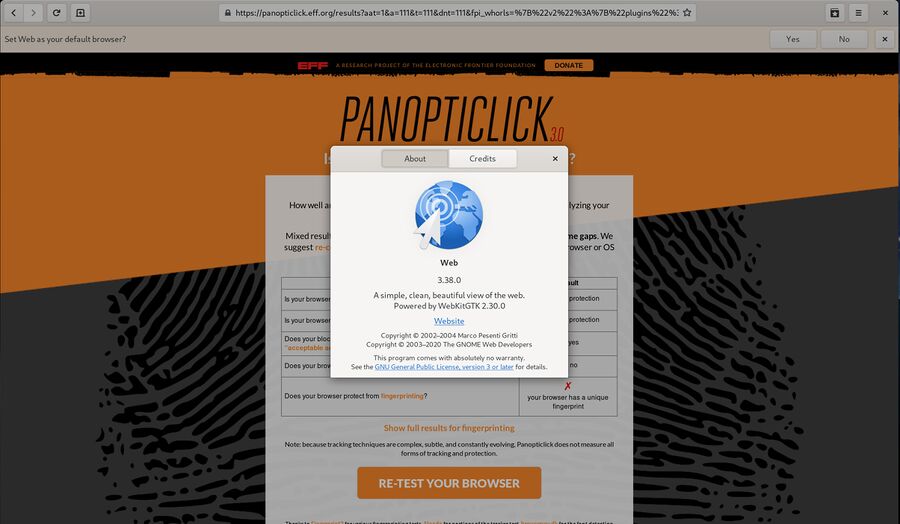 GNOME Web 3.38 failing the EFF's Panopticlick web browser fingerprinting test. The "About" box partly covering the results is unavoidable, GNOME 3.38 will not let you move about dialog boxes without moving the entire application along with it because allowing users to have the small degree of gradual control that would allow that is against GNOME design principles.
GNOME Web 3.38 gets a "partial" protection rating for invisible trackers trackers in the EFF's Panopticlick browser safety test and a "unique fingerprint" result in the web browser fingerprinting protection test. Web browser fingerprinting is a real and increasingly important concern because 30% of the worlds biggest websites track visitors using web browser fingerprinting. Providing any real protection against web browser fingerprinting without breaking basic functionality is very hard. None of the major web browsers provide any real protection against that kind of stealthy tracking. It is quite understandable that GNOME Web fails miserably in this area. What is not understandable or excusable is that the GNOME team advertises it has having "intelligent tracking prevention" as a new feature in GNOME Web 3.38 when it, in practice, does not provide anything of the sort.
The GNOME Maps map application has gotten a new "night mode" and a re-designed adaptive user-interface.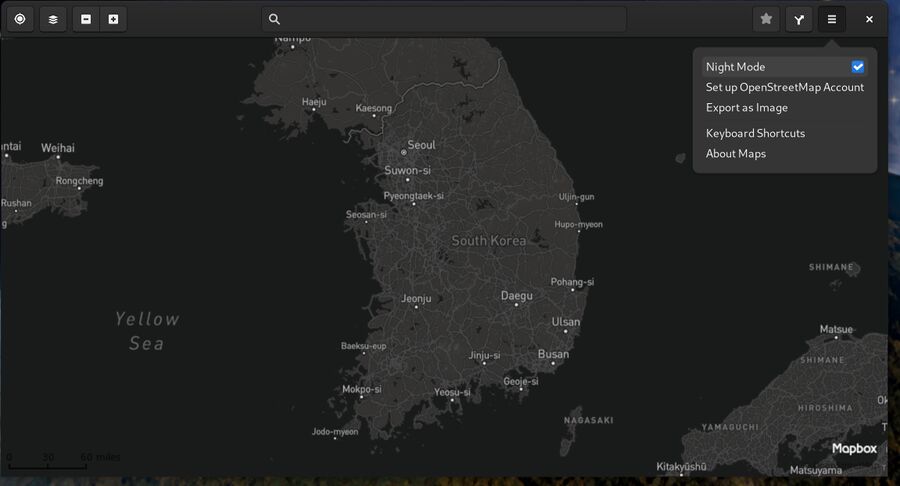 GNOME Maps 3.38 in "night mode".
The new GNOME Maps "night mode" is all black and white. Roads, rivers and things like that are not drawn in darker colors that would keep useful information intact, roads and rivers and everything else is gray and dark and depressing when "night mode" is turned on. That makes GNOME Maps with "night mode" far less useful than it is without the new "night mode" enabled.
The GNOME 3.38 release notes note that the "Sound Recorder" app has been re-designed. It is hard to see any difference at all between how it looks in GNOME 3.38 and GNOME 3.36. It is just a really basic toy "app" for sound recording with one button that starts and stops recording, much like those you find on cheap smartphones, so there is not much they could have changed.
Many of the changes in GNOME 3.38 are not user-facing or very visible. A lot of work has gone into integrating GNOME services with systemd. Those efforts have some minor practical benefits but they are not something anyone will see or notice.
GNOME 3.38 will be the default desktop on Fedora 33 when it is released next month and packages for the Fedora 33 preview release are already available. openSUSE nightly live images with GNOME 3.38 will be available shortly. Distributions who tend to update GNOME when a new major release is made will have it available within a week or two.
The next major GNOME release is scheduled for March 2021.
You can learn more about the GNOME desktop environment and the "apps" for it at www.gnome.org.