Catfish 1.4.12 Is Released With GNOME and Wayland Support
From LinuxReviews
Jump to navigation
Jump to search

The graphical file searching tool Catfish has gained support for Wayland and the GNOME shell. All dialog boxes in Xfces "locate" front-end for Linux and BSD use client-side decorations as of version 1.4.12.
written by 윤채경 (Yoon Chae-kyung)  2020-01-12 - last edited 2020-01-02. © CC BY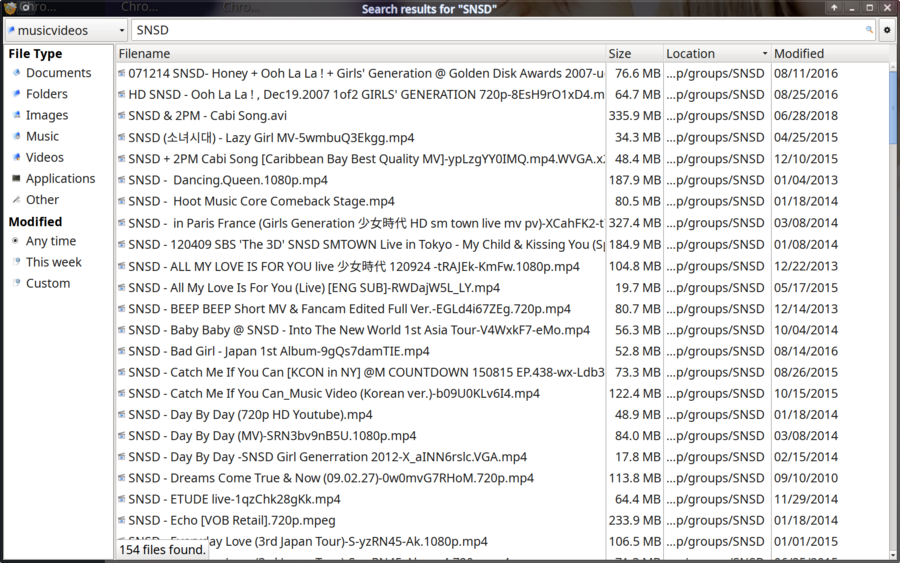 Catfish with its optional sidebar shown. It can be toggled by pressing f9.
Catfish is a graphical file searching tool which uses the systems standard locate database (provided by either mlocate or slocate) to produce search results. It is written with the Xfce desktop in mind but does not require it, catfish works fine in any desktop environment including simpler ones like LXQt, IceWM and fluxbox. Wayland support has so far been lacking. The 1.4.12 release has support for Wayland and the GNOME shell.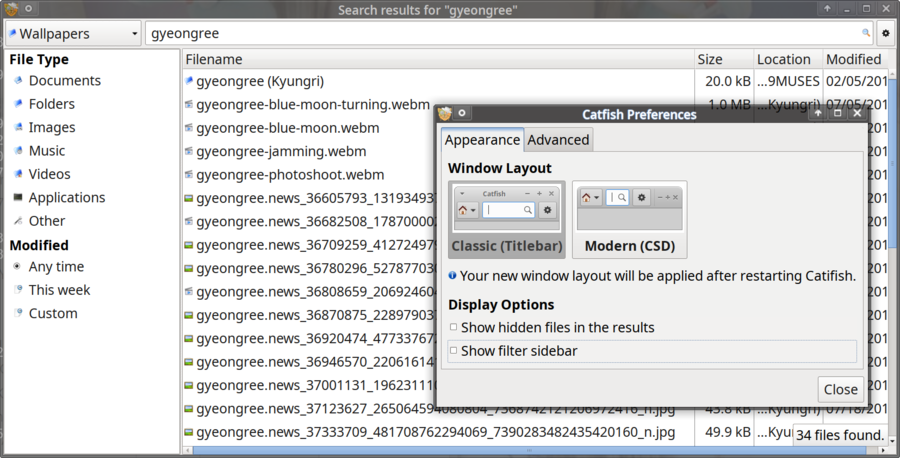 Catfish can be configured to either have a classic look with a titlebar or a "CSD" look with no window title bar. It supports Wayland and the GNOME shell as of version 1.4.12.
The changes listed in the the 1.4.12 release-announcement by Catfish maintainer Sean Davis are:
New Features:
Wayland and GNOME Shell support (Xfce #16293)
General:
All dialogs now use client-side decorations and are modal
Fixed typo "Catifish"
Release Process Updates:
Temporary files are now excluded from releases
Releases now generate .bz2 files and display contents and checksums
Translation Updates:
Albanian, Catalan, Chinese (China), Chinese (Taiwan), Czech, Danish, Dutch, French, Galician, German, Italian, Japanese, Norwegian Bokmål, Russian, Serbian, Spanish, Turkish
Major distributions have catfish available in their repositories under a package named catfish. Its homepage is at docs.xfce.org/apps/catfish/ and the source code for the latest release can be acquired from archive.xfce.org/src/apps/catfish/1.4/. It is written in Python so compilation is not required, it can easily be installed like any other Python program (python setup.py install --user or python setup.py install to install it system-wide).