Fluxbox
From LinuxReviews
Jump to navigation
Jump to search
Fluxbox is a minimalist X window manager which supports virtual desktops, highly customized keyboard shortbuts, basic theme management, sorting windows in tabs and .. a menu. It's resource-use is really limited.
Features and Usability
If you have a clean and organized desktop and want a window manager that manages your windows elegantly and doesn't make a whole lot of fuzz about it, then Fluxbox is for you.
There is no eye-candy. There is no support for anything on the desktop's root window. You can use a third-party program to set a wallpaper. You need a separate program like idesk[1] to show icons on the desktop.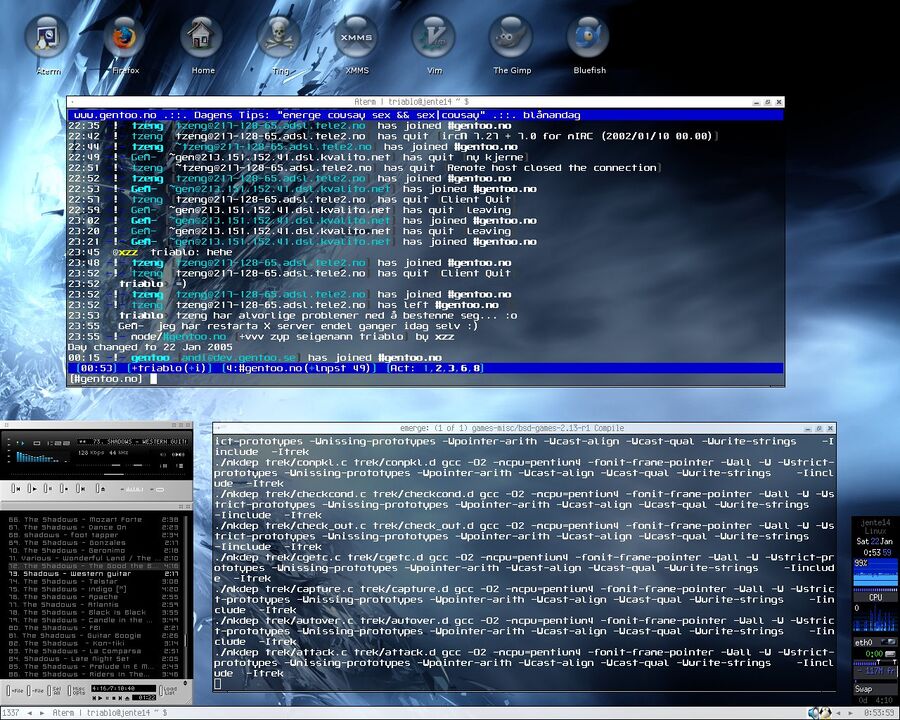 Fluxbox shows a menu when the root window is right-clicked. This menu is configured in a text-file. It can be auto-generated with a command called "fluxbox-generate_menu". Fluxbox does NOT follow or use the modern freedesktop .desktop standard; adding a program to your system will NOT make it magically appear in Fluxbox. You will have to manually edit the menus configuration file or run a script generating it if you want to update or change it.


Fluxbox's default menu on Debian 10 Buster. You didn't expect it to populate the menu for you, did you?
Fluxbox does have a notification icon area which is by Fluxbox referred to as a taskbar. It's also got a docking area where small X applications like a calculator can run.
Fluxbox has one unusual window-management feature: Windows can be grouped into tabs. One window can hold multiple tabs. This was very handy before web browsers like Mozilla Firefox had tabs (or the name Firefox for that matter).
The out-of-the-box experience
Fluxbox is not a very good experience unless you spend some time configuring it. The menu you get when you right-click the root window is one example of this; there's nothing there until you configure the menu. The default theme is not usable on HiDPI monitors.
Fluxbox can be quite nice if it is properly configured. The security-focused live USB distribution BlackArch Linux uses Fluxbox for it's default desktop and they have done a wonderful job customizing it.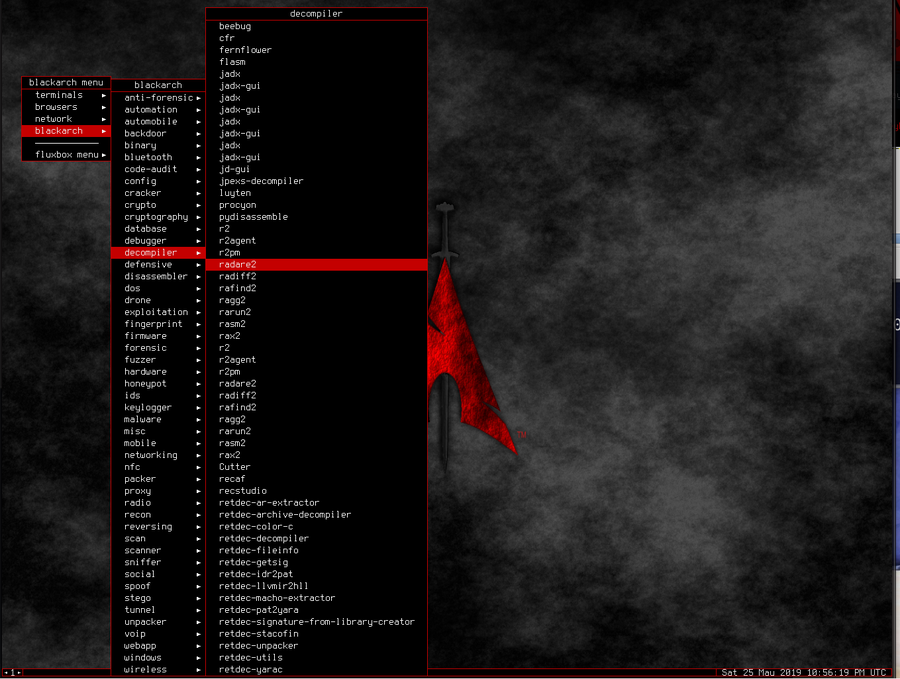 Verdict and Conclusion
Fluxbox is a simple and efficient window-manager which lacks all but the most basic features. It is absolutely not for everyone. It is bare-bones basic compared to a desktop environment like KDE Plasma or Xfce. This makes it a great choice for really low-end systems like a Rasperry Pi.
Fluxbox does have some major draw-backs which makes it a less than ideal experience. The lack of a automatically generated menu is one. There is a script you can run to update it. Having to do that to get a program you install to appear in the menu should not be a regular maintenance job. The themes available for it are mostly made for low-resolution monitors. Finding a theme which works well with a monitor isn't easy.
We can not recommend Fluxbox as a general-purpose desktop environment. It's just too lacking in features. However, we absolutely do recommend Fluxbox if running on absolute minimal hardware is a requirement.
History
Fluxbox started out as a fork of the then-popular X window manager Blackbox. The Fluxbox developers branched off at Blackbox version 0.61.1. Fluxbox added a lot of features and it has over time become a very different window-manager.
Notes
↑

We used idesk with Fluxbox around 2003-2004-ish. No idea if it still exists
Links
Fluxbox's homepage is at http://fluxbox.org/