Xfce4-Terminal 0.8.9 Is Released With Several Wayland Fixes
From LinuxReviews
Jump to navigation
Jump to search

The latest minor release of the Xfce desktop environments light-weight terminal emulator has a long list of bug-fixes, many of which are specific to the Wayland display server. Xfce itself does not yet support Wayland but the applications for Xfce can be and are being used on it.
written by 윤채경 (Yoon Chae-kyung)  2019-12-27 - last edited 2019-12-30. © CC BY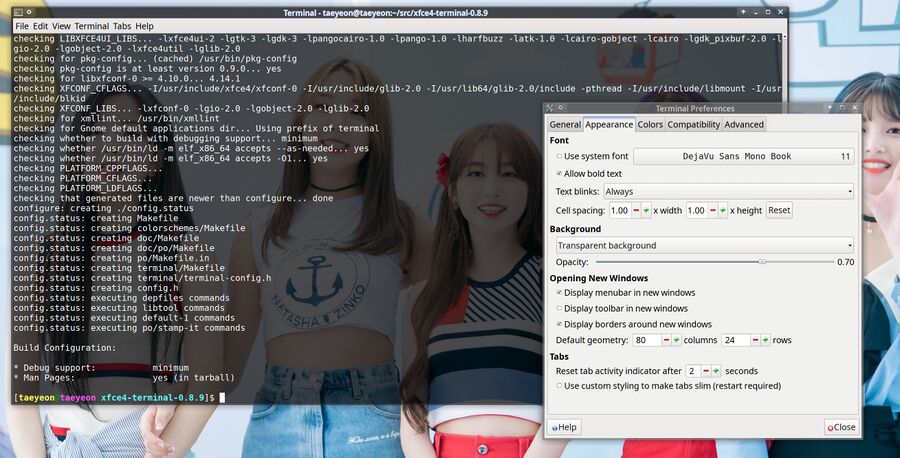 Xfce-terminal with a transparent window showing its source codes ./configure output and its preferences window for enabling the transparent background feature next to it.

The long list of changes between the xfce4-terminal 0.8.9 release and the previous version 0.8.8 is as follows:
Respect the "Working Directory" setting when opening initial window (the current directory was used instead). (bug #16292)
Disable "Paste" actions in read-only mode
Point session manager to desktop file. This means that the session manager will know the (translated) name and icon for the application. This is visible e.g. in xfce4-session-settings in the "Current Session" tab. (bug #16121)
Resolve G_TYPE_INSTANCE_GET_PRIVATE deprecation warning
Allow to use <Alt> shortcuts when menu mnemonics are disabled - like <Alt>h which is normally used for "Help" menu. (bug #15989)
Fix 'Menubar starts shown when set to hidden in properties' (bug #15979)
Fix invalid geometry on Wayland. Also fixes the issue with increasing the window size when showing or hiding widgets such as tabbar, toolbar, menubar on Wayland.
Fix size increase when the menu is used on Wayland (bug #13938)
Avoid passing null pointer to g_warning()
Replace GLib threading functions with their GDK counterparts
Fix setting a font via the command line (bug #15869)
Properly apply zoom factor when creating new tab (bug #15785)
Add icons to "Cancel" and "Paste" buttons
Fix background color changing when changing focus if "Vary the background color for each tab" is enabled (bug #15740)
Revert "Save accelerators map on exit". It turned out that saving accelerators map on exit prevents users from disabling the Alt+N shortcuts by setting them to "" in accels.scm. The shortcuts that had been disabled got overridden on the next launch of the terminal. (bug #16058)
Allow to unset window urgency hint even if "Visual bell" is disabled (bug #15729)
Unmaximize drop-down window when hiding it. This seems to help xfwm4; otherwise, it won't be able to unmaximize the window once it's shown again. (bug #15681)
Allow to use --maximize with drop-down windows
Search dialog: Make opacity scale unfocusable. This prevents the text entry from losing focus when the opacity scale is used.
Fix closing tabs with middle click. This includes switching to last active tab, allowing to undo close tab, and checking for a running process. (bug #15687)
Translation updates: Croatian, English (United Kingdom), Finnish, French, Galician, Greek, Italian, Lithuanian, Norwegian Bokmål, Portuguese, Slovak, Slovenian
Xfce4-terminal supports tabs, transparent background (if the window manager does compositing), a "read-only" mode (which prevents pasting too as of 0.8.9) and a lot of other nice features a modern terminal emulator should have. It is not as advanced as KDEs konsole; xfce4-terminal does not have "profiles" and things like that. It does cover all the basics and it is overall a very nice terminal which works great in Xfce as well as other light-weight desktop environments like IceWM and fluxbox.
Xfce4-terminal is currently maintained by Igor Zakharov.
Update: xfce-terminal 0.8.9.1 was released shortly after 0.8.9 with one fix:

Fix "Open terminal here" functionality that was broken in release

There are no other differences betweewn 0.8.9 and 0.8.9.1.
The source code for the release is available at archive.xfce.org/src/apps/xfce4-terminal/ as an archive titled xfce4-terminal-0.8.9.1.tar.bz2.
Xfce4-terminals website is at docs.xfce.org/apps/terminal/.