Xfce-Panel 4.14.1 is released
From LinuxReviews
Jump to navigation
Jump to search

The Xfce desktop has gotten it's first update to the relatively new 4.14 branch which is baed on GTK3. The window list is now consistent with xfdesktop and the tasklist will now resize as windows are removed. There's also fixes for the pager and the systray and a lot of translation updates.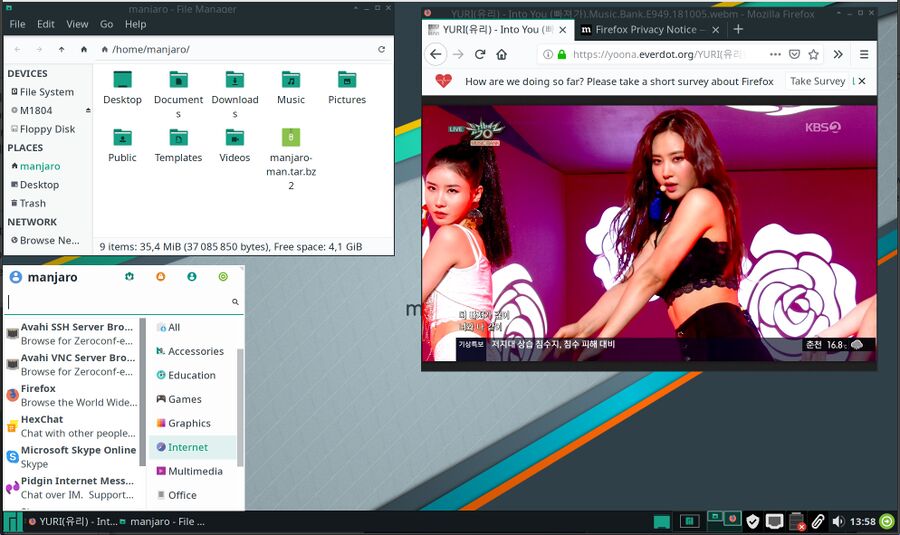 Default Xfce desktop on Manjaro Linux's Xfce spin
The complete list of changes to Xfce-Panel 4.14.1 is as follows:
Draw panel border based on position and length
windowlist: Make layout consistent with xfdesktop
windowmenu: Replace deprecated gtk_widget_modify_font
tasklist: Resize when windows get removed (Bug #14394)
systray: Fix icons without compositing (Bug #14577)
pager: Fix scrolling in pager-buttons (Bug #15614)
launcher: Fix visual state of arrow-button (Bug #15818)
launcher: Avoid excessive left padding on popup menu (Bug #15819)
Translation Updates: Albanian, Arabic, Armenian (Armenia), Belarusian, Chinese (China), Chinese (Taiwan), Galician, Greek, Hebrew, Indonesian, Japanese, Malay, Polish, Serbian, Slovak, Swedish, Thai
Xfce developers had no comment when asked for comment for this short article about Xfce-Panel 4.14.1. We do therefore not know if there will be 4.14.1 releases of other Xfce desktop components any time soon.
The new version of the xfce4 panel can be aquired from archive.xfce.org
published 2019-09-26 -  last edited 2019-09-26