Wasteland 2 Director's Cut Is Available For Free on GoG The Next 26 Hours
From LinuxReviews
Jump to navigation
Jump to search

The Gog games store is having a Winter sale and they are giving away the game "Wasteland 2 Director's Cut", which is available for Linux, Windows and Mac, for the next 26 hours in order to attract new customers. Most of the other games in their catalogue are sold at discounts ranging from 10 to 70%.
written by 윤채경 (Yoon Chae-kyung)  2019-12-12 - last edited 2019-12-12. © CC BY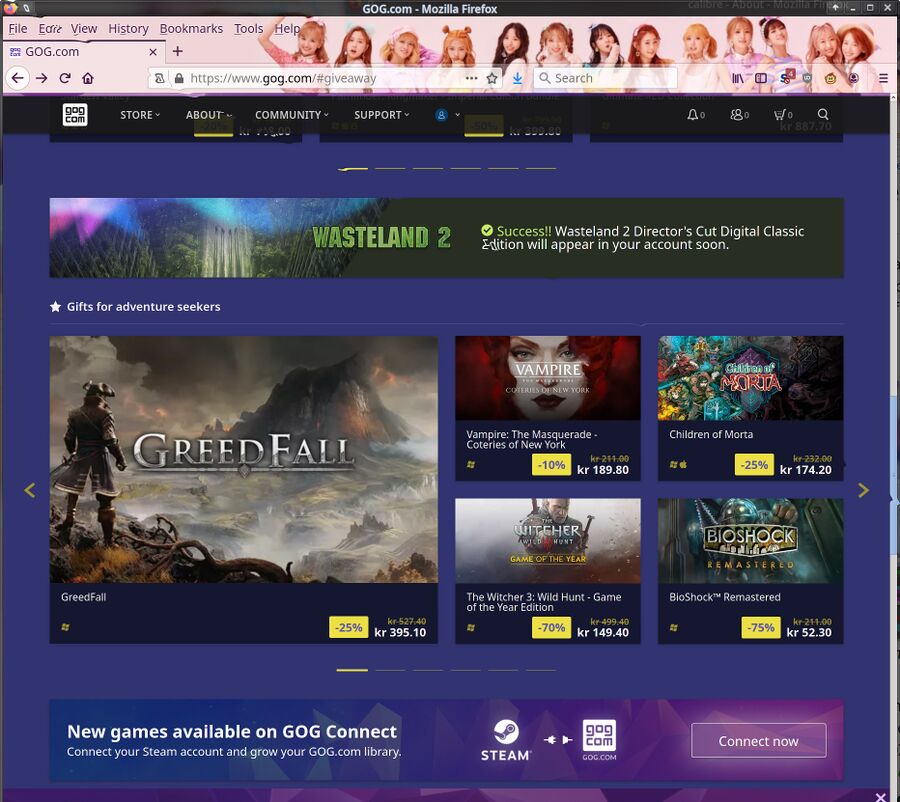 You can simply head over to gog.com and create an account and click on the give-away to get Wasteland 2 and Wasteland 2 Director's Cut in your account for free. The games installer is about 10 GB.
The website has a count-down which, as of right now, says there's 26 hours left.
$ date --utc
Thu 12 Dec 2019 12:10:03 PM UTC

There is likely less time left by the time you read this.
Gog has a installable games store and manager similar to Steam called GoG Galaxy. It is only available Windows and Mac. They have no such thing for Linux, the procedure for installing games on Linux is more old-school. You download a big file, which you can keep a copy of, and use that to install the games you either get for free or buy at their store. All the games on Gog are DRM-free which means that you can keep on using them even if Gog were to close down.
The games they offer are not free software, Gog is a commercial games store. Wasteland 2 Director's Cut is available at zero price the next 26 hours. We do not know if they will replace it with some other game in order to drag people to their store when the offer expires.
Competitor Steam will have it's own winter sale starting December 19th, 2019.