Total War: SHOGUN 2 Is Being Given Away For Free On Steam Until May 1st
From LinuxReviews
Jump to navigation
Jump to search

Feral Interactive is giving away licenses to the proprietary turn-based strategy game Total War: SHOGUN 2, released in 2011, in the Steam Store until May 1st. The game has a native GNU/Linux version and very low system requirements, you can play it on a laptop with integrated Intel graphics. The game's graphics are decent and the gameplay is alright, purchasing a license at zero price is worth it if you enjoy playing turn-based strategy games. There's also huge rebates on DLC packs and battle packs which can be had for a few dollars each while the give-away lasts.
written by 윤채경 (Yoon Chae-kyung)  2020-04-28 - last edited 2020-05-18. © CC BY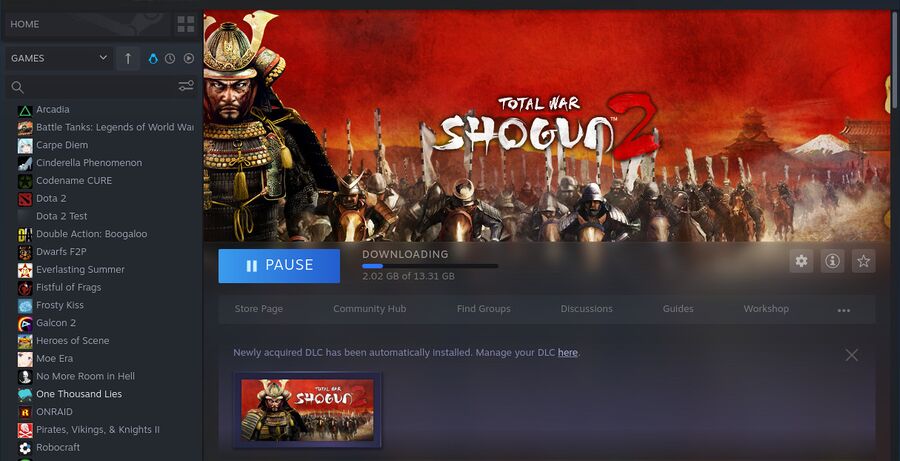 All you have to do to get a Total War: SHOGUN 2 license for free while the "give-away" lasts is to install the Steam game store and launcher, if you don't have it, click "Store", search for Total War Shogun", click on the Total War: SHOGUN 2 tab and then Add to account on the game's Steam page.
The "terms of agreement" that you are forced to submit to in order to install Total War: SHOGUN 2 once you have added it to your Steam account state that the game is licensed, not sold. You do not get to own the game, you only get a license to play the game.
Installing the game requires 24 GB storage space. The actual download is 13.31 GB. You do not have to install it when you add it to your Steam account, you can "purchase" a license for free now and install it if/when you have time to play games at a later date.
The "give-away" lasts until May 1st. This is not a "Free-To-Play" give-away, you will get to keep the game after the give-away period ends. You will, of course, not get to install the game for free after "1 May @ 7:00pm" (timezone is not specified). If you are reading this after May 1st then you are too late, it's over, you missed it and you'll have pay for the game or to find something else to do.
Feral Interactive is also offering their game "XCom 2" as "Free-To-Play" until May 1st. It has a GNU/Linux version you can install and temporarily play for free available. They are NOT offering "XCom 2" as a give-away, you will NOT get to keep the game after May 1st if you choose to install and try it.
It really is quite nice that Feral Interactive, and others, are giving away older games with excellent GNU/Linux support regularly. You can get a fairly decent games collection at no cost just by keeping up with them.