Thunar 1.8.12 Is Out
From LinuxReviews
Jump to navigation
Jump to search

The Xfce team has released another minor bug-fixing version of the Thunar file manager. The latest version fixes a startup crash on OpenBSD, a bug where Thunar would try to store the coloum width repeatedly, a fix for situations where files can't be moved to the trashcan and a few more. Translations for several languages have been updated.
written by 윤채경 (Yoon Chae-kyung)  2020-02-01 - last edited 2020-02-01. © CC BY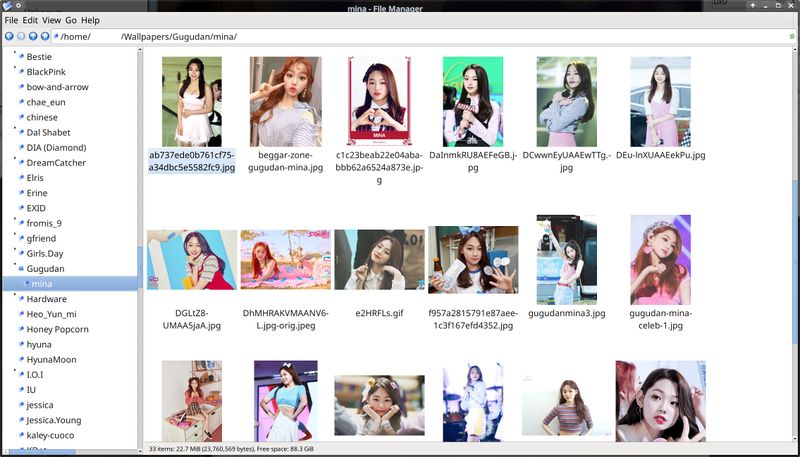 Thunar's Icon View showing image file previews in a folder full of pictures of Gugudan's Mina.
The release notes for Thunar 1.8.12 are as follows:
NULL is the proper sentinel for g_object_new() (Bug 16310)
Drop timer on finalize (Bug 15305)
Store column width setting asynchronously and only once (Bug 15305)
When move to trash fails, ask whether to delete files (Bug 15975)
Ctrl+Mousewheel does not enlarge/shrink entries (for detailed list view) (Bug 15936)
Extra padding for Eject button when scrollbar is visible (Bug 15312)
Use standard icon instead of custom
Translation Updates: Albanian, Chinese (China), Chinese (Taiwan), Croatian, Czech, Dutch, French, Galician, Greek, Hungarian, Italian, Japanese, Norwegian Bokmål, Portuguese, Portuguese (Brazil), Russian, Serbian, Slovak, Spanish, Swedish, Ukrainian
The source for Thunar 1.8.2 is available at archive.xfce.org/src/xfce/thunar/1.8/.