The Fedora For Smartphones Is Being Revived With A PinePhone Edition
From LinuxReviews
Jump to navigation
Jump to search

The Fedora mobility team is back after ten years of inactivity. They are currently developing a Fedora Smartphones edition for the PinePhone smartphone. Future versions could add support for other smartphones such as the Librem 5 and the OnePlus 5.
written by 윤채경 (Yoon Chae-kyung)  2020-10-06 - last edited 2020-10-06. © CC BY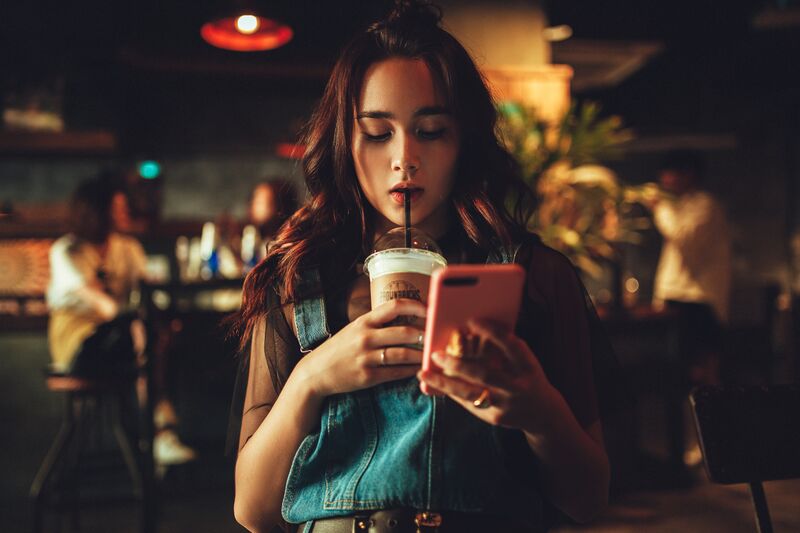 A woman with a smartphone. Photo by by Averyanovphoto / Pixabay.
The Fedora Mobility group was announced on October 4th, 2010. Then the initiative kind of died and everyone forgot about it. Kevin Fenzi made this announcement on Friday:
"I'd like to announce the revival of the Mobility SIG.
Current efforts are focusing on the pine64 pinephone, but of course other mobile devices welcome."
The PinePhone is a modular phone designed with replaceable parts. Most of the key components are attached using detachable cables which makes it possible to replace the camera module with a better camera (if a part becomes available available) or a new one if the old one breaks. It uses a rather weak quad-core Allwinner A64 SOC paired with a now old and weak Mali 400 MP2 GPU. It comes in variants with 2 or 3 GiB RAM, a 1440x720 5.95" IPS screen, MicroSD support, 16 or 32 GiB internal eMMC storage, a headphone jack, a USB-C port, 802.11n (Wifi 4) wireless connectivity, Bluetooth 4, FPS, a front and a rear camera (2 and 5 Mpx) and a removable 3000 mAh battery. It is equal to the cheapest Chinese phones you could buy off AliExpress for $50 five years ago in terms of specifications.
A set of Fedora packages for the PinePhone are already available in the njha mobile copr repository for Fedora rawhide. The Fedora Mobile edition will use a custom touch-controlled Phosh shell. The Phosh shell is developed by Purism for the Librem 5 smarthphone. It uses a composite server called Phoc on top of the Wayland display server and standard GNOME technologies (GTK/GSettings/DBus) beneath the hood. The Fedora wiki PinePhone page notes that "KDE Plasma Mobile should also be compatible, but hasn't been packaged. If you're interested in packaging it, coordinate with others in the chat.".
The packages Fedora Mobile has packaged so far are:
| | |
| --- | --- |
| oFono | A stack for telephone functionality |
| chatty | A messaging program based on libpurple |
| carbons | XMPP plugin for libpurple (so chatty supports XMPP) |
| pidgin | A heavily modified version of Pidgin using libpurple |
| purple-mm-sms | A libpurple plugin for SMS support |
| purple-matrix | A libpurple plugin for the Matrix chat network |
| purple-telegram | Telegram plugin for libpurple. |
| calls | an interface for placing and receiving calls. |
| feedbackd | a daemon integrated with Phosh which provides physical feedback functionality (LED indicators, vibration, etc). |
| rtl8723cs-firmware | Firmware for the PinePhone's Bluetooth chip |
| squeekboard | Onscreen keyboard with Wayland support |
| pinephone-helpers | Scripts for initializing the modem and switching audio streams when placing of receving a phone call. |
| gnome-terminal | The standard GNOME terminal emulator |
| gnome-contacts | The GNOME address book |
The Fedora developers will hold a virtual meeting discussing the PinePhone Fedora edition today at 16:00 UTC (18:00 CET). That meeting will take place on
There's already a Manjaro Linux version for the PinePhone available. Manjaro went with the Lomiri desktop environment for their PinePhone edition. We cruelly laughed at their PinePhone edition because it has some minor problems such as:
"Currently broken:
Calls are highly unstable
Messaging might not work properly
No vibration functions yet
No camera function yet

"
Those minor issues may be acceptable if you're a developer or you're looking for a new hobby and you'd like that hobby to be a modular smartphone with specs like a five year old $50 phone off AliExpress with buggy alpha software. Everyone else will find those problems to be ridiculous and see the PinePhone as a complete waste of time. We are not laughing at it to be cruel, it's just that the very simple truth is that you will get divorced if you demand that your wife uses it as her daily driver.
You can order a PinePhone for either $150 or $200 from the PinePhone store if the PinePhone sounds like something you would like to thinker with.