Steam's November Numbers Show Linux Gaming To Be Stagnant
From LinuxReviews
Jump to navigation
Jump to search

The number of Steam users playing on a PC running a GNU/Linux distribution remains less than one percent with a 0.02% decrease in November 2019. Ubuntu (18.04 0.17% + 19.10 0.06%), Arch (0.09%) and Manjaro Linux (0.09%) are the most popular distributions among Steam's GNU/Linux users.
published 2019-12-03 - last edited 2020-01-04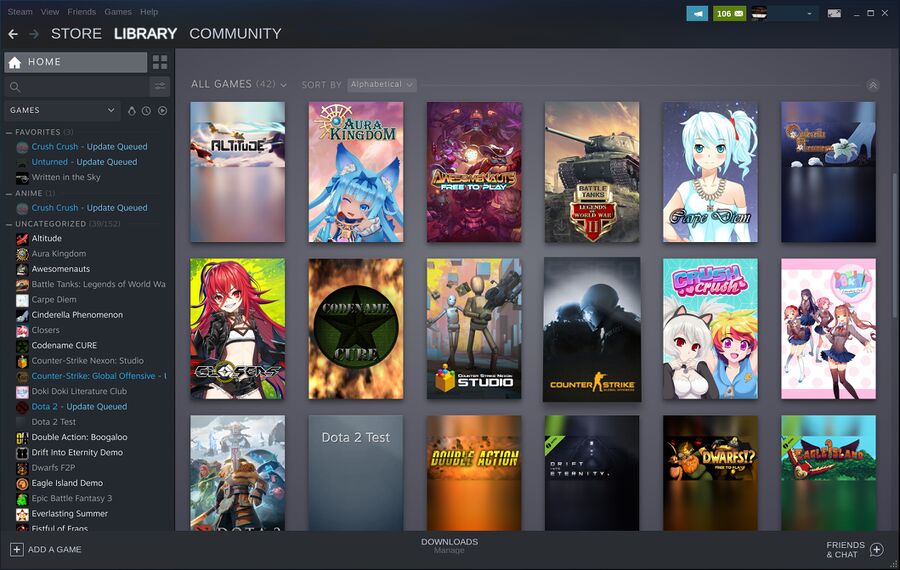 Valve's Steam game store running on a GNU/Linux distribution.
GNU/Linux's market share on Steam dropped 0.02% in November 2019 following a month with no change in October. A total GNU/Linux marketshare of 0.81%, less than one percent, is not impressive. Windows 10 64-bit remains the most popular OS with a share of 72.23%. Windows 7 64-bit is the second most popular choice with a marketshare of 18.47%. The numbers do not factor in those who are using Wine to run Steam's Windows version on GNU/Linux.
80.54% were using a CPU from chip-giant Intel with AMD trailing at 19.45%.
The number of people gaming on a dual-core systems declined across all operating systems. There are, apparently, more dual-core GNU/Linux users than there are Windows users. 21.14% of Windows-systems are running on a dual-core while a whopping 29.00% of GNU/Linux users are core-lets. About the same percentage have quad-cores on both operating systems: 52.47% of Windows users and 46.16% of GNU/Linux users are rocking four CPU cores.
19.44% of Windows users and only 12.86% of GNU/Linux users have six-core CPUs. Eight-core CPUs are more popular among those who prefer free software operating systems. Only 4.62% of Windows users have eight cores. About twice as many, 9.61%, GNU/Linux users have eight-cores. The actual amount of people with 8 core CPUs running Steam on Windows is, of course, a whole lot higher since less than 1% are actually using GNU/Linux.
Steam's reported graphics card numbers reveal that Nvidia is the de-facto standard with a reported marketshare above 100%. AMD's RX 580 is the red team's most popular card with a reported marketshare of 3.08% while AMD's second most popular GPU, the RX 570, has a marketshare of 1.58%. The 12 most popular graphics cards are all Nvidia products and their combined reported marketshare is 99.08%. Adding in all the less popular GPUs from Nvidia brings their total Steam-reported marketshare up to 128%. There is something odd about Steam's Vulkan GPU numbers which does not quite add up.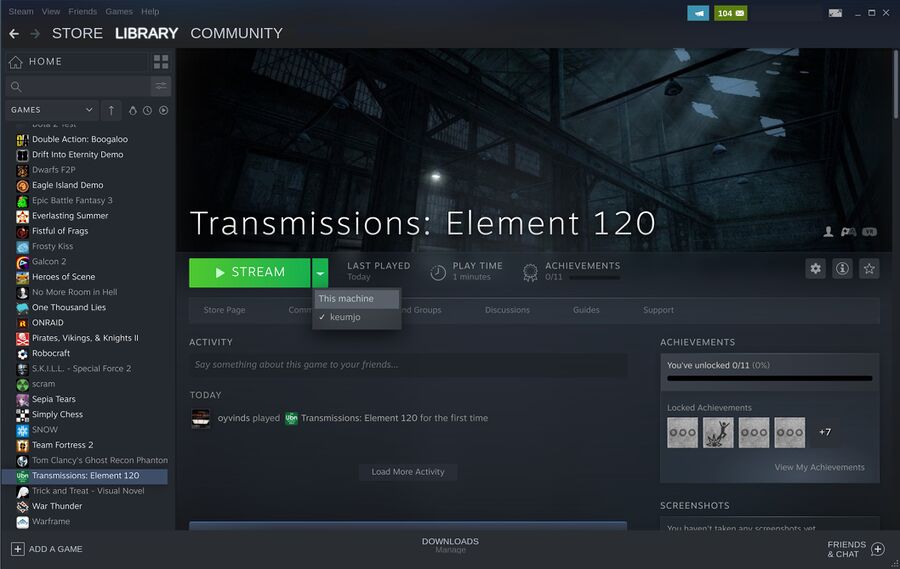 Steam will detect other Steam clients on the local network and offer to Stream games on them to the local machine. It's a nice feature which works great.
The Steam platform itself is in rapid decline despite Valve's attempts to gain ground by recently launching a brand new feature which allows someone who has bought a game to invite up to four remote people to join multiplayer games using remote play on Steam's own servers. They have also made it a lot easier to use the Steam client to run a game on one computer and play it on a weaker machine on the same local network. Valve is doing a lot of things right with its Steam platform. Their efforts are apparently not enough to attract the zoomer generation which prefers using cellphones and locked-down consoles.
All the numbers from Steam's hardware survey for November 2019 can be found at store.steampowered.com/hwsurvey/. The numbers for the previous month are typically published a day or two into the following month.